DONUT 1: PLAYER REVIEW JJ BAREA
Matt Galatzan continues his Mavs Player Reviews …
J.J. Barea has been one of the more beloved rotation players among MFFL's since the 2007-08 season. As if his performance in the 2010-11 playoffs weren't enough, his diminutive size, combined with his energy level, clutch play and grit, make him almost impossible not to cheer for. Historically, he could almost always be relied upon in a pinch to step up and stabilize the Dallas Mavericks backcourt, whenever the situation presented itself. ... even if that meant taking on the bullies of the NBA.
However, after a fairly successful 2015-16 season, the 2016-17 campaign was much more difficult for the native of Puerto Rico. For only the second time in his 11-year career, and for the first time in two lengthy stints in Dallas, Barea had an injury-plagued campaign that cost him more than half the season.
The result? A form of devastation for the Mavs backcourt. 
Barea went down with a calf injury against Boston in a mid-November loss, and was out for over a month in recovery, during which time the Mavs won just five of 17 games. After a short two-game December return, Barea's injury troubles resurfaced, allowing him to play in just eight games from December 19th to March 10th. 
The result of Barea's absence, coupled with a Deron Williams injury, left the Mavs to rely on 10-day contract guys and inexperience in the backcourt for the majority of the season, and the result was ugly at best. 
In his 35 games of action, averaging 22 minutes per, Barea averaged 10.9 points and 5.5 assists on 41.4-percent shooting. When on the floor, Barea was effective and provided invaluable leadership to a young inexperienced team, especially to guys like Yogi Ferrell and Seth Curry. 
That being said, had he never been injured, it's likely the Mavs would still be a lottery team. That point is important as we ponder whether Barea is an irreplaceable part of the Mavs culture at this point. With an average salary of just $4 million a year, he's not a financial obstacle to progress. Therefore, we're better that role here is likely to continue to the end of his contract in 2018-19, when he will be 33. 
It's clear that Dallas seeks to upgrade the backcourt this summer. Whether it be in the draft, via free agency, trade, or all of the above, it's going to happen in some way or another. Either way, Barea's place in the Mavs rotation will remain an important one. The key for him going forward is about health, so he can continue to bring the same kind of game-changing energy and grit to the team that we have all become accustomed to.
-Matt Galatzan
DONUT 2: 'OBVIOUSLY'
Dallas Mavericks unofficial assistant GM Dirk Nowitzki did it twice last week.
First, he issued the proclamation on 105.3 The Fan in almost headline-ready form:
"We want a point guard, obviously.''
Later, in an at-large interview, he expanded on the concept.
"I mean, obviously, we'd love to have a point guard,'' Dirk said while at the Mavs Basketball Academy's hoop camp. "I think that's not a secret. But we'll just go in and see what's out there.''
Ah yes. The "buts.'' The "buts'' critically important to the Mavs' approach to the June 22 NBA Draft … and it's critically important that Nowitzki himself accept and embrace the "buts.''
My 12-point analysis of what Dirk is saying about "obviously'' drafting a point guard, and what his bosses need to be saying back, is here.
DONUT 3: RICK'S PICK
One more think on the idea of "drafting for position'' vs. B.A.A. … and that one more think comes from coach Rick Carlisle:
"If you look at our roster, we do have certain needs, but at the same time if there is a player that can really be a star, there's an awful lot of merit in just taking him and figuring it out from there.''
Bingo.
DONUT 4: VESELY AGAIN?
I see the note, citing "sources,'' that "former sixth-overall pick Jan Vesely has drawn NBA interest from teams including the Mavericks.''
And I swear this is, like, the 10th straight season, or whatever, that somebody's written that.
Other non-draft around-the-globe names being associated with the Mavs include:
*Majok Majok, a 6-9 forward from South Sudan playing in Australia
*Corey Webster, a 6-2 point guard and native of New Zealand
*Chinese swingman Ding Yanyuhang, who is in Dallas plans this summer, but who also serves as a caution for what to expect with these guys.
"He's not really what you'd call a prospect,' one NBA talent evaluator tells me in our story, here, on the Ding thing.
DONUT 5: DRAFT MOVEMENT SCUTTLEBUTT
*76ers Not Ruling Out Trading No. 3 Overall Pick
*Kings Want To Move Up To Get Fox
And we can stop right there, because those two stories are actually linked. The move to get out of 3 is almost surely motivated by teams' desire to get to 3. And the target? De'Aaron Fox, long the apple of the Mavs draft eye and now emerging — as our sources predicted he would - as a player with at least as much going for him as the more highly-publicized Lonzo Ball, who figures to go at No. 2 to the Lakers.
DONUT 6: QUOTABLE
"Can't beat a coffee and a newspaper.'' — A tweet from old pal Andrew Bogut, who must be living in another century.
DONUT 7: TANKS FOR NOTHING
MFFL continue to argue back and forth that the Mavs tanked, tanked too little, tanked too much, tanked not at all, whatever. Owner Mark Cuban is adamant that his club tanked "completely'' once it was officially eliminated.
My argument? If this team "tried to tank,'' it even failed at that.
Dirk's argument? Oh, I think his choice of words is very revealing.
While noting that "You wanna see what the young guys can do,'' Nowitzki said of Dallas' 2016-17 tanking: 
"It's true a little bit.''
Yup. "A little bit.'' The Mavericks tanked "a little bit,'' which of course, is not "tanking'' at all.
DONUT 8: THE FAULTLESS ALBATROSS
I take no great pleasure in this. 
As with our story of why Devin Harris played in Game 82, and our criticism of the Mavs' decision there, my story on Dwight Powell as "The Faultless Albatross'' paints the player in a truthful but unflattering light. 
I note this as we write about Dwight:
Dallas Mavericks forward Dwight Powell attended Dallas Cowboys practice this week and got the star treatment -- sideline access, hugs from Dake and Zeke, the works -- which is nice. He's a terrific kid and a hard worker. One Mavs staffer tells me Powell is "almost too conscientious and too smart ... he takes every missed shot, even in practice, to heart.'' And if you ever wanted to root for a guy to earn the four-year, $37-million contract given him last July …
Well, Dwight is that guy.
But is he a player whose performance merits hi $8.375 mil salary last year, or his $9 mil salary this upcoming year?
Well, Dwight isn't that guy.
Heck, it's the same with Wesley Matthews. Terrific guy. So when we write about how his contract represents a clog in Dallas' progress, and, like Powell's, maybe even a specific blockage to being able to sign Nerlens Noel and Seth Curry, we mean nothing personal by it.
At the same time, we understand that it is "personal'' for them. 
And yet …
When we read other accounts of how Dallas should manipulate forward, we read about how this guy "deserves a chance'' and how that guy "is part of the core'' and how the other guy over there "isn't expendable.''
Y'all … this was a 33-win team. You don't keep a 33-win team intact, no matter how much we all "Love Our Boys In Blue.''
DONUT 9: DOWN IN THE GYM
I do not miss the irony here, alluding to Donut 8, when I note that the most active participants in Dallas' offseason gym work seem to include not only Noel (wisely working on his game in a way that might help him work out a big contract), but also Matthews and Powell and the emerging leader, Harrison Barnes.
DONUT 10: THE SADDEST TALE
The Dallas Mavericks have their first round pick at slot No. 9 and at the moment that is the only NBA Draft related currency they own.
But there are ways to acquire high second-round picks and low first-round picks.
So, to what was to be the original point of this story: If I'm the Mavs, one of the reasons I wish to get my hands on an extra pick is so I can get my hands on a player like Jonathan Jeanne.
Sadly, the story has changed, as I write here on Mavs "neighbor'' Jonathan Jeanne.
DONUT 11: LOTTO-LEVEL WORKOUTS AND BREAKFAST IN ITALY
Sources tell DallasBasketball.com that the Mavs are angling to get visits from five guys who are certain to be lottery picks: Jonathan Isaac, Malik Monk, Dennis Smith Jr., Donovan Mitchell and Zack Collins, in addition to Kennard.
In order of how I believed they'll stack up on the Big Board on the night of June 22:
Jonathan Isaac, 6-11 forward, Florida State - My scouts love him. They say he enjoys playing defense and can guard multiple positions, and that only because FSU didn't feed him the ball did he not score 20 points per. He's skinny, but that's the only thing holding him back from a shot at stardom.
Malik Monk, 6-3 combo guard, Kentucky - He might be a Jason Terry play-alike and that's not a bad thing. But I know Dallas thinks more highly of Frank Ntilikina (see below) and of Isaac than it does Monk. And it is DBcom's opinion that there would be some redundancy to having Monk and Seth Curry. Maybe, given how difficult it will be, cap-wise, to sign Curry next year, the selection of Monk would indicate a coming trade.
Or maybe Dallas will look at the redundancy and pass on Monk.
Dennis Smith Jr, 6-3 point guard, North Carolina State - The numbers are there. The athleticism is there. They all added up to the shoot-first point guard averaging 18.1 points, 6.2 assists and 4.6 rebounds this season for the Wolfpack as a freshman.
But the Mavs, and every other teams' scouts that I've talked to, wonder about his personality, his "baggage,'' his inability to lead his team. And Dallas doesn't really prefer a "shoot-first'' PG. Nevertheless, like Monk, he's cemented in as one of the 10 guys Dallas thinks is well-worth a top pick.
Donovan Mitchell, 6-3 guard, Louisville -- Mitchell is a defense-first backcourt presence, a 2-guard who is working on his shot. He lacks ideal height for the position but is solidly built at 211 pounds with a 6-10 wingspan.
Zack Collins, 6-11 center, Gonzaga — He's got skills on both ends, coming on late in the season to become a lottery candidate. I'm told one team views him as a top-seven player in this draft. But that team isn't the Mavs, who sources tell DBcom would prefer to not "double-up'' at a center position in which assets are going to be spent on restricted free agent Nerlens Noel.
Luke Kennard, 6-6 shooting guard, Duke - Kennard shot 44 percent on 3-pointers as a sophomore last season at Duke and figures as a prominent role player in the NBA. He is obviously not a consideration at No. 9, but as we've demonstrated before, there is great value in this draft in Dallas acquiring a later pick.
There are an assortment of other names that we've officially connected to the Mavs, via there meetings at the Combine in Chicago, their agent-run visits in LA, Vegas, Chicago, New York and Virginia, last week's visits to DFW and, most prominently, the Mavs' multiple trips to Europe, with point guard Frank Ntilikina as the center of that chase. The details on "The Breakfast Club'' with Ntilikina is here, and if you click here in DBcom Mavs News Archives, you'll find volumes of scoop and insight on Dallas' draft plans.
DONUT 12: THE FINAL WORD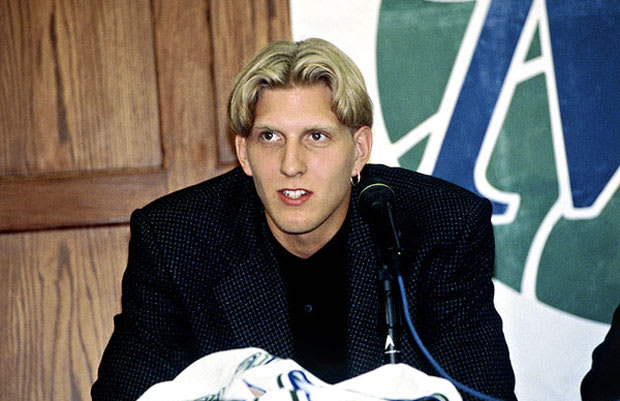 "The ninth pick is hopefully a good omen for this franchise, as we know." - Dirk Nowitzki, who can absolutely testify there.