With the clock ticking on the start of Thursday's NBA Draft, the Dallas Mavericks lured a whopper into town with a pre-Draft visit from Kentucky guard Malik Monk, sources reveal to DallasBasketball.com, the Sunday workout helping to crystallize Dallas' Big Board thoughts on this "Big 9-Plus'' class.
Dennis Smith Jr., after his impressive private session on the East Coast (with the Mavs among the handful of invited attendees, story here), is the subject of an in-house debate also involving the 6-5 Frank Ntilikina (with whom the Mavs recently had breakfast in Europe.) The Mavs are also developing a fondness for Gonzaga center Zack Collins, another shift in the team's Big Board thoughts — thus the "Big 9-plus'' label, with Collins (who worked out in Dallas last week) the "plus.''
And somewhere in the middle of that mix, Monk, the combo guard who isn't the "pass-first'' point guard that is Dallas' ideal … but who as a pure scorer might be the most exciting prospect in this year's class. 
The 6-3, 200-pound Monk can shoot and create his own shot from anywhere on the floor, and is an exceptional three-point shooter. He is productive and explosive, and at the college level, when given the opportunity, has shown that he can run an offense and distribute.
NBA teams aren't sure the point guard traits transfer. But at Kentucky, Monk averaged just under 20 points (as well as 4.1 assists per game), and scored 30-plus points four times last season, including a 47-point outburst against the eventual national champion North Carolina Tar Heels. In a backcourt with De'Aaron Fox, the combo was nearly unstoppable for what was arguably the most talented team in the country.
Fox, of course, is closer to Dallas' ideal, but he's expected to be long gone. The Mavs also love projected top overall pick Markelle Fultz (apparently every but the Celtics agrees) and Florida State forward Jonathan Isaac (also likely gone by 9). 
Ntilikina has long been attached to the Mavs — "Pencil him in,'' we were told a week ago. But there is a sentiment at Mavs HQ that Smith Jr., despite some personality concerns, is by far a more ready-made player who can contribute now as a freakish athlete who can score, and that he can be taught discipline and defensive intensity. Smith could be a Steve Francis, a young Baron Davis, maybe even a Russell Westbrook … and it's easier to envision that than it is to protect Ntilikina, who boasts that 7-1 wingspan and obvious coachability but at age 18 is a project.
The Big 9-Plus, by the way: Fultz, Fox, Lonzo Ball, Josh Jackson, Jayson Tatum, Isaac, Smith, Ntilikina, Monk (and Collins). Two other guys who've made visits to Dallas, Lauri Markkanen and Donovan Mitchell (story), are just outside The Big 9-Plus.
Monk, meanwhile, has been rumored to go as high as in the top four, is, like Smith, also a ready-made NBA player, it seems. Negatives? He has lacked consistency on the defensive end, and he's is a bit undersized for the 2-guard spot. Oh, and his 6-2 wingspan is almost a fulll foot shorter than Ntilikina's.
Another argument: Dallas really likes Collins but is unlikely to pick him because the organization has whispered to us that they don't want to "double-up'' assets by spending currency on both Collins and restricted free agent center Nerlens Noel. (If the Mavericks somehow draft Collins, you should take it as a bad sign regarding Noel's return. Noel contract stuff here.) But if you're against the "double-up,'' is it OK to add Monk to a roster that already employs Wesley Matthews and Seth Curry, both of whom the team swears are keepers?
Maybe Monk is the next Jamal Crawford or CJ McCollum or Lou Williams or Jason Terry … an elite sixth man instead of a franchise-type player. … and maybe the ability to "run a team'' the way Jet once did is acceptable enough.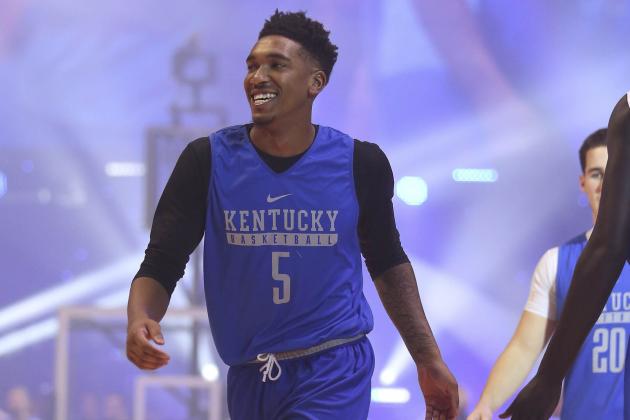 Dallas is clearly achieving a Big Board comfort level here after the Monk workout, believing that picking at 9 syncs nicely with their being "The Big 9-Plus'' available. … with the biggest pressing matter remaining being the 11th-hour decision between Smith and Ntilikina. … a decision that, as with Monk, may be made for them by the previous eight teams … nevertheless leaving Dallas with a prize at 9.