When Denver Broncos Vice President of Football Operations, John Elway, targeted DeMarcus Ware, the moment he was released by the Dallas Cowboys, he had a vision of how the Cowboys All-Time leader in sacks could contribute to the "Super Bowl or Bust" mission in the Mile High City.
As Elway saw it, teamed up with Von Miller, there was no limit to what the duo could accomplish. And through 6 games, that vision has begun to be realized. Last night, Broncos Country finally got to see a full 60-minute performance by the Broncos, that saw them execute at a high level on both sides of the ball.
On the night, Ware and Miller harassed Colin Kaepernick and the San Francisco 49ers offensive line, to the tune of 5 combined sacks. Ware was responsible for 3 of them. It's really something special to see how he sets up his opponent throughout the game.
Ever wonder why elite pass rushers' sacks often come in bunches in the second half? It's because from the beginning of the game, a player like Ware systematically orchestrates a chess match. He goes through the process of testing his opponent's "tells" and tendencies.
Once they are identified and the opposing tackle has been "set up", then the sack feast can commence. And that's exactly what we witnessed last night. In the GIF below, via Deadspin, we see the fruit of Ware's long con as Niners left tackle, Joe Staley, bites hard on a fake spin move, only to find himself alone in a patch of grass, while Ware takes down the quarterback.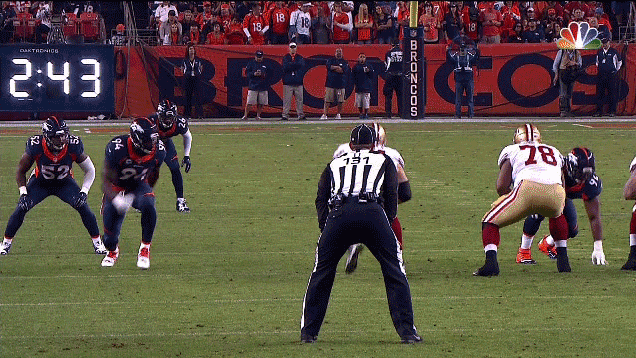 Impressive, isn't it? The young defensive linemen of the Broncos, have been raving about Ware and his willingness to share these insights with them. It makes him that much more valuable to a relatively young Broncos roster.
Ware has 7 sacks through 6 games, putting the 20-sack mark within reach for the season. The re-tooled Broncos defense has faced 5 mobile, elusive quarterbacks thus far, which makes it harder to notch those sacks. Moving forward, the majority of the opposing quarterbacks they'll face will be pocket passers, which could make for a very prolific 2014 for Ware and Miller.
Chad Jensen is the Publisher and Lead Analyst for MileHighHuddle. You can find him on Twitter @CJ_Broncos and on Google+.
Follow MileHighHuddle on Twitter @MileHighHuddle and become a subscriber to receive access to premium content and discounted Denver Broncos tickets.
See what Broncos fans are saying here
Next Story:
Peyton Manning Breaks All-Time TD Record