The Carolina Panthers are one of the most balanced offensive teams in the NFL. During the regular season, they rushed the ball 51.22 percent of the time — good for second-highest in the league. 
Carolina's offensive approach revolves around a few cornerstone principles. Firstly, tempo. Cam Newton and the Panthers offense want to move from play to play quickly and dictate the tempo of the game. They want to be the aggressors.
Carolina wants to impose their will on the opposition and they start with tempo and a wide variety of rushing attacks. Single-back sets. Shotgun. Pistol. Motions. Read-option. Triple-option. Quarterback designed runs. 
They've been wildly successful with it because the opposing defense has to account for more than just the running back. Newton is always a threat to run and offensive coordinator Mike Shula finds ways to get the receivers involved, even if it's just as decoys. 
The Panthers want to pick up large chunks of yardage on first and second down running the ball. Once they've got the defense in a lull, zeroed in on the running game, that's when the play-action comes into the equation. That's when WR Ted Ginn, Jr. and TE Greg Olsen get involved. 
When the Atlanta Falcons handed Carolina their only loss in Week 16, they succeeded by consistently pressuring Cam Newton and they took away Ginn and the big play downfield. Olsen was largely kept in check. The Falcons couldn't stop the run — they allowed 155 yards on the ground. 
But Atlanta didn't allow the big play downfield and they stayed disciplined on play-action. Newton's deepest completion was for just 15 yards. Let's take a look at some of Carolina's plays from that game that can give us an insight into what the Broncos can expect in Super Bowl 50. 
Play No. 1: 
Mike Shula loves designed Cam Newton running plays in the redzone and this play is quintessential. Atlanta rushes four and there are a lot of open lanes for Newton to navigate. Notice All-Pro center Ryan Kalil way downfield, into the secondary, paving the way for Newton's 8-yard score. 
Denver will have to account for this attack inside the 20. It'll be important for defenders — linebackers and defensive backs — not to turn their back on the line of scrimmage. Newton thrives on that. And put a spy on the QB in the redzone. 
Play No. 2: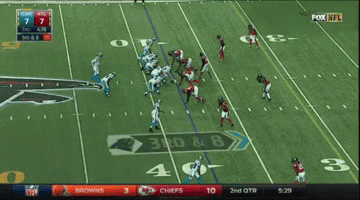 On this play we see Newton in the shotgun, looking to make a play downfield with his arm. Atlanta has it covered well and the pocket is collapsing. This play captures Newton's size, power and will to win. We see him step out of a couple of leg tackles and then push the pile and stretch the ball across the first-down marker. 
He gets help in the pile by his big O-linemen, helping to push him forward to convert the first down. Carolina plays fast and as talented as their offesive line is, they're also remarkbly smart. Their situational awareness is something that helps the Panthers in more ways than one. 
This is a play where clearly one side wanted it more than the other. That's intensity. And physicality. The Broncos will have to eclipse this level of focus in Super Bowl 50. And when Newton gets in the open field, the Broncos have to not only tackle him well, but make him pay for it. 
Play No. 3: 
Shula's innovation continues. Remember we were talking about the receivers getting involved? WR Jerricho Cotchery goes in motion from right to left, ending as the deep back in a pistol formation. Newton has three choices on this play — hence the triple option moniker. 
He can give it to his running back. Keep it, or toss it to Cotchery. But Newton has to read the defensive end. If the play-side DE crashes toward the RB, Newton eliminates one option, which is what happens here. Instead of keeping the ball, he tosses it to Cotchery, who has a full head of steam and a step to the edge. 
This play picks up 16 yards and spotlights what I meant by the defense having to account for more than just the RB in the running game. The Broncos interior linemen and inside linebackers will have to play well between the tackles and allow the outside linebackers — DeMarcus Ware and Von Miller — to maintain discipine on the edge and force Newton to hand the ball off up the gut. 
Play No. 4:
More option looks. RB Cameron Artis-Payne motions to the deep back in the pistol set. TE Ed Dickson is to Newton's left as the fullback and RB/FB Mike Tolbert is to his right. Although this looks like a designed give to Tolbert, it is a zone read. 
Newton keeps his eye on the outside DE and when he doesn't bite inside on Tolbert, Newton gives it to his RB. This play is blocked well. TE Dickson gets a great block and Tolbert picks up six yards. Again, the Broncos will have to maintain their discipline and guys like Malik Jackson, Sylvester Williams and Derek Wolfe will have to dominate the point of attack inside. 
Play No. 5: 
Here we see how dangerous Newton can be when he gets a head of steam. Carolina catches Atlanta sleeping on a substitution and makes the most out of a free play. It is a designed QB run left. Carolina makes a show of the deep back in the pistol going right, while the play goes left. 
But Newton just puts his head down and follows his blockers. Desmond Trufant (No. 23) of Atlanta makes the mistake of trying to tackle Newton high. Like Rob Gronkowski, when Cam Newton is in the open field, the best way to take him down is to hit him low. Get him around the legs and be sure to wrap up because he's strong. This play goes for 18 yards. 
Play No. 6:
More motion and eye-trickery. Follow the bouncing ball. Newton's in the shotgun, with RB Tolbert to his left. WR Philly Brown goes in motion from right to left, in hopes of drawing a tail and getting Atlanta to over-commit. But it's another designed run to Newton — in the redzone. 
The play-side DE Vic Beasley does a great job setting the edge, forcing Newton inside where he's bottled up by the defense. This play was perfectly defended by the Falcons and reiterates why it's important for ends and OLBs to maintain lane and assignment discipline against Carolina. 
Play No. 7: 
I chose to show this play because it's an example of Shula's creativity and commitment to get TE Greg Olsen the ball. Here, Newton drops back out of the shotgun and makes an easy completion to Olsen. He has a couple of options but notice the deep streaker out of the slot, who clears out the middle of the field. 
Olsen makes like he's staying in to pass block, but sheds his man and sneaks out into the passing lane. The play doesn't quite pick Carolina up the first down, but again, it gets the defense thinking. Olsen is Newton's security blanket and the Broncos will have to figure out how to take him away next Sunday. 
Conclusion
The Denver Broncos can learn a lot from this game. Cam Newton is a different quarterback when he's under pressure. I didn't choose to show many passing plays, because stopping Carolina starts and ends with the run. Their entire passing scheme is dependent on the run. 
Wade Phillips found a way to pressure Tom Brady constantly in the AFC title game, while only blitzing on about 17 percent of the snaps. That means the Broncos were successful rushing the passer primarily with three or four guys. 
Now, Carolina's offensive line is significantly better than New England's piece-meal unit was. But that doesn't mean the Broncos can't overcome it and get to Newton. But first thing's first. Stop the run and get Carolina into third-and-long situations where the play-action is nullified. 
Force Newton to stay in the pocket and make his reads downfield, all while applying pressure. It's easier said than done. But if the Broncos hope to emerge next Sunday with their third Lombardi Trophy, they'll have to get it done. 
What say you? Can the Broncos stop the Panthers offense? SOUND OFF in the Mile High Huddle forums! 
Chad Jensen is the Publisher of Mile High Huddle. You can find him on Twitter @ChadNJensen.
Follow Mile High Huddle on Twitter @MileHighHuddle and on Facebook and become a subscriber to receive access to premium content and discounted Broncos tickets.
To get instant Broncos notifications, download the NEW Scout mobile app for iOS HERE! 
Be sure to check out the ever-growing benefit package of being a Mile High Huddle Insider! Check it out HERE.
null