Over the last week, there's been an inordinate amount of hype and scrutiny on Denver Broncos second-year quarterback Trevor Siemian. He entered OTAs with a leg up on his competition, by virtue of him having a year in Gary Kubiak's system under his belt. 
Kubiak said earlier this week that Siemian is "ahead" mentally of Mark Sanchez and rookie first-rounder Paxton Lynch. And Pro Bowl cornerback Chris Harris, Jr. called Siemian the "sleeper" in Denver's QB competition. 
The scrutiny on Siemian is amplified because there's so little happening. Thus, there isn't a better, or more compelling storyline to talk about right now. 
We can sift through quotes. And we can hold forth on our opinions. Mostly, we're left with subjective opinion. My opinion. Your opinion. This or that analyst's opinion. 
But film doesn't lie. Last summer, Siemian entered Denver's preseason action No. 4 on the QB depth chart. He was coming off an ACL tear he suffered in November, which mitigated the expectations of the fans—but not the coaches. 
When the preseason games came around, it didn't take long for Siemian to out-shine Zac Dysert. After the first preseason game vs. Seattle, the Broncos waived their 2013 seventh round pick. That left three QBs to split up the reps, with Siemian bringing up the rear. 
http://www.scout.com/nfl/broncos/story/1674982-what-makes-siemian-a-viab... Let us not forget—Trevor Siemian is Kubiak's guy. It was Kubiak that pounded the table for the kid out of Northwestern and its been Kubiak who's had the most glowing things to say about Siemian. Also, Kubiak makes the decisions on who wins each positional competition. Thus far, Siemian's in the lead. 
Does that mean it'll stay that way? Who knows. I've been of the general opinion that Mark Sanchez will win the starting job. But that was before Siemian started making waves in OTAs.
If I had to bet money, I'd stick with Sanchez as the presumptive starter, but it would not surprise me if Siemian wins the gig. The Broncos are in no hurry to rush Paxton Lynch into the starting lineup. 
So, let's get down to brass tacks. What type of player is Trevor Siemian? Many pundits considered him to be a solid arm talent, but weak in the face of pressure. I studied each and every throw he made in the 2015 preseason and let me tell you, he doesn't fold under pressure. I believe that's getting coached out of him. But let's get to the film. 
Game 1
Play 1. Q4: 10:12
Siemian with a 5-step drop. He looks off the centerfielding safety, and drops a perfect ball right in the bucket down the right sideline to WR Bennie Fowler for a 41-yard gain. Siemian shows awareness of the defensive look (chess match w/ safety) and his arm talent. Touch and accuracy. Fowler makes a great play himself, laying out to ensure the catch.
Play 2. Q4: 5:31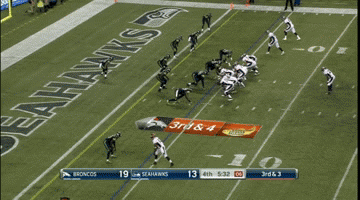 Short drop. Siemian has TE Dominique Jones wide open in the back of the endzone but he floats the ball high. It was the correct read but a little late to throw and off target. He felt slight pressure off the blindside. What makes the miss egregious is that it happened on third down. Broncos had to settle for three points.
Game 2
Play 1. 4Q: 9:23
Backed up against their goal line, Siemian drops back on play-action, hits TE Marcel Jensen on a drive route. His drop is smooth and he fires away right on time. Its an 18-yard gain, in a touch-and-go situation. Siemian's ball was low. But the play was a success. And it got the Broncos out of no man's land.
Play 2. Q4: 3:18
Here we see Siemian running out of the shotgun. He directs traffic pre-snap, putting TE Jensen in the right place to correctly run the play. The pass ends up going to Jensen over the middle. Siemian drops the ball in perfectly, over the heads of the blitzing LB, for a 24-yard gain. This is the type of play that made Siemian stick to the final roster as a rookie.
Play 3: Q4: 2:48
From the gun, Siemian pump fakes to the RB outlet over the middle, pulls the ball down and scrambles right under pressure. He finds WR Isaiah Burse on the outside. This play shows Siemian's athleticism and ability to throw on the run. Making something out of nothing isn't easy.
Play 4. Q4: 1:54
Again out of the gun, Siemian faces a double LB blitz up the A-gap. He beats the pressure, throwing left to WR Corbin Louks on a slant. Incomplete. Tight coverage, but it should have been a completion. Louks didn't get his head whipped around fast enough looking for the ball. Although it was a failed play, Siemian shows poise and accuracy under pressure.
Play 5: Q4: 1:50 (Touchdown)
Although I haven't cataloged all of the previous three plays here, Siemian goes deep right for the third time in the last four. This time, he looks off the safety, and throws back-shoulder to WR Louks, who hauls it in for the touchdown. After failing on his two previous deep throws, this play shows grit, determination and an understanding of routes/coverage. Interesting note: Siemian chooses to throw back-shoulder, due to safety help over the top.
Game 4
Play 1. Q3: 1:49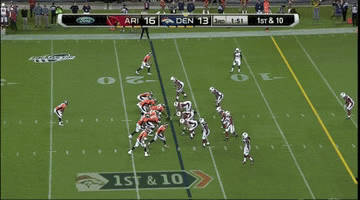 Under center, Siemian's play fake gets the desired response from the defense. He rolls out right. He has WR Louks wide open in the endzone. Siemian's throw is on target, but dropped. Louks had plenty of separation. It could be argued Siemian led him a hair too far outside. Still, a catchable ball. And case in point why Louks was cut.
Play 2: Q3: 1:02 (Touchdown)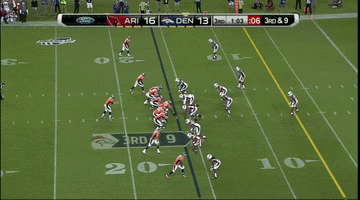 The Broncos are in business in the redzone. Siemian, out of the gun, holds the safety with his eyes, throws a beautiful back-shoulder pass to WR Fowler, who makes a tough, contested catch for the touchdown. This play helped earn both Siemian and Fowler a spot on Denver's 53-man roster.
This play belies Siemian's youthfulness. It's the throw of an experienced veteran. There's no denying Siemian's arm talent. But this play shows his football IQ as well.
Play 3. Q4: 13:59
On 3rd-&-long, Siemian reads the field out of the shotgun, and finds his receiver in the slot. He's under pressure when he makes his throw but he stands tall, takes the hit, and most importantly, completes the pass. Alas, its short of the marker. But tell me again about him crumbling under pressure.
Play 4. Q4: 9:20 (Interception)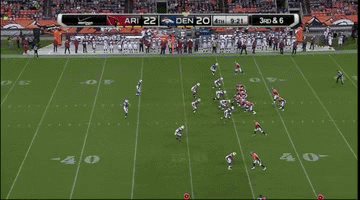 Out of the gun, Siemian stares down his receiver, giving the safety ample time to read, react and jump the route. Not helping matters was Siemian's off-target pass, thrown too far inside. Siemian likely took a drubbing on this play in the film room. It was his only interception of the preseason and easily his worst play.
Still, this game marked the second in which Siemian battled back through adversity, overcoming a deficit to win the game. The will to win and the ability to remain poised in the clutch are traits that cannot be coached—a big reason to get excited about Trevor Siemian.
Conclusion

Not much has changed in my analysis of Trevor Siemian, since last August's action. Some fans don't want to hear it, but Siemian is a player to be reckoned with. 

"Yeah," you say. "If Siemian's so good, why'd the Broncos court every available QB on the market and trade up to draft one in the first round?" Although the answer might be self-evident to some, I shall nonetheless address it. 

Don't get me wrong. I like Siemian's upside. And I truly believe that he has what it takes to start in this league. But, he's an unknown quantity. He has zero starts under his belt. And the only regular season snap he took was a kneel-down. 

As general manager, John Elway would be remiss to enter the offseason program with only Siemian at quarterback. Elway would be in dereliction of duty were he to not do everything he could in researching and evaluating any and all possible fits at quarterback. 

RELATED: Paxton Lynch Taking Advantage Of Competing vs. NFL's No. 1 Defense

And as for the drafting of Paxton Lynch, it made sense. And its nothing new for Elway. Why'd the Broncos use a second round pick on Brock Osweiler when they had Peyton Manning? 

Again, the Broncos like Siemian a lot. There's a reason they drafted him and kept him on the 53-man roster. But he has no regular season snaps.

The Broncos were starting over at the quarterback position, and had the opportunity to add what could be a blue-chip talent, so they did. Paxton Lynch will eventually lead this team. But the Broncos aren't going to rush him. 

You won't see Lynch starting for the Broncos as a rookie, unless he's head-and-shoulders above both Siemian and Sanchez. He'll have to win the competition hands down. All things considered, I don't think he will. He has little experience playing under center and its already been a huge challenge just assimilating the playbook. 

That's why a guy like Siemian, who has a year in the system under his belt, is ahead of Lynch. And Sanchez, too. Sanchez ran the West Coast Offense at USC, so essentially, all he's really learning is Kubaik's verbiage.

When training camp rolls around, Lynch will 'wow' the fans with his big arm and raw athletic ability, but I really see the competition coming down to Sanchez and Siemian. And if Siemian wins the job, the Broncos can win with him. 

He fits the offense and has more mettle than most realize. There would be growing pains. Some things can't be learned without the live experience. Live bullets, etc. But it would buy the team time to develop Lynch and if Siemian failed, they'd still have a veteran option to take over in Sanchez, before having to jump the shark with Lynch. 

Chad Jensen is the Publisher of Mile High Huddle. You can find him on Twitter @ChadNJensen.

Follow Mile High Huddle on Twitter @MileHighHuddle and on Facebook.

To get instant Broncos notifications, download the NEW Scout mobile app for iOS HERE! 

Be sure to check out the ever-growing benefit package of being a Mile High Huddle Insider! Check it out HERE.

null