In studying quarterback Mark Sanchez, I wanted to scrutinize a game from his most recent season (2015 with Philadelphia) and contrast that with a game from his time with the New York Jets (2009-13) to get a better picture of what we can expect to see in a Denver Broncos uniform. 
I've chosen to start with his most recent season in Philly. And studying his snaps from 2015, one thing was apparent. Chip Kelly's hurry-up, zone-read version of the spread offense wasn't best suited to Sanchez's skill-set. 
There were times he performed admirably in Kelly's system, but ultimately, Sanchez is a West Coast kid—in more ways than one. Not only is he from California but he played his college ball at USC, earning a top-5 selection in the 2009 NFL Draft because of his production in the West Coast offense. 
For those who have misgivings about Sanchez as a Bronco, you should receive some modicum of comfort in knowing that in Gary Kubiak's West Coast offense variant, Sanchez is very comfortable. His biggest obstacles will be learning the verbiage and building chemistry with the receivers. 
As for the film study, we're watching the Eagles Week 12 Thanksgiving road game in Detroit. It ended up as a lopsided victory for the Lions. 
Sanchez's performance offered up some good things, but also highlighted a few areas of concern the Broncos must address at the coaching level, if he's to succeed in Denver. Let's get to it. 
First Quarter
Play No. 1: 11:26
Situation: 3rd-&-14
Defense: Nickel, Cover Two man, RCB & LB zone blitz.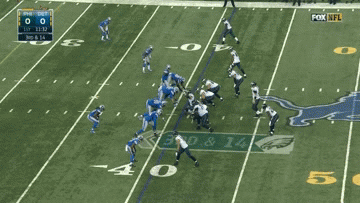 (No huddle, Shotgun). Almost every play Sanchez ran was from the gun. Here we have twin receivers right. Sanchez makes a change at the line of scrimmage, takes the snap and looks left first. Nothing doing, as he sees the blitzing CB & LB but goes to his next read when he sees the DE dropping back into the left flat. He looks to his reads on the right side and throws a strike to WR Nelson Agholor on a deep curl, converting to move the chains.
Analysis: Sanchez shows poise in an obvious passing situation under pressure. Despite the down and distance, and exotic zone blitz, he stands tall and accurately completes the pass on the money down. 
Play No. 2: 1:44
Situation: 2nd-&-10
Defense: NIckel, Cover Two zone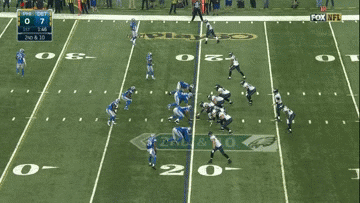 (No Huddle, Shotgun). Twins right. TE stays in to block the backside on a play-action sweep right out of the gun. Sanchez senses blindside pressure, shucking the would-be sacker. He scrambles left and completes a throw on the left sideline for a first down. 
Analysis. Sanchez was sacked by Ezekiel Ansah on Philadelphia's previous possession to end the drive. This time, he senses the pressure in time to break the tackle, showing athleticism to get outside the pocket.
The key is, he keeps his eyes downfield. Running to the left, the weakside of his throwing torque, he squares up his shoulders, driving the ball to the sideline and just out of the reach of the covering defender. This play highlights his mobility and ability to make something out of nothing.
Play No. 3: :53
Situation: 1st-&-10
Defense: Nickel, Cover Two zone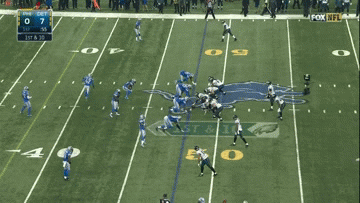 (No Huddle, Shotgun): Twin receivers left. TE is inline on the right side of the formation but releases downfield on a slant. Sanchez sells the play-fake, and drops the ball right over the top of the LB in coverage to the TE, who makes some football moves and gains the Eagles 43 yards.
Analysis: I chose to highlight this play because it shows that Sanchez does have vision and touch and the courage to make a throw over the top of the first level of the defense. This play shows him trusting a TE whose first catch of the season was on this very play.
Second Quarter
Play No. 4: 14:26
SItuation: 3rd-&-Goal
Defense: Goal line blitz
(No Huddle, Shotgun). Twin receivers right. WR Riley Cooper goes in motion from right to left, ending up in the slot. But the Lions are in man coverage, and the outside corner follows him across the formation, while Philly's outside receiver also drags left across the formation, which clears out the entire ride side of the field for TE Brent Celek. Celek comes from the opposite side of the formation to catch Sanchez's on-target throw for the score. A well-designed play, exploiting a defense that sent six on a blitz.
Analysis: I chose to show this play because it capped off the drive the previous two plays were a part of. This play again shows Sanchez's vision and patience under pressure.
Play No. 5: 7: 53
Situation: 1st-&-10
Defense: Nickel, Cover Two man, CB blitz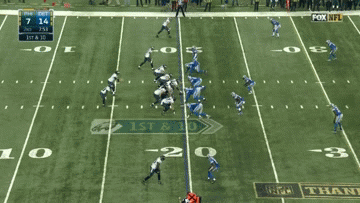 (Shotgun) Twin receivers left. Detroit sends a delayed corner blitz off the left slot. But the O-line picks it up well, giving Sanchez a clean pocket to climb the ladder. Despite the well-blocked play, Sanchez, reading the right side of the field, drifts into his right tackle and throws a late, off-target throw to RB Darren Sproles in the right flat, which could very well have been intercepted.
Analysis: Sanchez has 86 career touchdowns to 74 interceptions. There are times he'll make a play that only some of the very best QBs in the NFL can duplicate. But, frustratingly, there are also the face-palm plays that do not acquit him well, especially as a player entering his eighth season. In the case of this play, the commentator (FOX's Troy Aikman) points out Sanchez's poor pocket awareness.
Despite the blitz, his O-line gives him a clean pocket, and yet he still drifts over into the RT, impairing his field-of-vision and creating a dangerous collision with his throwing hand. His pocket was big and clean, but still he floats into traffic. This is a concern and the type of play that leads to a turnover. But, I believe it is something that can be coached out of him. 
Third Quarter
Play No. 6: 4:09
Situation: 3rd-&-8
Defense: Nickel, Cover Two man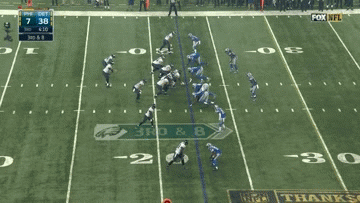 (No Huddle, Shotgun) Twins right. Lions rush four.  Nevertheless, the edge rushers have turned the corner and close in on Sanchez, who calmly stands tall in the pocket and completes the ball 11 yards downfield for a first down.
Analysis: By this point in the game, the Lions were trouncing the Eagles by 31 points. Still, Sanchez and company are continuing to fight. The QB knew he was keeping the seat warm for Sam Bradford, but anything good one can put on tape can have far-reaching ramifications.
Just ask the 37 guys who get cut throughout the preseason, a fraction of which catch on elsewhere. Sanchez may have relinquished the starting job back to Bradford, but the Broncos liked what they saw enough to orchestrate a trade for the former Trojan. 
After four previous drives that failed to get a first down, which took very little time off the clock (Thanks, Chip Kelly), the Eagles needed to move the chains. Sanchez doesn't over-commit with his eyes, turning to the targeted receiver at the last minute to ensure the safeties don't have time to converge.
Fourth Quarter
Play No. 7: 3:02
Situation: 3rd-&-6
Defense: Nickel, Cover Two man.
(No Huddle, Shotgun) Philly runs trips right. Lions rush four. The best case scenario for this play to work is for the inside receiver on the right to draw a one-on-one matchup with the safety, and that's exactly what happens. WR Jordan Matthews runs a corner route, blowing by the safety, who has to make illegal contact to slow him down, and Sanchez drops the ball in on the pitch and catch.
Analysis: This is a well-designed play but by this point in the game, it was too little too late. Sanchez likes Matthews' matchup, as he stays with him from the snap. This play was easy money for Sanchez and he took it.
Conclusion 
Sanchez clearly wasn't suited to the no huddle. He needs time to process things and Denver will be the perfect environment for that. The Broncos will run a ball-control rushing offense in 2016 and only put the onus on Sanchez on 3rd-&-longs and obvious passing situations when they need a conversion or a score. 
The Broncos are set up to continue to win. Their Championship defense affords them that. What they'll need from Sanchez, or whomever wins the starting job, is a guy who can play within himself, know his limitations, protect the football, and be smart and effective in the clutch. 
He might be in another situation where he's keeping a seat warm for someone else, but at least Sanchez will be given the opportunity to play on a defending World Championship team. Gary Kubiak's ability to coach up quarterbacks cannot be over-stated and I believe it will pay huge dividends for Mark Sanchez, especially if he's called upon to start. 
Chad Jensen is the Publisher of Mile High Huddle. You can find him on Twitter @ChadNJensen.
Follow Mile High Huddle on Twitter @MileHighHuddle and on Facebook.
To get instant Broncos notifications, download the NEW Scout mobile app for iOS HERE! 
Be sure to check out the ever-growing benefit package of being a Mile High Huddle Insider! Check it out HERE.
null