The Denver Broncos know they got lucky having Utah Utes running back Devontae Booker fall to them in the fourth round of the 2016 NFL Draft. Were it not for two factors, he likely would have been a low second round pick, at worst. 
But his age (24) and health questions triggered a fall through the first three rounds of the Draft and into the waiting arms of GM John Elway. But good things come to those who wait. 
Booker and the Broncos exemplify that axiom. In the former's case, he benefited by going to a stacked team coming of a Super Bowl championship, while the latter scored a starting-caliber running back in the middle rounds. 
There are many things that make Booker great. His ability to get yards after contact truly sets him apart, but that attribute comes after his vision and patience as a runner. 
http://www.scout.com/nfl/broncos/story/1681051-state-of-the-broncos-runn... Booker is a guy who can do it all. He can carry a team, like he did the Utes—all the way to a top-5 national ranking before getting hurt. 
Many words come to mind when trying to describe Devontae Booker. Vision and patience—yes—power, motor, will. He encompasses all these things. 
But he's also smart. And he can catch the ball. He had 80 receptions in his two years at Utah. Booker possesses very soft hands, and the ability to get open. 
What will truly endear him to Broncos running backs coach Eric Studesville, is his willingness to pass block. And he has the skill-set to do it well. 
Today, we're going to take a look at his biggest game in 2015 vs. Jared Goff and the California Golden Bears. He carried the ball 34 times for 222 yards (6.5 YPC), and threw in four receptions for another 45 yards. 
The Utes would go on to win the game 30-24. I was there. It was as exciting a game as one could hope for. But I got a really close look at Devontae Booker months before I knew he'd become a Denver Bronco. 
Play 1: First Quarter — 3:30
Situation: 2nd-&-6
Defense: Nickel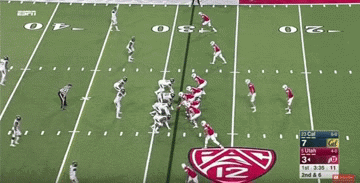 Utah is trying to spread out the Golden Bears. In a 10 personnel (4 WR, 1 RB) pistol formation, Utah runs a stretch. The Utes have two WR split to each side and the right slot WR does a great job of getting up on his man. The center immediately gets to the second level, taking the linebacker out of the play. Booker follows the stretch, then sees the hole through the A gap and cuts it back, shucking would-be tacklers for an 18-yard gain.
Analysis: Here we see Booker's vision and patience. He waits for the blocks to develop and once he sees a crease, he cuts back and explodes violently downhill. Not an easy back to bring down.
Play 2: First Quarter — 1:55
Situation: 3rd-&-6
Defense: Nickel.
From the shotgun, Utah is still working to spread out the Golden Bears. The Utes are in 10 personnel, but they run a right sweep out of the gun, with the left tackle pulling to the right. The LT didn't quite get to his block on the downhill-striking LB, but it stops Booker from getting to the edge, forcing him back inside. Both Cal LBs avoid blocks, but Booker's shiftiness and ability to get skinny, stops them from making the play. From there, Booker finds the hole, bounces it outside—making four guys miss—for a 40-yard touchdown.
Analysis: Wow. The Bears had this play blown up. The blocking design is savvy but poorly executed. Still, Booker is able to stay patient, get skinny in the hole, and explode downhill for a huge touchdown. His patience and vision are outstanding.
Play 3: Second Quarter — 6:17
Situation: 1st-&-10
Defense: Nickel
Here we see Utah trying to keep Booker involved in the game, including the passing attack. Utah liked playing with extra receivers, forcing the opposition to play lighter with defensive backs, rather than LBs. The Utes are in their 10 personnel, with two WR split right to lead block. The swing pass goes right to Booker and what should have been a minimal gain goes for six yards, because of his ability to make guys miss. As usual, it takes more than one guy to bring Booker down.
Analysis: Booker has extremely soft hands and vision to boot. Yards after contact is what separates the great ones. Booker's shiftiness belies his 5-foot-11, 220-pound frame. His motor, and drive with the ball in his hands, is truly special.
Play 4: Second Quarter — 4:32
Situation: 1st-&-10
Defense: 4-3 under closed right.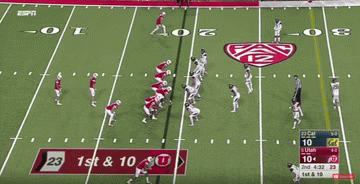 Out of the pistol, the Utes are going to run the strong-side left, even though Cal has flooded that side of the line of scrimmage. Cal has eight guys in the box. The RG pulls, sealing off the gap, while the H-back is going to lead-block through the A gap, taking on the LB. Booker sifts through the trash, and gets downhill in a hurry for a 17-yard gain. A well-designed and well-blocked play. Watch the Utah WR at the top of your screen cut diagonally all the way to the middle of the field to block the safety. You've gotta love hustle like that.
Analysis: Booker's footwork is fun to watch. Here, he counters right, then explodes left behind his lead blocker right through the hole and into the secondary. A shoestring tackle by Cal saves this from being another long touchdown.
Play 5: Second Quarter — 3:26
Situation: 1st-&-10
Defense: 4-3 under closed left
The Utes are in 12 personnel out of the pistol. Cal, knowing that Booker is the featured weapon in Utah's offensive attack and is already over 100 yards rushing, again stacks the box with eight guys on first down. Utah runs a play-action, looking to single out the WR at the bottom of the screen deep. In this case, Cal rushes five, leaving Booker to fend off a rush LB one-on-one. He does. Utah scores on the 54-yard TD strike.
Analysis: Booker is as complete a running back as you'll find coming out of college. He understands pass protection well, and more importantly, has the ability and technique to hold his own and protect his quarterback. Without Booker holding down the edge rusher here, Utah's QB gets sacked.
Conclusion
Again, the Broncos have something special in Devontae Booker. He categorized his knee at 90 percent when OTAs kicked off in May. When training camp begins in earnest, it may take some time for him to settle in.
But he's already stated that he's not in Denver to carry pads. Rather, Devontae Booker is here to take somebody's job.
C.J. Anderson, by virtue of his tenure and new contract, will be Denver's No. 1 running back. But as we've seen, Anderson's biggest obstacle has been staying healthy. 
If Anderson goes down, the Broncos have a young player in Booker who can step in and start, or at the very least, play starter's snaps. If that happens, it won't be easy for Anderson to get his job back.
Booker is a natural fit in the zone blocking scheme Gary Kubiak deploys. Kubiak likes throwing the ball to the running back. Booker can be a true weapon—in the vein of Arian Foster—in the passing game, and as we've seen, there's no reason to bring him off the field on third down—a true bell-cow.
Get excited, Broncos fans. Devontae Booker is going to set the Mile High City on fire. 
Chad Jensen is the Publisher of Mile High Huddle. You can find him on Twitter @ChadNJensen.
Follow Mile High Huddle on Twitter @MileHighHuddle and on Facebook.
To get instant Broncos notifications, download the NEW Scout mobile app for iOS HERE! 
null