Kayvon Webster is enterting a contract year. As a relatively high draft pick (third round) of the Denver Broncos in 2013, some might call Webster's three years in Denver a slight disappointment. 
But the truth is, he hasn't had it easy, trying to crack the first team defense with a cornerback depth chart as stacked as Denver's has been.
As a rookie, Webster was stuck behind future Hall of Famer Champ Bailey, Dominique Rodgers-Cromartie, Chris Harris, Jr. and "Sticky Man", Tony Carter. 
http://www.scout.com/nfl/broncos/story/1685237-film-room-devontae-booker... The next year, the Broncos said goodbye to both Bailey and Rodgers-Cromartie, but ushered in Aqib Talib and first-rounder Bradley Roby. Over that same span of time, Chris Harris emerged as a perennial All-Pro and Talib has been elected to the Pro Bowl in each of his two seasons in Denver. 
In most cases, a third round pick who has failed to rise up the depth chart to the first team, I would concur, would be disappointing. But Webster's lot has been unique, with some extenuating circumstances. 
Now in his fourth season, Webster is in a make-or-break situation. Although he's separated himself as arguably Denver's best special teams ace, especially with David Bruton gone, he hasn't made a huge impact on defense. 
There has been talk of moving him to safety. I could easily see him excelling there, if asked to move. But, he's a very underrated corner. 
At 5-foot-11 and 198 pounds, Webster has the size and length to play the physical brand of coverage modern NFL teams covet. He's very intense, hits hard, and is a sure tackler to boot. 
Although currently Aqib Talib's shooting is being investigated by the Dallas PD as an aggravated assault—making him a victim—past run-ins with the law off the field will lead the NFL front office to vigorously scrutinize the incident. 
http://www.scout.com/nfl/broncos/story/1683652-film-room-mark-sanchez-un... If the league, or the Dallas PD, ends up uncovering any unbecoming behavior on the part of Talib, you can count on a suspension. In that event, Kayvon Webster's number will get called. 
To get a better idea of what the Broncos have in Webster, I decided to do some film study of his time as a pro. However, I kept coming back to his 2013 Week 5 performance in Dallas.
The Broncos were 4-0, but Champ Bailey did not suit up because of an injury. To add insult to injury, Chris Harris, Jr. suffered a concussion late in the second quarter, really forcing defensive coordinator Jack Del Rio to put the onus on the rookie Webster. 
Most fans remember this game as "The Shootout in Dallas". With a final score of 51-48, it was appropriately titled. Dallas Cowboys Pro Bowl receiver Dez Bryant had a huge game, coming away with six receptions for 141 yards and two scores. 
But none of his big plays came at Webster's expense. Let's examine. 
First Quarter
Play 1: 4:58
Situation: 2nd-&-8
Defense: Nickel
Offense: 12 personnel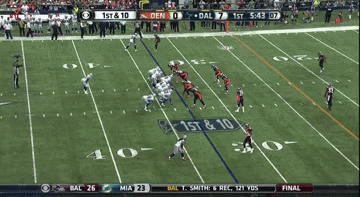 The Cowboys are driving, up by seven. They're in a heavier set, with two tight ends. One of them—James Hanna—is going to be the focus of the play. The play-action fake is executed by QB Tony Romo, and Hanna bursts across the formation from right to left for the screen. Meanwhile, Webster is fighting off a single WR blocker (Bryant) at the top of the screen. He executes a shed, and knifes in to stop the play dead in its tracks.
Analysis: Although this isn't a coverage play, per se, it shows us Webster's physicality and nose for the ball. He's unafraid to mix it up and stick his nose in the muss.
Second Quarter
Play 2: 8:59
Situation: 1st-&-10
Defense: Nickel, Two deep man
Offense: 01 personnel, trips right
Romo likes his matchup at the bottom of the screen. Bryant—his best receiver—against Denver's rookie third round pick. Webster, playing outside technique, gives Bryant the inside (maybe because he thought he had help). The ball is complete, but Webster closes and violently punches the ball out of Bryant's hands. Fumble. Denver football.
Analysis: Being tasked with covering one of the elite receivers in the game, Webster was equal to his opportunity. I like that the moment wasn't too big for him. Again, Webster's physicality is the deciding factor in the takeaway.
Play 3: 3:59
Situation: 3rd-&-15
Defense: Nickel, Cover 1 (Cover 2 disguise)
Offense: 11 personnel, trips right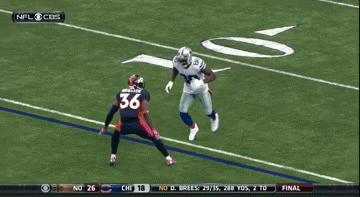 Although Romo managed to gain seven yards, this was close to being a coverage sack. Nobody was open, especially Bryant—lined up one-on-one with Webster—at the top of the screen. Webster stays with him on a go route down the left sideline, playing inside technique because he knows he has safety help.
Analysis: Webster again holds his one man-to-man vs. Bryant, this time on the money down. The Cowboys needed a conversion, but Webster's tight coverage, along with that of his teammates, negates the play.
Third Quarter
Play 4: 1:10
Situation: 2nd-&-4
Defense: Nickel, Cover 1
Offense: 11 personnel, 3 WR Left
The Cowboys are knockin' on the door. Romo has played very well up to this point and he sees a rookie corner (Webster) lined up man-to-man with WR Dez Bryant, as the middle WR in the trips-left formation. As soon as Romo identifies the free safety swing toward centerfield—and the strong safety creep into the middle of the field to guard the seam, and also drive on any underneath routes—he knows he's going to Bryant in the endzone. With how tight Webster's coverage is here, it would take a perfect ball by Romo, or a back-shoulder, to connect. Unfortunately for Dallas, it doesn't come.
Analysis: Although Webster is playing man coverage close to the line of scrimmage, he does not jam Bryant. Bryant gets a free release but Webster stays in lockstep with him. At the top of the route, there is some hand-fighting, as they jostle for position. Webster turns his back to the QB, but keeps his eyes on his assignment to stay with him and gets his head turned around looking for the ball at the last minute. In-com-plete!
Fourth Quarter
Play 4: 13:53
Situation: 1st-&-goal
Defense: Cover 2, zone
Offense: 01 personnel, trips left
As many fans can attest to back in the Jack Del Rio era, when the Broncos went into zone coverage, it was often cringe worthy. Here, Webster runs over to cover TE Jason Witten at the last second. It's not man coverage, but Webster keeps an eye on the big Pro Bowl TE. Romo has all the time in the world and unloads to the back left corner of the endzone. It's caught out of bounds. What the refs missed, but we did not, was Webster pushing Witten out of bounds, right as Romo releases. The ref might not have called it because the ball was so high—arguably uncatchable—but nonetheless, the physically-outmatched Webster gets in a little shove that saved the play from possibly being a touchdown.
Analysis: Webster is scrappy. It wasn't a smart play—the push. It is a foul that would get called 8-of-10 times, but he gets away with it and that's all that matters on this particular play. In a game of inches, even the best of the best commit fouls on the regular. But remember, it's only wrong if you get caught.
Play 6: 8:56
Situation: 2nd-&-16
Defense: Nickerl, Cover 2 man
Offense: 01 personnel, trips right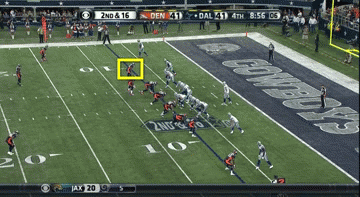 This play could very well have been designed for WR Cole Beasley on the quick out. But Webster, lined up in the slot at the top of the screen (opposite side of the field), is playing his man close to the line of scrimmage. Within five yards of the line of scrimmage, you can contact—or bump—a releasing receiver, as long as it's not a hold. Webster absolutely destroys WR Dwayne Harris as he tries to come out of his break, taking him out of the play.
Analysis: This play is quintessential Kayvon Webster. He simply out-physicals his opponent for the win.
Conclusion
Kayvon Webster fits what the Broncos like to do. In a contract year, I believe he'll get more opportunities on defense, regardless of what happens with Aqib Talib. 
Sure, Webster has a vested interest in earning more playing time, but the Broncos also want to get a longer look at him, before he hits free agency. 
Defensive coordinator Wade Phillips likes his secondary to be good cover men, but also physically imposing. Webster fits that mold. 
I'm looking forward to seeing what he can accomplish now in year four. 
Chad Jensen is the Publisher of Mile High Huddle. You can find him on Twitter @ChadNJensen.
Follow Mile High Huddle on Twitter @MileHighHuddle and on Facebook.
To get instant Broncos notifications, download the NEW Scout mobile app for iOS HERE! 
null