The Denver Broncos are deep. John Elway won Super Bowl 50 because of the elite depth of his roster. 
If Thursday night's preseason victory over the Chicago Bears was any indicator, that trend has continued into 2016. 
Let's take a look at a few of the most impressive plays from the first half of the game, when the first and second string players were in the game. After all, these are the players likely to see the field the very most in 2016. 
There were a handful of other plays I catalogued for this piece. Bennie Fowler's blocked punt, T.J. Ward's sack, Jared Crick's sack and a few more. But the ones you see below I felt like deserved the most scrutiny. 
Virgil Green Makes A Play On Third Down
The Broncos brass might be trying to strong-arm Jeff Heuerman into playing time but Virgil Green is the more polished and hungry player. And the more deserving, frankly. 
They might be "co-starters" currently, but if Thursday was any indication, Green will be the No. 1 tight end when September 8 rolls around. 
Look at him here, not only securing the catch and showing awareness of where the first-down marker is, but he's a beast to bring down. That effort is not normal. He is 'the Hulk'. 
Mark Sanchez Stands & Delivers
\
Mark Sanchez got the start in the opening preseason game. And he got off to a rocky start, channeling his inner Jake Plummer as he threw a ball away with his left (non-throwing) hand on the first play of the game. 
But he marched the Broncos down on a 76-yard scoring drive to start the game, culminating in a 32-yard strike to Demaryius Thomas. Sanchez converted 3-of-3 on third down. 
Yes, on the next possession, he threw an ill-advised pass that was intercepted. But we saw what he can offer this team as the starter, if he can limit his mistakes. Mobility, energy, accuracy, and grit. Look at the hit he took to deliver the TD pass to Thomas. 
Shane Ray Looks Strong & Fast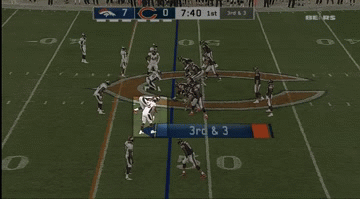 Shane Ray added eight pounds of muscle to his frame this offseason, after a rookie campaign that he has described as somewhat disappointing. There's no doubt he looks bigger and stronger. 
And faster. Look at this spin move he pulls to sack Jay Cutler with a little help from Derek Wolfe. With an unhealthy DeMarcus Ware, and the fact that the coaches plan to put the 12-year veteran on a pitch count this year, the Broncos need Ray to turn the corner. 
This was Ray's most impressive play from Thursday night but he had several other that were notable. I'm excited to see Ray in year two. 
Shaq Barrett & The Embarrassment Of Riches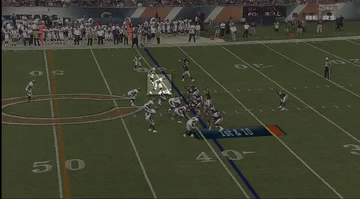 Denver's top-two outside linebackers didn't suit up last night and the defense still notched seven sacks. Shaquil Barrett didn't get a sack, but he made a magnificent play in the backfield. 
Watch him destroy the Bears tight end assigned to block him. Barrett swims right through the block and makes the stop for a one-yard loss. 
Like Ray, he's playing bigger, stronger and faster. Opposing quarterbacks won't be getting much sleep in the week they draw the Broncos defense on the schedule. 
Need A Nickel LB? Justin Simmons Is Your Man
The Broncos lost their best matchup safety when David Bruton signed elsewhere this spring. They needed a bona-fide No. 3 safety who can man-up with tight ends and also make a difference in the box. 
Here, we see Denver's rookie third-round pick Justin Simmons deployed essentially as a nickel linebacker. The Bears are backed up, trying to play it safe. 
Simmons knifes through the Bears O-line and stops the ball-carrier for no gain. He's physical and instinctual. He'll fit in nicely with the No Fly Zone. 
Trevor Siemian, The Back Shoulder Master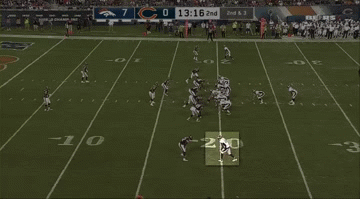 Trevor Siemian obviously capitalized on his rookie opportunity to learn at the feet of Peyton Manning. Manning is one of the all-time greats at throwing the back-shoulder fade, and connecting on timing routes where accuracy is paramount. 
On this play, Siemian targets Bennie Fowler, who had a great game in his own right, on a back-shoulder throw in the endzone. The ball is perfectly placed and it would have been a touchdown, had the Bears corner not made a phenomenal play to break it up. 
Siemian was a cool customer in his second quarter snaps. He showed good mobility when under pressure, and great composure and accuracy on short-to-intermediate routes. This was his best throw of the night. Alas, it was incomplete. 
Will Parks Can Open-Field Tackle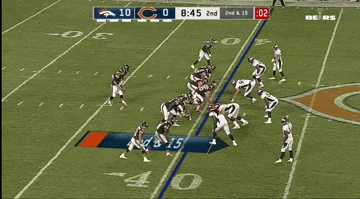 The best defenses are fundamentally sound. They know their assignments, technique and they don't miss tackles. 
The ability to make a one-on-one tackle in open space is quintessential for an NFL defensive back. For rookie sixth-rounder Will Parks, he made it look easy on a tenured veteran like Jacquizz Rodgers. 
Parks also notched a sack later in the game on a safety blitz and overall made his presence felt in the opportunities he had on the field. He's had a quiet camp and really needed to show out on Thursday night. 
Mission accomplished. 
Vontarrius Dora Explodes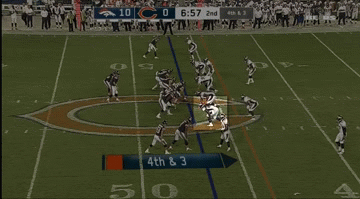 Talk about depth. Both of Denver's backup OLBs would start on almost any other NFL team. But this undrafted kid out of Louisiana Tech, Vontarrius Dora, looks like he fits a similar mold. 
He tallied two sacks vs. the Bears, playing mostly with the second and third team defense. Here, he benefited from safety Shiloh Keo's inside pressure, but Dora was a factor any time he was on the field. 
If he keeps producing like this, the Broncos will have to roster him. They won't be able to sneak him onto the practice squad. 
Hello, Adam Gotsis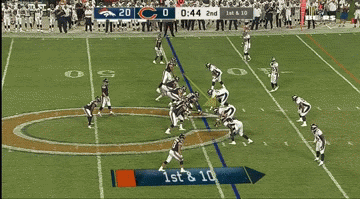 Watching Adam Gotsis Thursday night, it was clear why D-line coach Bill Kollar was literally pounding the table for the Broncos to draft him. His motor is phenomenal and he has great power. 
His interior pressure on this play led to Vontarrius Dora's strip-sack. Gotsis totally rips inside the right guard's inside shoulder, as he powers through to the QB. 
Too bad he couldn't quite wrap Brian Hoyer up but without his pressure, the Broncos don't get the sack here. Adam Gotsis is going to be a fine player and more impactful out of the gates than I first believed he would be, coming off an ACL tear. 
About Time, Cody Latimer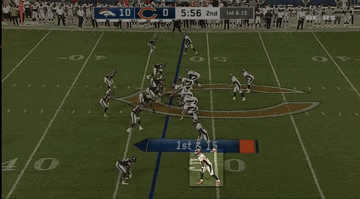 Cody Latimer has had a great training camp. It was good to see him carry that over into the opening preseason game. 
He tallied seven receptions for 82 yards in Chicago. In the play above, you can see him use his strength to create separation on an inside square route, and break two tackles before finally going down. 
Add to that his special teams acumen and there's little doubting Latimer will make the final roster. But, we might finally see him make an impact as a receiver in Denver's 2016 offense. 
Chad Jensen is the Publisher of Mile High Huddle. You can find him on Twitter @ChadNJensen.
Follow Mile High Huddle on Twitter @MileHighHuddle and on Facebook.
To get instant Broncos notifications, download the NEW Scout mobile app for iOS HERE! 
null