Coming off a 2015 season in which the Denver Broncos spent a first round pick on a rush linebacker and sent two to the Pro Bowl, there's no doubt it's a position of strength. Throw in Shaquil Barrett and it's no wonder Denver's OLB group is considered to be an embarrassment of riches in league circles. 
Last season, the Broncos carried five OLBs on the roster—Von Miller, DeMarcus Ware, Shane Ray, Shaq Barrett, and Lerentee McCray. GM John Elway chose to let the oft-injured McCray walk in free agency this past spring. McCray signed with the Green Bay Packers. 
That left the Broncos four-deep at rush linebacker. We know what caliber of players Miller and Ware are. And Ray and Barrett would be starters on almost any other NFL team. 
The best teams don't rest on their laurels. Even though OLB was a position of strength, Elway recruited hard in the 2016 college free agent pool, signing three pass rushers—Vontarrius Dora (Louisiana Tech), Sadat Sulleyman (Portland State) and Eddie Yarbrough (Wyoming). 
http://www.scout.com/nfl/broncos/story/1695479-film-room-top-plays-in-ch... Elway also signed a guy in California's Kyle Kragen who was a collegiate edge rusher, but quickly converted him to inside linebacker. Throw in the veteran Dekoda Watson, and the Broncos have four rush linebackers all competing for what will likely be one spot on the final 53-man roster.
That's if the Broncos follow 2015's suit and carry five OLBs again. I'm confident they will, considering Ware's age, injury history and the fact that they plan to keep him on a pitch count in 2016. 
Going into camp, my money was on Eddie Yarbrough to win that fifth spot. And although he still could, Vontarrius Dora is the player with the most momentum. 
Miller and Ware did not suit up for the Broncos opening preseason game in Chicago. Ray and Barrett started the game. But the next OLB to see the field after them was Dora. And he made the most of his opportunity. 
Playing opposite of Carolina Panthers first round pick Vernon Butler at Louisiana Tech, Dora was a four-year starter for the Bulldogs. During his collegiate career, Dora tallied 147 tackles (64 solo), 13.5 sacks and two forced fumbles.
He didn't hear his name called on Draft Day. At 6-foot-4 and 256 pounds, he does have a powerful frame. But he's very raw from a technique standpoint. However, if the opening presaason game was any indication, NFL coaching is already bringing out the best in him. 
Dora finished third on the team with two tackles—both solo—and added two sacks, a forced fumble, a QB hit and a tackle for a loss. For a player who saw a very limited number of snaps, it was an impressive performance. 
Let's take a look at five of Dora's snaps to see exactly what the Denver Broncos have on their hands. 
Second Quarter
Play 1: 9:46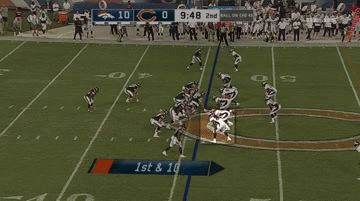 It's the preseason and so the Broncos are lined up in their 3-4 base defense, with Dora (No. 68) playing the SAM spot. As a college DE, Dora was rarely asked to cover. But in Wade Phillips' system, there will be times he'll be called upon to cover a tight end or a running back in the flat. 
There's not a lot to see on this play. The Bears TE runs a flat route and Dora covers him. This play was a single read for QB Brian Hoyer. With the Broncos DBs playing off-coverage, there was a good chance this short inside curl would be open. Pass completed. 
As for Dora, he might be a big guy, but as long as he's not asked to run with guys downfield, he'll do fine in short to intermediate coverage. The TE's route here could have been covered by a Broncos corner or safety, but Phillips tasked Dora with it, instead of sending him as a pass rusher. 
It might have been a simple exhibition game, but Phillips played the chess match with the QB all the same. 
Play 2: 6:53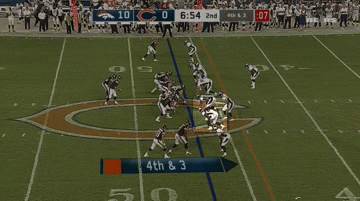 It's 4th-&-3 and the Bears are going for it. Phillips loads the box with a blitz, sending six rushers. Safety Shiloh Keo gets there first, flushing Hoyer to the right where Dora has turned the corner and is waiting with open arms. 
This was the first sack of Dora's professional career.  As exciting as that is, there's no doubt he got help here from the blitzing Keo. Dora gets a good jump off the snap, but ends up flat-footed for a split-second, with his momentum completely stopped. 
Could he still have sacked Hoyer without the blitz? Possibly. But doubtful. Nevertheless, it was a surreal moment for the rookie. 
"It was amazing," Dora said after Saturday's practice. "It was like a dream come true. First NFL sack, first game—a dream come true."
Some guys have a nose for the ball. Dora might not have done the dirty work to get this sack, but he showed his knack for being around the ball—a trend he continued throughout the game. 
Play 3: :50
On 3rd-&-1, the Bears try a stretch-run to the left side. Dora maintains his backside discipline, and crashes down the line in pursuit of the RB. Dora didn't blow anyone up to make the stop, but he did have to hustle and finish. 
Clearly, the rookie OLB has a motor. And again we see the kid's nose for the ball. Oddly, the TE Dora is lined up over to start the play, doesn't even try to block him. The Bears convert the first down but the drive won't last for long. 
"Preseason for me is very important," Dora said. "With the coaches and my teammates, they help me. Everything just came to me."
Play 4: :44
On the very next play, Dora makes his presence felt yet again. Rookie second-round DE Adam Gotsis rips by the Bears RG, putting pressure on Hoyer from the inside—but he can't wrap him up.
Dora uses the RT's momentum against him to shed the block and open up a free lane on Hoyer. Dora sacks Hoyer, popping the ball loose. The Bears were in business on this drive, with good field position but Gotsis and Dora brought the drive to a screeching halt. 
Chicago recovered the fumble but lost eight yards on the play. An unsettled Hoyer would throw an interception on the next play. 
Third Quarter
Play 5: 10:54
As an OLB in Phillips' defense, if you want to see the field more than just on third down, you have to show out in run defense. We saw Dora in the second quarter pursue a play from the backside to make a stop. 
Here we see the Bears run to the right side, straight at Dora. Dora pushes his assignment back a yard, setting the edge. It forces the ball-carrier back inside where LBs Zaire Anderson and Dekoda Watson swarm. 
Two-yard loss. 
"It was a great experience," Dora said. "With the help of my teammates, everything went well for me. I'm just blessed."
Conclusion
In the plays above, we got a good look a Dora in a variety of situations. Coverage, pass rushing and run defense. 
The Broncos are asking Dora to make a big change. Instead of playing with his hand in the dirt as a DE, he's standing up, rushing from the two-point stance. For college DEs, it takes some getting used to but it has it's advantages. 
"It's different, but it's coming along," Dora said. "I'm getting used to it. I like it. To me, it's better for the get-off."
There's no question that Dora benefited greatly from his teammates on the two sacks he notched in Chicago. But, as we can see from the five plays above, that knack for being around the ball can pay off in spades. 
Vontarrius Dora is a player to get excited about. If he can get enough time in the NFL—working with pro coaches—and put it all together, he'll be a fearsome player. He's already learned a lot from Von Miller and DeMarcus Ware. The opportunity to play with them was a primary reason he chose to sign with Denver.
"I felt like I could come in and learn from D-Ware and Von," Dora said. "Those are two great guys—Hall of Famers. The scheme, it's more about attacking and I love that about it."
With three preseason games left before the Broncos trim down to the final 53, it'll be interesting to see if Dora can continue to flash. Training camp performance is important—it was the reason Dora was the third OLB to take the field in Chicago—but roster spots are won and lost in the preseason games themselves. 
Clearly, Dora has the advantage over Eddie Yarbrough and Sadat Sulleyman. For now. 
Chad Jensen is the Publisher of Mile High Huddle. You can find him on Twitter @ChadNJensen.
Follow Mile High Huddle on Twitter @MileHighHuddle and on Facebook.
To get instant Broncos notifications, download the NEW Scout mobile app for iOS HERE! 
null