Since we really don't have a clear picture of the Denver Broncos/Gary Kubiak West Coast Offense rushing game, due to the Peyton Manning Factor, I spent a week watching film from 2013 and 2014 of the Houston Texans.
Granted, Kubiak was in Baltimore in 2014, but the personnel he cultivated while in Houston was still alive and well, as were the zone blocking/running principles he championed. 
I wasn't looking for individual performances, although some were notable. I was looking for the principles of the WCO scheme, applied to the run game. That's what Coach Kubiak will adapt to Denver's specific needs; their strengths and vulnerabilities.
http://www.scout.com/nfl/broncos/story/1693006-understanding-kubiak-s-wc... One of the keys to the modern WCO is the use of the stretch zone. It wasn't part of the original scheme, but it dovetailed so perfectly, when Alex Gibbs taught it for Mike Shanahan, that they're now often considered synonymous.  
When Chris Myers was running the show at center, Arian Foster led the league in rushing yardage. This is the same basic scheme that Shanahan used to create one 1,000-yard rusher after another. He seemingly felt the scheme to be indomitable. Over time, though, someone's going to learn your tendencies. They did.
What went wrong? Poor selections and injuries on the offensive line, combined with lesser and lesser runners, due to the belief, seemingly, that anyone could be plugged in and the system would grant them success.
The world doesn't work that way. You have to evolve, create new problems for your opponent and maximize your players, both blocking and rushing. Denver has now done that—several times over. This year's group shows promise.
The Fullback
I get a lot of questions on the use of the fullback. Will he be used as an H-back, which is essentially just a wingback, something that's been around since the 1870's? The answer is, it's very possible but we'll see.
I can't predict what Coach Kubiak will do with his new players. I'm hoping for the full Monty—every variation and intricate turn of the WCO could be on display.
Andy Janovich can block, carry the ball and receive passes. He can be lined up in any formation, so this is a 'Coaches' Choice'. I haven't seen him carry the ball for Denver yet, but he was effective doing so in college.
More Options
I've watched WCO schemes that ran out of a pro set, with the FB on one side of the QB and the RB on the other. I like the versatility of that formation. Say that you also send out two WR with one TE on 2nd-&-5. Will it be a run or pass? It probably depends on the defensive formation. That versatility is what I love about the WCO.
Your WRs could be Bennie "Beano" Fowler, who hits like a truck, and Cody Latimer, who matches him hit for hit. Perhaps Virgil Green chips, hitting his man before shedding him; moving into the flat or seeking targets.
Latimer and Fowler can use a high/low pattern with the lower WR's route headed left, while the RB takes the long handoff to the right. Janovich can lead the way around the guard and past the tight end while the RB follows. The options are endless.
Zone Plays
Let's talk about the different types of zone plays. There are full stretch zone, inside zone, and outside zone plays. All are important. Every team uses some variation on them. Some, including Houston and Philadelphia, are true zone teams—they depend on those plays for their rushing attack.
Other teams use the inside and/or outside zone runs, but prefer drive blocking the rest of the time. One thing I like about the WCO is their focus on the zone runs, although draws and sweeps aren't unheard of.
I've seen WCO run from a simple I formation, with the QB under center, the fullback behind him and the RB at the back. For purposes of illustration, let's look at three plays that Houston ran against Pittsburgh in Week 7 of 2014.
Play 1: The Stretch Zone
After Ryan Fitzpatrick scrambles from his 1-yard line to complete a pass at the 25, the Texans are at 1st-&-10 with 9:33 to go, first quarter. Fitzpatrick takes the snap and hands off to Arian Foster. The O-line moves in that unmistakable stretch zone formation—all in unison, driving their assignments to the right.
Foster spots a lane opening and charges through it—not just into it. Foster, like C.J. Anderson, stays on his feet unless the defender wraps him up. Otherwise, it's just one more broken tackle. He carries the ball for another 1st down.
Notice that every player but the QB is either looking for or engaged with a defender. If you want to run the stretch zone, you need for the entire team to like blocking. Denver has some of the best WR blockers in the league, a new fullback in Andy Janovich and an upgraded line, plus their TEs.
NFL lineman Geoff Schwartz said,
"These zone run plays are my favorite, in part because they work."
In the end, that's the only reason to use any play. The full stretch zone has now become synonymous with the WCO-variant systems. It's used almost exclusively by them. That's because you can't run it occasionally. You need to work on it constantly to get good enough for a game rep.
Play 2: The Inside Zone Run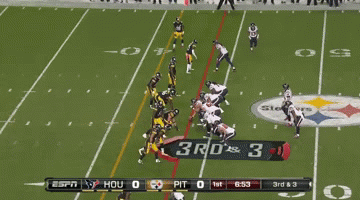 AT 6:50 of the first quarter on the same drive, Houston is at the Pittsburgh 41-yard line, at 3rd-&-3. This time, Houston will use an inside zone run.  Geoff Schwartz has pointed out that inside zone runs often aren't aimed at one specific point—they tend to turn into unpredictable scrums. However, the better the O-line, the smoother the play will come off.
This one is no different, and Houston's O-line is disciplined. Pittsburgh has overloaded the offensive left of the box so the Texans have set a TE there to help out. Pre-snap, the Texans bring a wide receiver into the right side of the box.
Foster takes the handoff from Fitzpatrick, crossing from left to right. (C) Chris Myers drives his man back over the first down line while the guards try to clear out. That give Foster a nice cut-back lane, to the left of Myers. Foster carves his way past the 'trash' on the ground, gets a nice block from his TE and rumbles to the 12-yard line.
Having a blocking TE or two is essential. The better the blocking, the longer the runs. That's pretty standard football, but it's why blocking WRs are also essential. As the run passes the defensive line, the defensive secondary should be fighting off WR blocking.
Nearly every team uses some version of the inside zone run. Success is often dictated by one or two blocks, which can come from anywhere. It's rarely a precise run - but it's often very effective.
Play 3: The Draw
The draw is used by many teams, running many systems. If your O-line can control who they let through and block whoever stays at home, it can go for long yardage. That's one reason that you often see it on 3rd-&-long, although teams that have done their film study should be ready for it on such downs.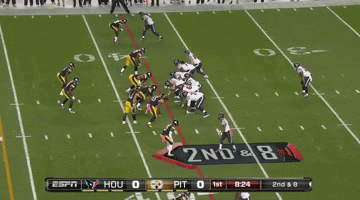 It's 8:24 of the first quarter, Houston's ball. At the beginning of their first drive, Houston is looking at 2nd-&-8 on their own 38-yard line. Fitzpatrick is under center with Foster six yards directly behind him. Pittsburgh is in an 'under' formation, strongest to the offensive left, with an even front.
Safety Troy Polamalu is freelancing on the left, so that side is slightly overloaded. Pitt has the guards covered, meaning that their DTs are lined up directly across from the guards. They have a DE out to the offensive right, covering new Broncos TE Garrett Graham.
There is no defender across from RT Derek Newton. He can either help Graham out or move directly to the second level and find a target there.
Fitzpatrick takes the snap and drops back in a passing stance to draw in the defenders. It works. Graham has cut inside off the line of scrimmage, as if going out for a pass. That leaves Pitt's DE to RT Newton. RG Brandon Brooks moves outside to double team Newton's DE.
Foster takes the handoff for a draw, and that's where things get fun. Foster plants his right foot just behind Chris Myers and cuts right. He has to outrun two defenders (a third is engaged with Graham, who's blocking at the second level) and the run goes for seven yards to the 45-yard line.
That leaves a 3rd-&-1, which, according to Brian Billick's text "Developing an Offensive Game Plan", is a highly beneficial down, since it's just as vulnerable to a long pass as to a short (or long) run.
The draw is standard to most systems, including (but hardly limited to) the WCO. The better you pass, the more likely it is to be successful. Some draw plays let the DL come in on one side as the runner breaks for the other. It's an old rule of playing the DL—if you're suddenly in an open lane to the QB and no one's grabbing at you, it's too good to be true. It's a draw or a screen pass, and you just got fooled.
Conclusion
These are just examples. The outside zone run looks much like the inside zone—it just aims for the edge. Like the inside zone, drawing the play up isn't running it. The RB may find a lane opening to the inside and need to take it. A defender can break through and force the RB to freelance. It's football.
These examples are templates. I looked for plays that clearly showed how to run them, and discarded dozens because they weren't clear. Even if the OL, TE (and/or fullback) blocked perfectly, the D might read your intention.
But still—Schwartz was right. These plays, except for the full stretch zone, are common to many teams for the simple reason that they work. For a team like Denver that needs to upgrade their rushing performance, going to the things that work is only good sense.
I have no doubt that Coach Kubiak can improve Denver's rushing performance. Devontae Booker is looking increasingly effective, breaking tackles and gaining yards. Kapri Bibbs is challenging Ronnie Hillman, which is good for both, and C.J. Anderson now has more legs behind him.
It's going to be one heck of a year.
To get instant Broncos notifications, download the NEW Scout mobile app for iOS HERE! 
Doc Bear is a Featured Columnist for MileHighHuddle. You can find him on Twitter @DocBearOMD.
Follow MileHighHuddle on Twitter @MileHighHuddle and Facebook and become a subscriber to receive access to premium content and discounted Broncos tickets.
null