If NFL preseason games are meant to clarify questions, then the Denver Broncos third game vs. the Los Angeles Rams provided a lot of answers. 
http://www.scout.com/nfl/broncos/story/1681565-5-reasons-you-should-go-p... We received a long look at the Broncos first-team offense and defense. 
And, presumably, who the starting quarterback will be come September 8. 
The Broncos came out on top, defeating Jeff Fisher's ball club 17-9. What did we learn? Let's get into it. 
Trevor Siemian Is Your Starting Quarterback
Before the preseason even started, we knew that whomever Gary Kubiak tapped to start the third preseason game would likely be named the starter for the regular season. Game 3 of the preseason is traditionally the "dress rehearsal" for NFL teams, where the presumptive starters at each position are given the lion's share of the snaps in the first half. 
Saturday's bout with the Rams held true to this football doctrine. Trevor Siemian started the game, while Paxton Lynch finished it—playing the entire second half. Mark Sanchez never took the field. 
In the aftermath of the game, I've heard that Sanchez's inactivity is a sure sign that the Broncos plan to cut him this week. Maybe that's true. According to the head coach, however, Sanchez's conspicuous absence could be attributed to something other than the team giving up on him. 
"I obviously thought about it all week long," head coach Gary Kubiak said post-game. "I sat down with Mark this morning before breakfast and I told him, I said, 'Mark, I'm going to play Paxton second and if things go the way I think, if Trevor plays as long as I think he's going to play, I'm not going to put you in there with four, five minutes left in the game.' Bottom line, I have a lot to go off of on Mark. He's played a lot of football. I needed to see these two other kids play again. That was a decision I made and I talked to Mark about it this morning. I explained it to him. He was great. We went from there."
http://www.scout.com/nfl/broncos/story/1700292-watch-every-trevor-siemia... Kubiak knows what he has in Sanchez. That knowledge includes the fact that Sanchez will not be the starter. With that in mind, it makes sense to give the two young signal-callers extended reps in live-game action. 
If they cut Sanchez, the Broncos can save $3.5 million on the salary cap. But they'd be without a proven veteran. I say "proven", because like it or not, Sanchez's NFL experience is replete with a variety of situations that Siemian and Lynch have yet to even scratch the surface on. 
As the highest-paid QB, is it worth it for the Broncos to keep Sanchez, knowing he'd be the backup? My answer to that is yes. As encouraging as Siemian and Lynch are, there's no telling what could unfold this season.
The Broncos must have a fail-safe, even if it costs them $4 million. They could ask Sanchez to take a pay-cut and maybe he'd accept it. Even if he wouldn't, the Broncos would truly be tempting fate were they to cut him loose and embark on the 2016 season with two QBs who have yet to throw a pass in a regular season game. 
As for Siemian, expect an announcement from Kubiak in the coming days that he has won the starting job. In Saturday's win, Siemian took more chances with the ball downfield, and it led to some good things. 
He did throw an interception—a questionable call by the officiating crew—but Siemian's vertical throws loosened up a Rams defense that had heretofore been stacking the box and sitting on the underneath routes. 
With Demaryius Thomas and Emmanuel Sanders at receiver, C.J. Anderson at tailback and Virgil Green at tight end, Siemian will have a bevy of veteran skill-position players, able to pick up the slack and cover many of the inexperienced quarterback's mistakes. 
Trevor Siemian will follow Peyton Manning as the Broncos starting quarterback. All signs point to it. Who would have thunk it? 
Ronnie Hillman Is Making This Team
For a while there, it really felt like it was only a short matter of time before the Broncos would move on from Ronnie Hillman. The team brought him back on a relatively inexpensive one-year deal. Since then, Hillman has been called out for his bad attitude and lackadaisical effort.
But he has responded. Being pushed by the arrival of a fourth round pick in Devontae Booker—who actually had a second round grade from the Broncos—and a young, hungry player lower on the depth chart in Kapri Bibbs, has driven Hillman to rise above. 
The Broncos believe that competition breeds excellence and Hillman's situation is case-in-point. Saturday night, as usual, he looked fast, but he also showed explosion and patience, two things he's had a difficult time showcasing consistently.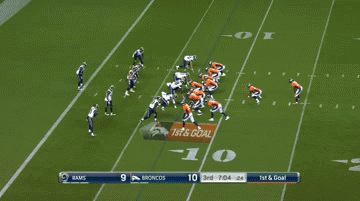 Saturday night, Hillman finished with five carries for 45 yards and the touchdown you see above. He turned in a whopping 9.0 yards-per-carry average. On a side-note, notice Juwan Thompson lead-blocking as the fullback on Hillman's 7-yard touchdown run. 
RELATED: 5 Bronco Veterans Who Could Be Surprise Roster Cuts
Bibbs didn't receive the quality of reps that Hillman did vs. the Rams. He was inserted late in the game with the third-team, while the Broncos tried to kill the clock in the four-minute offense. And that should tell you something. 
The Broncos certainly have needs at other positions but it wouldn't surprise me if they kept both Hillman and Bibbs on the roster, carrying four running backs. If it comes down to Hillman or Bibbs, the Broncos will stick with Hillman. 
Schofield Starting At RG Isn't A Bad Thing
With Ty Sambrailo still battling his elbow injury and Darrion Weems recovering from a concussion, Michael Schofield was inserted as the starting right guard Saturday night. The entire first-team O-line struggled mightily to start the game, turning in a disheartening first quarter of play. 
And that's to be expected, honestly. With all the injuries and the new players in the unit, the O-line hasn't received much of an opportunity to gel and build chemistry. But when Kubiak finally opened up the offense in the second quarter, we got a glimpse of the athletic ability the Broncos have assembled up front. 
As the starting RT in 2015, Schofield often struggled in pass protection. He was much more effective as a run-blocker. Now, as the RG, he's not tasked with working on an island one-on-one, going against the best edge rushers in the NFL. 
Working inside might actually play to his strengths. Schofield made several key blocks vs. the Rams, including the one you see below, where he sealed off the hole, getting to the second level to spring the ball-carrier for a big gain.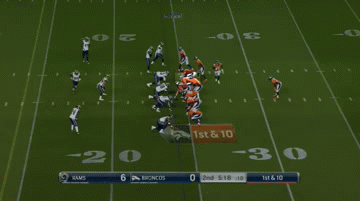 When Sambrailo returns, he won't have a starting job waiting for him. Despite a good showing thus far in the preseason, the Broncos aren't quite ready to unleash rookie fifth-rounder Connor McGovern. He'll serve as interior depth. 
Michael Schofield rounds out the Broncos starting unit. Russell Okung (LT), Max Garcia (LG), Matt Paradis (C), Michael Schofield (RG) and Donald Stephenson (RT). 
Dekoda Watson Channels His Inner Von Miller
The Broncos have truly unearthed a gem in veteran linebacker Dekoda Watson. Signed earlier this year to play inside, the Broncos quickly converted him to outside linebacker and the proverbial proof is in the pudding. 
Watson tallied 2.5 sacks in the Broncos win Saturday night. On his last of the game, he looked like a guy who wears a jersey number one digit different than his own—Von Miller.
In three preseason games, with limited snaps, Watson leads the Broncos with 5.5 sacks. Granted, he's going against third-team offensive units, but his performance virtually forces the Broncos to carry five outside linebackers. 
And it makes sense to do so, considering DeMarcus Ware's up-and-down health. Watson also brings the veteran experience of playing inside, if the Broncos get into a pickle in-season. And he's a willing and capable special teams contributor. 
It's always gratifying to see a journeyman pro finally turn the corner and show what he's capable of in the right environment. 
Henry Melton Already Making An Impact
With the season-ending injury to starting defensive end Vance Walker, the Broncos turned to the street free agent pool, signing former Pro Bowler Henry Melton. With 22.5 career sacks, we knew that Melton could bring the pressure and in his first game action in the Orange and Blue, we saw him do just that. 
Melton was unable to register a sack, but on the play above, it was his pressure that led to Dekoda Watson and Darius Kilgo splitting a sack. Yes, Melton was competing against third-teamers but you expect a seasoned veteran of Melton's ilk to make an impact against that level of competition. 
For only being a Bronco for just a few days, the front office and coaches are pleased with what they saw out of the eighth-year veteran. Melton will serve nicely on the D-line rotation and will come in handy on obvious pass rushing situations this season. 
Chad Jensen is the Publisher of Mile High Huddle. You can find him on Twitter @ChadNJensen.
Follow Mile High Huddle on Twitter @MileHighHuddle and on Facebook.
To get instant Broncos notifications, download the NEW Scout mobile app for iOS HERE!  
null