Thursday night, after the Denver Broncos lost their final preseason game to the Arizona Cardinals 38-17, my wife asked me how the Broncos looked. I explained to her that in exhibition preseason games, you're not so much evaluating the team, or how they performed collectively. 
What you're analyzing in the preseason—mostly—are individual performances. And although the Broncos lost the game by three scores, there were many noteworthy individuals who shined, and some who failed. 
We learned a lot following the Broncos fourth preseason game. Let's get to it. 
Don't Be So Quick To Crucify Riley Dixon
On the outside looking in, it's easy to criticize the performance of Denver's punter Riley Dixon on Thursday night, especially when you consider that the rookie's reps came at the expense of the longest tenured Bronco—Britton Colquitt—whom the team released on Tuesday. 
Dixon averaged a measly 37.4 yards per punt on the night. He looked shaky and consistently gave the Cardinals great field position to begin their time-consuming drives. 
However, after the game, head coach Gary Kubiak made it clear that although Dixon's performance was disappointing, it wasn't all his fault. The coaches—specifically special teams coordinator Joe DeCamillas—share some of the blame. 
"Riley is a young kid," Kubiak said. "He's done a lot of good things. Obviously tonight, we've got to be better than we were tonight. It's not about one spot. There's a lot of things that went on tonight that we have to do a better job at, coaching, playing, everything. We were asking Riley to experiment a little bit with the punt Joe (DeCamillis) has been working with him on. Obviously it didn't work out very good tonight, so put that on us as coaches, but he's got a bright future."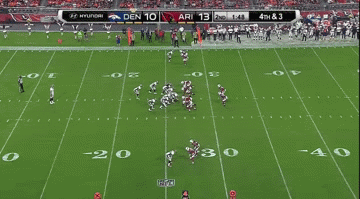 It's not often that I'll evaluate a punt play but on this one, as you can see, Dixon only managed to net 18 yards. He excels at directional punting, but in this case, he had neither the leg, nor any kind of accuracy. It's hard to glean what DeCamillas had in mind. 
The punting game was far from encouraging on Thursday night. But we shouldn't knee-jerk. Obviously, in a game that didn't count, the Broncos wanted to try something a little different.
It didn't work out. Add to that a missed field goal by Brandon McManus, and questions arise regarding the kicker/place-holder relationship. I've heard it said that the relationship between the kicker and the holder is one of the strangest in all of professional sports. 
McManus is used to Colquitt holding. Now, he must acclimate to Dixon and the truth is, it's going to take some time. 
Likely, these will be issues that rear their head throughout the regular season. Like most rookies, Dixon will struggle to find consistency. Let's hope he's up far more than he's down. 
Jordan Taylor's Coming Out Party
Jordan Taylor has been an animal throughout training camp. For many, it was a foregone conclusion that he'd be making the 53-man roster. 
However, as awesome as he's been in practice, he's struggled over the last two years to translate that production to the actual preseason games, when the evaluations are scrutinized much more intently by the coaches. 
Finally, Taylor broke the cycle on Thursday night. On the first throw of the game, Taylor ran a short curl, broke the tackle and took it to the house for a 57-yard touchdown.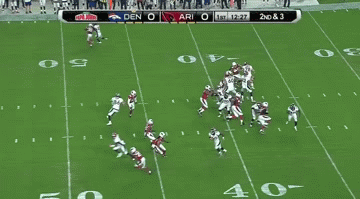 It was just what the doctor ordered for Taylor. He showed a penchant for not only getting open, but making guys miss. His elusiveness and physicality might surprise some, because of his thin frame. 
But this kid proved that he belongs in the NFL. If the Broncos were to waive him, there's no way they'd be able to sneak him onto the practice squad again. 
When it rains, it pours. Taylor grabbed another touchdown late in the game, on a route where he did a great job helping to sell the play-fake, heading for the safety at an angle, on what the Cardinals defensive back assumed was a crack block. 
But Taylor stuck his foot in the ground, and cut outside as Paxton Lynch sold the play-action, and rolled out to find the 6-foot-5 receiver in the endzone.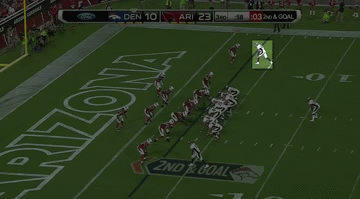 Taylor finished with four receptions for 109 yards and two scores. He's making this team. 
Tough Decisions At Running Back
Gary Kubiak recently described the cut-down process as more than difficult. He called it "miserable". The Broncos have to make 22 cuts soon, and at least one of them will be a running back. 
That's been the question; how many running backs will the Broncos keep? And which guys make the cut? Ronnie Hillman had a phenomenal Game 3, averaging nine yards per carry. He only saw about 15 snaps on Thursday night. 
Kapri Bibbs did most of the heavy lifting, rushing for 51 yards on 10 carries. But 25 of those yards were on one run. 
Juwan Thompson carried the ball five times, but only managed seven yards. He played most of the night at fullback. 
Bibbs' performance throughout camp and preseason has been encouraging but I'm not sure its been enough to beat out Hillman. With C.J. Anderson's penchant for getting hurt, the Broncos need a veteran guy on their depth chart. 
Devontae Booker will be the No. 2 but he's still grasping the offense and acclimating to the speed of the game. Unfortunately, I think Bibbs and Thompson are on the outside looking in. With needs elsewhere, the Broncos likely keep only three backs. 
Update: The Broncos are reportedly "shopping" Ronnie Hillman. If they can unload him, which is doubtful, they'll keep Bibbs. They've already waived Juwan Thompson. 
For those of you pining for Bibbs, you'd better hope GM John Elway is in the zone today and that he remembers the age-old sales acronym: A.B.C.
Always
Be
Closing
Chad Jensen is the Publisher of Mile High Huddle. You can find him on Twitter @ChadNJensen.
Follow Mile High Huddle on Twitter @MileHighHuddle and on Facebook.
To get instant Broncos notifications, download the NEW Scout mobile app for iOS HERE!  
null