The Denver Broncos did it again. They defied the same critics and prognosticators who didn't take them seriously as a threat to beat the Carolina Panthers in Super Bowl 50.
The very same hot-take artists just couldn't bring themselves to allow that a defending World Champion squad that lost a future Hall-of-Fame quarterback, and several other key contributors over the offseason, could find a way to take down a Panthers team that won 17 games last year—and do so with a young quarterback starting his first game in the NFL. 
And yet, the Broncos still found a way to get it done. It wasn't always pretty and the team has a lot to clean up, but the end result was Broncos 21, Panthers 20. 
http://www.scout.com/nfl/broncos/story/1704596-broncos-made-a-statement-... You could include me among the prognosticators who didn't see this Broncos team emerging from Week 1 with a win. I had the Broncos losing a close one, 20-17. 
Why? Because as encouraged as I have been about Trevor Siemian—going all the way back to OTAs—I honestly believed that the Broncos offense would need a little time to put it all together. And even though they're far from a finished product, there were several aspects to the offense's performance on Thursday night that were downright impressive. 
I didn't see it coming, especially after Denver's starting five on the O-line tallied less than 30 snaps together in the preseason. I figured they'd need a few games to gel and form chemistry and cohesion, before hitting their stride. And going against Carolina's elite defensive front, I certainly didn't see Denver's offense turning the corner in Week 1. 
But they did. And here I am, happily eating my crow. At least I have some Siracha to take the edge off. 
What did we learn from Denver's impressive victory on opening night? Let's get into it. 
This O-Line Could Be Scary-Good
The offensive line was one of the biggest questions marks coming out of the preseason. GM John Elway made a few acquisitions to bolster the unit over the offseason, adding Russell Okung at left tackle and Donald Stephenson at right tackle. 
Elway cut bait with starting right guard Louis Vasquez and chose not to re-sign starting left guard Evan Mathis. Then Denver's GM traded Ryan Clady away to the New York Jets. 
To replace 2015's starting guard tandem, the Broncos tapped second-year Max Garcia (LG) and 2014 third round pick Michael Schofield (RG)—who started at RT for the Broncos for most of the season and throughout their playoff run. 
The only carry-over starter, playing in the same position as last season, would be center Matt Paradis. On paper, it was an impressive starting five. However, we hardly saw them play together in the preseason and Okung was late to the party at training camp, as he recovered from offseason surgery. 
It was hard to project exactly what the Broncos had in their O-line heading into the opener. The team unveiled their starting five against the Panthers and they absolutely were the difference offensively. 
After failing to eclipse 200 total yards in the Super Bowl, the Broncos produced 307 total yards of offense on Thursday night. They rushed for 148 and passed for 159, while scoring 21 points, despite turning the ball over three times in scoring position. 
The Broncos converted just one third down in February. The 2016 counterpart went 5-of-10 on the money down. It was because the big boys up front were getting it done. 
On the play below, we see LG Garcia make the key block on All-World DT Kawann Short to spring C.J. Anderson for a nine-yard gain. There's a lot going on blocking-wise on this play, but pay attention to Garcia and LT Okung. 
The O-line also did an admirable job in protecting Trevor Siemian. relinquishing only two sacks on the inexperienced signal-caller. Considering the level of competition they faced, I would categorize Denver's O-line performance as outstanding. 
Janovich Can Be A Weapon
There were some pretty high hopes for rookie fullback Andy Janovich, after the Broncos selected him in the sixth round out of Nebraska, where he walked on. But between learning Gary Kubiak's offense and acclimating to the speed of the NFL game, we didn't see Janovich make much of an impact in the preseason—as a blocker or a skill-position player. 
But on Thursday night, we got to see just how effective the former Cornhusker can be in this offense. Not only did he take his first career carry 28 yards to the house, but he made several key blocks, leading the way for C.J. Anderson's 92 yards on the ground. 
Watch him in the play below absolutely crush Pro Bowl linebacker Thomas Davis, springing Anderson for a 28-yard gain.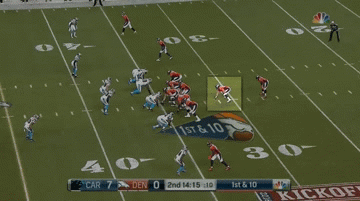 There are so many ways the Broncos can use Janovich in this offense. With Kubiak unveiling the full scope of his offense post-Manning, we can look forward to Janovich as a new weapon that will keep opposing defenses guessing. 
Siemian Shows Some Sand
Over the last four weeks, the Trevor Siemian talk has been a cacophony of polar absolutes. On one side, critics can't find anything positive to say about his game. On the other, he's been compared to Tom Brady because of his late-round pedigree. 
The truth is, before Thursday night, we only received a small glimpse into what Siemian can do. He played in three preseason games—starting two—and was mostly limited. In his playing time, we saw him do some really good things—some bone-headed, too. 
However, inside the coaches' meeting room and the locker room, Siemian had quietly separated himself from the other two QBs the Broncos took into camp. Siemian earned the confidence of the coaches and the support of his teammates.
As a second-year player, it isn't easy to beat out a eighth-year veteran, while staving off a shiny new first round pick. But the unflappable Siemian pulled it off. 
http://www.scout.com/nfl/broncos/story/1704841-siemian-quiets-critics-wi... In his first pro start, we finally got a full understanding of why Kubiak and company chose Siemian. He showed a command of the offense and a quiet confidence. 
The moment most certainly wasn't too big for him. Not only did he earn his first career win, but he also tallied his first fourth-quarter comeback. 
Trialing by 10 points to start the fourth quarter, Siemian's poise allowed the Denver offense to score two touchdowns and take a lead that would not be relinquished. 
It wasn't all roses. He threw two interceptions, one of which was under pressure on a ball he failed to put enough air under, despite a wide open Emmanuel Sanders. He also failed to put enough loft on a short pass to TE Virgil Green on the goal line that was tipped and almost picked off. 
The Broncos still managed to net seven points on the drive.
"I think we had nine possessions and Trevor put us in position six times to score points," Kubiak pointed out Friday. "That's a hell of a defense that we played."
Going against a defense as stacked as Carolina's, I can't help but concur with Kubiak. I came away impressed with Siemian's initial showing.
He showed poise under pressure you usually only see from seasoned veterans. And he threw the ball with zip and accuracy, to say nothing of his mobility and knack for eluding pressure. 
In the play below, watch him thread the needle to TE Green on a 2nd-&-12, trailing in the third quarter—with big DT Star Lotulelei bearing down on him. 
Trevor Siemian will improve as he continues to get playing time with live bullets. But there will be growing pains.
However, Siemian seems to have the sand to fit in well with this tenacious Broncos team. Before the opener, he had the support of his teammates. Now he has the belief. 
Anderson Seemingly Already In Mid-Season Form
You don't often see undrafted players make the Pro Bowl in their second year. But C.J. Anderson did just that in 2014. He dominated the NFL down the stretch, tallying more than 1,000 total yards and double-digit touchdowns.
Anderson entered 2015 as the presumptive starter, but being somewhat out of shape led to him getting injured in the preseason—and he lost the starting job to Ronnie Hillman. 
However, Anderson once again proved his mettle, carrying an impotent Broncos offense down the stretch and throughout their postseason run. The Broncos rewarded Anderson for his efforts, signing him to a four-year, $18 million extension this past spring.
The Broncos had to vie with Adam Gase, but ended up matching Miami's offer, keeping Anderson in Denver. Anderson seemed motivated to repay John Elway's faith in him, coming to OTAs and training camp in the best physical shape of his life and taking on more of a leadership role on offense. 
He had a great camp. With the deployment of the fullback leading the way on opening night, and a physically inspired outing from his O-line, Anderson tallied 139 yards from scrimmage and two touchdowns. 
He ran with tremendous burst and decisiveness, showcasing his knack for getting yards after contact.
For those who doubt Anderson's vision, I submit to you Week 1 of 2016. He also showed his skill-set in pass protection and soft hands in the passing game.
Coming off a Pro Bowl berth, I thought 2015 would be the year Anderson turned the corner and would sustain a high level of production throughout the season. I was off by a year. 
The Broncos offense in 2016 will be centered around the rushing attack, which means C.J. Anderson will be the featured player. If Thursday night was any indication, he's in for a big year. 
Defense Still Has 'It'
It's not easy to overcome the loss of players of Malik Jackson, Danny Trevathan and David Bruton's caliber. But on opening night, the Broncos proved that they still have the core group of elite talent to come through in the clutch. 
The unit overcame a discombobulated first half to settle in and play their dominating brand of defense in the second. The Broncos gave up 210 total yards and 17 points in the first half. 
Coming out of halftime, they made the necessary adjustments and the proof was in the pudding. After giving up 99 rushing yards in the first half, they tightened up, allowing just 58 in the second to a very powerful Carolina ground attack. 
When the chips were down in the second half, they pressured and hit Cam Newton relentlessly—sacking him three times—and took the ball away in a pivotal moment, trailing by four points in the final period. 
Darian Stewart was a heat-seeking missile, coming in to clean up plays with an enforcer's swagger. He laid several huge hits on Carolina, striking fear into his foes. 
Chris Harris, Jr. put his All-Pro chops on display, deflecting a pass—popping it in the air—and diving to make the interception. It was clutch. 
Wade Phillips has plenty to clean up. The Broncos played with great physicality, but not always with discipline. And they gave up too many rushing yards early. 
But as Denver's tip-of-the-spear, it should be heartening for fans to see the defense pick up where they left off in February. 
Chad Jensen is the Publisher of Mile High Huddle. You can find him on Twitter @ChadNJensen.
Follow Mile High Huddle on Twitter @MileHighHuddle and on Facebook.
To get instant Broncos notifications, download the NEW Scout mobile app for iOS HERE! 
null