The 2016 Cincinnati Bengals are a tough team to get a bead on. On paper, they are by-and-large the same unit that made it to the playoffs last year. 
They've experienced some free agent losses, but they've also received their annual influx of new talent via the NFL Draft. They remain one of the deepest rosters in the AFC.
Out of the gates, Cincinnati opened up their first two games on the road, splitting them to start 1-1. They beat an underrated New York Jets team in Week 1, and lost to their Division rival Pittsburgh Steelers the next week. 
Meanwhile, both Pittsburgh and the Baltimore Ravens started their respective seasons 2-0, putting the pressure on Marvin Lewis and company early on. The Bengals have been a consistent playoff contender dating back to 2011. This is going to be a grind-it-out game. 
The Denver Broncos have started the season 2-0 but it won't be easy getting to 3-0. What must they do to emerge victorious in Cincinnati? Let's get to the keys to victory. 
Ravage The Red Rifle, Disrupt A.J. Green
Last year, the Broncos dodged a bullet of sorts, drawing Cincinnati's backup QB A.J. McCarron. To his credit, McCarron played a flawless first half but slowly succumbed to the Broncos relentless pass rush in the second.
This time around, the Denver defense will be faced with Andy Dalton, who beat the Broncos in Denver in 2014. Dalton is a little banged up, after injuring his ankle last week in Pittsburgh. 
And he's without a couple of his go-to weapons from 2015. Wide receiver Mohamed Sanu is now in Atlanta and Pro Bowl tight end Tyler Eifert will miss this game as he recovers from offseason ankle surgery. 
http://www.scout.com/nfl/broncos/story/1710020-mhh-predicts-broncos-vs-b... But Cincinnati still has the trusty A.J. Green, whom Dalton has targeted 21 times this year. 6-foot-4, 210-pound Green has hauled in 14 balls for 218 yards and a touchdown already. 
Despite their formidable two-headed monster at running back, the Bengals remain a predominantly aerial offensive attack. They're passing the ball 68.97 percent of the time on first down. 
Expect Wade Phillips to fight size with size and assign the 6-foot-1 Aqib Talib to shadow Green throughout most of the game. In certain down-&-distance situations, Phillips might put a safety over the top of Green to take away the deep ball. 
Without Eifert, Dalton doesn't really have another reliable target, outside of running back Giovani Bernard. The Bengals will try to shorten Dalton's drop-backs and try to pick the Broncos apart with the dink-and-dunk but they don't have the personnel to pull it off. 
With the exception of a single corner completion in the endzone, the Broncos limited Green in Week 16 last year. It was a highly-contested ball that Talib covered well, and even got a hand on, on Cincinnati's opening drive. 
The Bengals tried forcing the ball to Green downfield. On one of McCarron's deep targets to Green, he had the big receiver matched up one-on-one on the 5-foot-10 Chris Harris, Jr., but the All-Pro corner showed amazing recovery speed and made a phenomenal play on the ball to break it up. 
The Broncos have the personnel to match up with Green one-on-one. But with how limited Andy Dalton's weapons are this time around, there's no reason to tempt fate, with the exception of the occasional safety blitz. 
Denver has a lot of money tied up in their cornerback duo and they do so to win the type of matchups Week 3 will serve up. Take away Green and put the pressure on Dalton early and often. 
That means Shane Ray is going to have to step up big time. Cincinnati will likely try to copy what Carolina did in Week 1 and double or triple-team Von Miller, and pepper him with chips out of the backfield. 
Miller rushes from the strong side (offensive right) mostly, which means Ray will be matched up with one of the game's best, most battle-tested left tackles — Andrew Whitworth. 
DeMarcus Ware was shut down by Whitworth last year. Whether or not Ray, and Shaquil Barrett, can produce some QB pressures, and/or sacks and take some of the pressure off of Miller, will be a determining factor in this game. 
But if the Broncos can get to Dalton, he has a penchant for turning the ball over under pressure. That's a recipe for success. 
Running Game's Gotta Do The Heavy Lifting
The Broncos completely shook up their offensive line over the offseason, in order to be more effective in the running game. Gary Kubiak wanted to match personnel to his zone blocking scheme and so far, the proof is in the proverbial pudding. 
Denver is ranked No. 5 in the NFL, averaging 141 yards rushing per game, led by C.J. Anderson's 166 yards. Anderson has contributed 232 yards from scrimmage and three total touchdowns. 
On the road, in hostile territory — with an inexperienced quarterback — Anderson will be leaned on heavily. The Bengals are ranked No. 32 in rushing defense, relinquishing 138 yards per game. 
http://www.scout.com/nfl/broncos/story/1709790-watch-c-j-anderson-sound-... The fly in the ointment is a possible shake-up on Denver's O-line. With starting right tackle Donald Stephenson out this week with a calf strain, it's unclear how the Broncos will adjust their starting five. 
Last week vs. the Indianapolis Colts, Kubiak decided to kick right guard Michael Schofield out to RT and brought Darrion Weems in at RG. Some considered Schofield's performance at RT a categorical disaster. I wouldn't go that far. 
The Broncos have more options this week, however. Ty Sambrailo is healthy and good to go. But he hasn't played meaningful football since Week 3 of last year. Kubiak could choose to put him in at RT and keep Schofield at RG. 
The best thing to do would be to keep Schofield at RG, where he's thrived thus far, and put Sambrailo at RT. The Broncos drafted him in the second round last year to play. He opened camp as the first-string RG, but after he got hurt, Schofield stepped in and put a stranglehold on the job. 
Don't get me wrong. I like Darrion Weems. But let's see what Schofield and Sambrailo can accomplish next to each other. If Sambrailo falls on his face, the team can always go back to last week's arrangement. 
As for Anderson, he averaged 8.1 yards per carry last year vs. Cincinnati. Linebacker Vontaze Burfict will miss this game due to suspension, which opens things up even more for Denver's running game.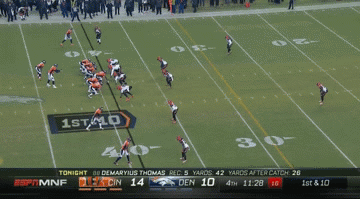 If Anderson and company can produce in this same fashion, sustain drives and keep the Broncos defense fresh, I really like their odds of winning in Cincinnati. Easier said than done. 
Convert Redzone Opportunities Into Six
Through two games, the Broncos offense has moved the ball up and down the field. But turnovers and an inability to convert scoring drives into six points have held this unit back from being prolific. 
For being a first-time starter in his second year, Trevor Siemian has done an admirable job. But there's enormous room for growth. And it starts in the redzone. 
The Bengals defense will stiffen in their home debut. They're going to play the Broncos tough. Sustained drives will be key.
But redzone efficiency will be paramount. Siemian and Kubiak have stated repeatedly this week their belief that the offense is "close" to firing on all cylinders. 
Siemian's inexperience has really shown itself in the red area. He tries to protect the ball and has lacked that closer's killer instinct. Here's a case in point, where he put the ball out of Emmanuel Sanders' reach last week, despite the receiver being wide open. 
Siemian later converted a two-point attempt to Demaryius Thomas on a similar throw to the left corner. That's the kind of determination Siemian's gotta show this week, when the Broncos have the chances to score. 
Chad Jensen is the Publisher of Mile High Huddle. You can find him on Twitter @ChadNJensen.
Follow Mile High Huddle on Twitter @MileHighHuddle and on Facebook.
To get instant Broncos notifications, download the NEW Scout mobile app for iOS HERE! 
null