It's Week 3 in the NFL and it's time for the undefeated Denver Broncos (2-0) to travel east to the state where there's "so much to discover" to take on the Cincinnati Bengals (1-1).
The Broncos are coming off of a defensive masterpiece against the Indianapolis Colts, while the Bengals are limping into this matchup fresh off yet another loss to the Pittsburgh Steelers in a rain-soaked game at Heinz Field. 
Like I did last week, I'll take a look at the Cincinnati offense as a whole, but I'll focus on one key area that the Broncos will need to be aware of and prepared to stop if they want to improve to 3-0 to start the year.
http://www.scout.com/nfl/broncos/story/1710020-mhh-predicts-broncos-vs-b... At quarterback, I'm sure you all know about Andy Dalton by now (side note:  I'm a HUGE Dalton fan). Over the last few seasons, Dalton has emerged as one of the top quarterbacks in the game — at least in my eyes. 
The sixth-year quarterback can make all of the throws needed in the NFL and has really taken on added responsibility year after year in the Bengals' offensive scheme. 
A large part of his improvement over the last few seasons has gone hand-in-hand with the emergence of superstar receiver A.J. Green, who should no doubt be considered one of the top 3-5 receivers in the NFL.
Green was shut down for the most part last week in Pittsburgh, hauling in just two passes for 34 yards, but he was targeted eight times, so the Bengals will try and get him the ball as much as possible. 
Outside of Green, veteran receiver Brandon LaFell has been solid on the outside as a possession receiver for the Bengals, while rookie slot receiver Tyler Boyd has really emerged as a chain-moving receiver for Cincinnati that Dalton is really starting to put more and more trust in. 
Stud tight end Tyler Eifert won't play in this one, but C.J. Uzomah has stepped up in his absence to give the Bengals a big-move tight end that can give opposing defenses trouble. However, last week against Pittsburgh the second-year tight end had a tough time against the Steelers' physical safeties in Mike Mitchell and Robert Golden.
He'll face that yet again this week with Denver's duo of T.J. Ward and Darian Stewart. Behind Uzomah is Tyler Kroft, but the third-year tight end out of Rutgers is more of a blocking tight end than a pass-catching threat. 
In the backfield, Cincinnati has a tremendous 1-2 punch in Jeremy Hill and Giovani Bernard. I've been on record that Bernard is head and shoulders better than Hill and should get a majority of the work, but clearly the Bengals see that differently as the duo splits touches week-in and week-out.
http://www.scout.com/nfl/broncos/story/1710038-3-keys-to-victory-broncos... Bernard is a significant threat out of the backfield as a pass catcher, hauling in a game-high nine receptions for 100 yards and a late touchdown against the Steelers. He's exceptionally shifty and has quite a bit of power to his slight frame; keep an eye on the fourth-year running back. 
Despite having tons of talent at the skill positions, the biggest issue with this Cincinnati offense through two weeks has been the offensive line, which has struggled to open up running lanes for the backs while also struggling to protect Dalton. 
The Bengals have failed to rush for more than 60 yards in both of their games, while giving up eight sacks through the first two weeks. Left tackle Andrew Whitworth is a stud left tackle and arguably one of the top-five players at his position, but from there everything else is a question mark for Cincinnati. 
Sure, Kevin Zeitler is solid at left guard, but he's being asked to cover up some mistakes by center Russell Bodine, who happens to be one of the worst starting centers in the league. Right guard Clint Boling has struggled through two games, while second-year right tackle Cedric Ogbuehi is in for a tough week this week against Von Miller, Shaquil Barrett and Shane Ray coming off of the edge. 
If the Broncos are to win this game with an inexperienced quarterback in Trevor Siemian making his first career start on the road, they'll need the pass rush to take over and get to Dalton early and often against this porous offensive line. 
Where the Bengals will have to take advantage is through an impressive screen game that has worked for two big plays this season.
Play 1: Week 1 vs Jets
Q3: 7:18
1st-&-10, ball on CIN 8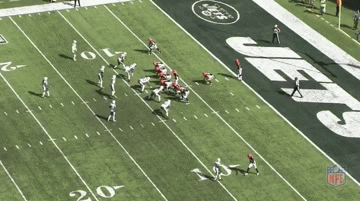 Take a look at the way the Bengals set this screen up for Green to get him in space against the Jets defense. Before the snap, Dalton changes things up as Whitworth and Uzomah flip to the right side, while Kroft motions to the left to make it an unbalanced line to the right.
At the snap, Kroft and LG Zeitler fake like they're down-blocking to the right to draw the linebackers that way, before Dalton pulls the ball out on the play-action fake, firing back to the left, where Green has blockers in front, giving him a great lane to work down the field. 
If Green doesn't have a brain cramp, he's taking this to the house for a long touchdown. 
Against the Steelers, the best offense the Bengals could produce was through screens and dump-offs to Hill and Bernard.
Play 2: Week 2 vs. Steelers
Q2: 0:48
1st-&-10, ball on CIN 32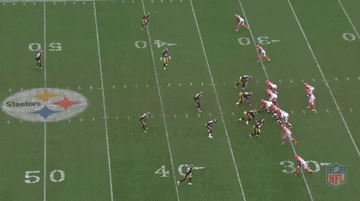 This is sort of a screen pass to Bernard, as it's clearly designed to get him the ball, but the Bengals do a great job of getting blockers down the field to get hats on linebackers and defensive backs, providing the skill players with room to run after the catch.
Cincinnati is good at hiding their intentions to start a play, which gives the offensive line and tight ends a chance to get into blocking position. With the large amount of pressure the Broncos are expected to get on Dalton in this game against one of the worst (at least for right now) offensive lines in football, the Bengals will have to utilize screens to combat that Denver pass rush. 
It will be up to the Denver front seven to read their keys and process what's happening in front of them to slow down the screen game in this Week 3 matchup. 
To get instant Broncos notifications, download the NEW Scout mobile app for iOS HERE! 
Josh Carney is a Featured Writer for Mile High Huddle. You can find him on Twitter @JCarney_Sports.
Follow Mile High Huddle on Twitter @MileHighHuddle and on Facebook.
null