The Denver Broncos are the defending World Champions. They're a very good, well-coached football team. 
But even the best teams have weaknesses.
http://www.scout.com/nfl/broncos/story/1715901-gary-kubiak-to-take-the-w... Whether it's due to the injury bug, a lack of talent or poor coaching, every team falls short of the mark at some level. The Broncos have a few cracks in the foundation that they were able to cover over the last few weeks by virtue of their relatively soft schedule. 
When you play another truly good team, another well-coached team, they will work to exploit your weaknesses. The Atlanta Falcons did just that. 
The hole in the boat finally caused the ship to take on water and sink. Fortunately for the Broncos, many of their weakness as a team can be laid at the feet of the injury bug. 
Often times, you learn far more about a team through losses than you ever do wins. Such was the case in Week 5. What did we learn? Let's go to the film room. 
Atlanta Found Denver's Defensive Weakness(es)
I've already been asked multiple times, and I've heard it everywhere — from the radio to the blogosphere — have opposing teams figured the Denver defense out? 
In a word, no. 
The truth is Atlanta had the perfect combination of talent to match up well vs. Denver and capitalize. Not every team in the NFL has a running back tandem of Atlanta's caliber. Devonta Freeman is a beast, as is Tevin Coleman.
Both backs are dual threats and give offensive coordinator Kyle Shanahan a versatile ability to craft a game-plan and attack a defense. They're just as capable of splitting their backs out wide as they are pounding the rock between the tackles. 
http://www.scout.com/nfl/broncos/story/1715578-two-areas-denver-s-defens... It all depends on their matchup. In the case of the Broncos, Shanahan zeroed in on his opponent's vulnerabilities in the middle of the defensive line and in their (in)ability to cover running backs. 
Freeman and Coleman accounted for 286 yards from scrimmage — 76.8 percent of Atlanta's total offensive output. Freeman pounded away between the tackles, while catching three passes on five targets. 
But it was Coleman who absolutely killed the Broncos. Coleman is one of the fastest running backs in the league. He ran a 4.39 40 at his pro day last year, otherwise known as sub-4-40 speed. 
With Wade Phillips' predilection for man-coverage, Coleman vs. Brandon Marshall and Todd Davis was a matchup just screaming to be fed. And feed him they did. 
Here's the thing though. If you're going to hang your hat on man-coverage, you have to execute as tacklers. Most of the time, the Broncos are very good in that department. Against Atlanta, not so much. 
On Atlanta's opening drive, Coleman had a 48-yard catch-and-run that served as a harbinger of things to come. 
This early play featured the quintessential comedy of errors that would plague Denver's defense throughout the contest. We see Coleman split out in the right slot, at the top of the screen. 
ILB Davis is lined up on him one-on-one pre-snap. Just inside of Davis is Marshall, lined up over the tight end. Coleman does nothing fancy here. He simply runs a a shallow drag, while Davis and Marshall collide, slowing Davis' pursuit. 
It was a brilliant play design by Shanahan. The TE ran interference, clearing out the linebackers. QB Matt Ryan dumps the ball and it's off to the races for Coleman. 
http://www.scout.com/nfl/broncos/story/1715531-sky-falling-in-denver-pum... However, this play should have been stopped after about 13 yards, but safety T.J. Ward gets duped by Coleman's speed and whiffs on the tackle. From there, the RB just turns on the jets. Darian Stewart saved this from a touchdown. 
Again, the play design. All the corners have their backs turned to the QB, covering their man one-on-one. That, in conjunction with Davis and Marshall's faux pas, clears out the middle of the field and gives Coleman plenty of time to build up a head of steam. 
Maybe the Broncos defense didn't do their homework on Atlanta. Maybe they overlooked them in a sense, focusing on taking away Julio Jones. All I know for certain is they were out-executed — plain and simple. 
When faced with matchups of this nature, Wade Phillips must do a better job of adjusting in-game, even if that means sacrificing the size and power of a linebacker for a defensive back who can cover and has speed.
Make them beat you between the tackles, inch-by-inch. Don't give up huge chunk plays due to mis-matches. 
Sambrailo's Walk Of Shame
Ty Sambrailo played a key role in Denver's inability to protect Paxton Lynch. 
It's easy to point to how bad right tackle Sambrailo was in pass protection vs. Atlanta. And he was atrocious, relinquishing multiple sacks to Vic Beasley, who had heretofore been in the "bust" conversation. 
But Sambrailo was also a big reason why the Broncos couldn't run the ball. With a rookie quarterback starting his first game, the Broncos really needed to run the ball with some authority in Week 5. They finished with 84 yards, averaging 3.5 yards per attempt. 
Sambrailo was consistently beaten at the point of attack in the running game. It was bad. Down 10 points at the start of the second quarter, the Broncos were in business at the Atlanta 31-yard line. It was a crucial third-&-1.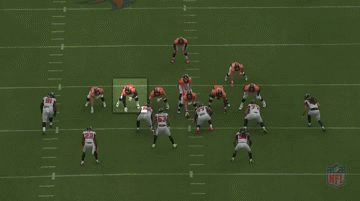 The hand-off went to C.J. Anderson, as the offensive line stretched left behind LT Russell Okung. Sambrailo is blocking on the back-side of the play. Watch as he completely whiffs on a cut-block, failing to take out his assignment, who simply waits for Anderson to cut it back and engulfs him. 
In fairness, center Matt Paradis was beaten on this play by Atlanta DT Grady Jarrett, who pushes Paradis into the backfield, disengaging in time to help take down Anderson for no gain. 
Anderson was stymied, in part, by Sambrailo's failure to block his man, while also serving as an obstacle in the middle of the hole. Had Sambrailo not been lying right in the middle of Anderson's cut-back lane, he might have picked up the yards needed to move the chains. 
Between his failures both run blocking and pass blocking, and a crucial holding penalty later in the game, the Broncos pulled the plug on the Sambrailo experiment. They moved Michael Schofield over to RT, and put Darrion Weems at RG. 
Playing injured isn't an excuse at the pro level. If you're on the field, you're expected to execute. At the risk of sounding too reactionary, Sambrailo is on the verge of being a wasted second round pick for John Elway. 
The good news? From what I've been told, starting RT Donald Stephenson is expected to return to the starting lineup for Week 6, as is Virgil Green — Denver's starter and most proficient blocking tight end. 
Shane Ray Is Turning The Corner
In last week's episode of the Huddle Up Podcast, one of my keys to a Broncos victory in Week 5 was Shane Ray. After exploding in Week 3 at Cincinnati with three sacks, Ray wasn't as productive the next week. 
With DeMarcus Ware still on the mend, the Broncos need Ray to produce. Although it was in a losing effort, Ray did just that vs. Atlanta. 
He tallied seven combined tackles (second on the team) and two tackles for a loss. He also sacked Matt Ryan in a most remarkable way. 
On this play, Ray doesn't beat Falcons LT Jake Matthews, per se. But he still manages to get the sack through pure relentlessness. 
The TV commentators pointed it out, but Ray gets knocked to his knees twice, but still crab-walks far enough, and fast enough, to wrap Ryan up around the ankles. 
Extraordinary hustle. Absolutely phenomenal display of a motor. Ray was a factor against the run and the pass in Week 5. 
One of the funnest aspects of watching Denver's 2016 season unfold has been the emergence of Shane Ray, who now has four sacks through five games. He's on pace for 12-plus sacks in his second year. 
Note: I've been outspoken about Paxton Lynch. I will save my thoughts on his performance for an individual piece. 
Chad Jensen is the Publisher of Mile High Huddle. You can find him on Twitter @ChadNJensen.
Follow Mile High Huddle on Twitter @MileHighHuddle and on Facebook. 
To get instant Broncos notifications, download the NEW Scout mobile app for iOS HERE! 
null