Right now, there's a lot to be concerned about in Broncos Country. On Thursday night, the Denver Broncos were trounced by the San Diego Chargers 21-13, and have now lost two games in a row. 
Over the last two games, the Broncos have looked like the antitheses of the Super Bowl Champion team from last season. However, six games into the 2016, it's not quite time to hit the panic button. 
This is a team wired to overcome adversity. We've seen it over and over again, ever since Gary Kubiak took over the head coaching duties. 
http://www.scout.com/nfl/broncos/story/1717411-2-broncos-in-concussion-p... When the chips are down — when it's gut-check time — the Broncos have consistently risen to the occasion under Kubiak. In 2015, the team overcame two separate two-game losing streaks on their way to not only winning the AFC West for the fifth consecutive season, but the AFC's No. 1 playoff seed, as well. 
Of course, the complexion of this year's roster is quite different, namely due to the loss of Peyton Manning. Although the Sheriff's physical abilities markedly declined in 2015, his knowledge and veteran savvy gave his fellow players a spark and the confidence to take on all comers. 
In a sense, the 2016 Broncos are re-learning how to overcome obstacles. But they do so through the prism of past experience — a well of valuable knowledge.
They now get 11 days between games — a mini-bye, if you will — to go back to the drawing board and figure out how to get back on track. At times on Thursday, the Broncos stunk it up across all three phases. 
We did learn a lot about the Broncos — both directly and indirectly. Focusing on the offense, here's what I took away from Week 6's disappointing loss. 
Out-Coached
The Broncos were of course without their head coach in San Diego, after he was briefly hospitalized with a complex migraine condition. The onus fell on special teams coordinator Joe DeCamillis to handle the in-game situational management. 
Offensive coordinator Rick Dennison, likely in combination with quarterbacks coach, and "passing game coordinator" Greg Knapp, handled play-calling duties in San Diego. Overall, from the game-planning to the play-calling, it was a collective effort. 
That effort fell well short of the mark. 
Yes, the Broncos were out-executed at every turn. But they were also out-schemed and out-coached. 
They say the book on Trevor Siemian is out now. Stack the box on early downs. Squat on the cut-back lanes, because the Broncos aren't running the ball outside the tackles. 
In the play below, we see how poor game-plan design allowed San Diego's outside linebackers to swarm from the backside and take away the cutbacks. If Denver peppered in more outside runs and bootlegs, San Diego's OLBs would've had to play honest. 
Stack the box and play aggressive. Denver never adjusted. 
Getting stuffed on first down, and often losing yards, translates to a lot of 3rd-&-long situations. Again, that's a design issue — a play-calling issue. 
The Broncos only gave C.J. Anderson 10 carries on the night. Devontae Booker received five, but he averaged 9.2 yards per carry. I know the Broncos were playing from behind right out of the gates, but 15 combined carries for Denver's two work-horses? 
Nowhere near enough carries for either guy to get into a rhythm. Another design issue. 
San Diego dictated. The Broncos offense was on their heels throughout the contest. 
Out-Executed
On third down, the Broncos were often faced with seven, or more, yards-to-go to convert. The Chargers played a lot of quarters coverage. They'd drop back, read the quarterback, drive on the ball, and wrap up the ball-carrier well short of the first down marker. 
As the game progressed, the Chargers rarely blitzed — rushing three guys. That means eight players are in coverage. John Pagano sent blitzers on 13.7 percent of Siemian's drop-backs. 
On 52 drop-backs, Siemian was pressured exactly 13.7 percent of the time. Translation: Siemian was not under pressure often, and when he was, it was due to a blitz. In fact, he had time and a clean pocket on the vast majority of his throws. 
Still, Siemian would check it down, or hit the outlet or an underneath route. Dennison and company never adjusted in the passing game, from a play-calling perspective, and Siemian never changed his mentality to expose a weakness. 
Playing quarters coverage, you would think the Broncos would run some draw plays, or bubble screens, to take advantage of the spacing opportunities. Nope. 
Siemian consistently shied away from throws downfield. And when he did attempt them, he went 1-of-9 on passes 10-plus yards downfield. And Dennison did a horrible job of calling a variety of route concepts. 
In the play below, we see San Diego with a two-deep shell. It'll be Cover 2, with the priority of keeping the play in front of them. 
There's zero chance of pushing the ball downfield here, because every route the Broncos run is within about seven yards of the line of scrimmage. The Broncos were as predictable as it gets. 
The pass is completed to Demaryius Thomas, but the play goes for six yards on 2nd-&-12. It was beyond frustrating watching Denver's excuse for a passing offense. 
Here's a perfect example of San Diego running quarters, with Emmanuel Sanders wide open on what would have beaten their coverage and perhaps given them cause to rethink their strategy. 
The Broncos run play-action, but San Diego isn't fooled in the slightest. They drop back into quarters, flooding the passing zones. Sanders starts at the top of the screen, split out right. He crosses the formation and is wide open. He found a hole in the coverage. 
Siemian seems to see him and cocks back to throw, but then he pulls it down, either sensing pressure that wasn't there, or not trusting himself to make the throw. Sanders was wide open. The Broncos would, of course, punt on this drive right before the half. 
Complete Lack Of Focus & Intensity 
The Broncos were penalized 12 times on Thursday night. Eight of those penalties came against Denver's offensive line. Each of the starting five was flagged at least once. 
http://www.scout.com/nfl/broncos/story/1717288-decamillis-i-m-sick-to-my... It absolutely killed the Broncos and all momentum late in the game. It also led to a significant point swing. 
Down 19-3, on the Broncos first play of the fourth quarter, left tackle Russell Okung was penalized for holding in the Denver endzone. By rule, that's a safety. Two more points for San Diego to make it 21-3.
The Broncos were lucky to recover a muffed fumble on the safey free-kick on the ensuing play. 
Later in the final period, the Broncos were down 11 points with 4:22 to go from the San Diego 20-yard line. Siemian found Anderson on a short outlet pass, and Anderson made four guys miss to get into the endzone. A two-point conversion would have made it a single-score game. 
But Okung was penalized for holding, nullifying the score.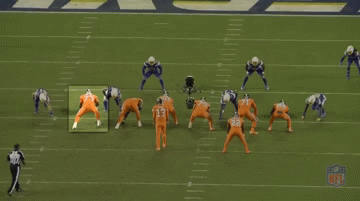 Two plays later, Demaryius Thomas fumbled, which was really the final death knell. This game was replete with unacceptable mental lapses.
The Broncos were completely unprepared. 
Maybe that has to do with Gary Kubiak's absence. Something tells me it doesn't. This team is adrift and once again it's gut-check time. 
With Brock Osweiler's return to Denver on October 24, the Broncos will face a key Conference opponent. They have plenty of time to analyze this thing and get back on track. 
Let's hope they still have the wherewithal to turn the ship around. 
Chad Jensen is the Publisher of Mile High Huddle. You can find him on Twitter @ChadNJensen.
Follow Mile High Huddle on Twitter @MileHighHuddle and on Facebook. 
To get instant Broncos notifications, download the NEW Scout mobile app for iOS HERE! 
null