For the last four games, the Denver Broncos have struggled mightily to run the ball. They haven't eclipsed 100 yards rushing as a team since Week 2. 
I've received a multitude of questions regarding the issue. Why can't the Broncos run it? Is it the offensive line? Is it C.J. Anderson?
http://www.scout.com/nfl/broncos/story/1717437-takeaways-from-the-film-b... Look at Denver's rushing struggles as a disease. The symptoms include inconsistent execution, poor technique, poor game-planning and play-calling. 
Really, square one is Denver's lack of commitment to the running game. The fact that Denver has gotten down early over the last two games convolutes the matter, making it difficult to pinpoint exactly where the running game has gone wrong. 
Among Denver's struggles, there has been a bright spot — rookie running back Devontae Booker. Booker has found a way to make plays despite sub-par play from his offensive line. 
That's an encouraging development. The best backs in the league find a way to create, even when the O-line struggles. 
We've seen C.J. Anderson rise above poor O-line play in the past, but this time around, he's struggling right along with them. 
A big reason for that stems from the play-calling. Anderson, and Booker, are both backs who thrive on rhythm. If fed enough touches, Anderson's carries in the first half that average 3.5 yards would translate to bigger gains in the fourth quarter. 
Unfortunately, Anderson's coaches are doing him no favors in that department. They've consistently abandoned the run when trailing, which not only hamstrings the ball carriers but also the offensive linemen, who are unable to get into a groove. 
For some reason, however, the play-calling and O-line performance have not adversely impacted Booker in the same way they have Anderson. Against the San Diego Chargers on Thursday night, Anderson received exactly twice as many carries as Booker.
Booker averaged almost three-times as many yards per touch. Booker: 9.2. Anderson: 3.7. 
In fairness, Anderson had more than one big play called back due to an offensive line penalty, including a much-needed touchdown late in the game (a reception). 
Booker carried the ball five times for 46 yards. Let's take a look at each touch to understand what Booker is doing well. 
Carry 1: 3-yard gain
Q2: 8:40 (1st-&-10)
Defense: eight-man box
The Broncos stretch right. Booker flows down the line of scrimmage, before bursting through a crease between center Matt Paradis and right guard Michael Schofield. This play goes for only three yards, but if left guard Max Garcia controlled his assignment better, it would have picked up more. 
Booker gets skinny through the hole, keeps his pad level low, and explodes downhill. A solid first down carry. The Chargers have loaded the box, You'll see left tackle Russell Okung attempt a cut-block on ILB Denzel Perryman, missing the mark. 
Carry 2: 5-yard gain
Q2: :47 (3rd-&-7)
Defense: seven-man box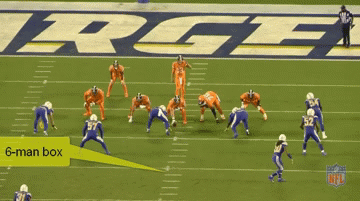 This is an example of the Broncos coaches taking what the San Diego defense gave them. Third down, late in the second quarter. On 3rd-&-7, the Chargers are going to play quarters-coverage, as they did so often and to great success on Thursday night, in an effort to keep the play in front of them. 
The draw play would likely have picked up the seven yards Denver needed to keep the drive alive, but RG Schofield completely misses the linebacker, who drives down and contacts Booker behind the LOS. 
Booker is able to break the tackle, but it impedes his momentum. He's still able to net five yards but the Broncos were forced to punt. Kudos to the rookie for refusing to go down on first contact and for using his arm to keep himself from going down. 
Carry 3: 5-yard gain
Q3: 9:58 (2nd-&-3)
Defense: seven-man box
The Broncos are trailing by two scores. They need to move the chains and Booker gets it done. The stretch goes left and a huge hole opens up on the backside. 
RG Schofield once again completely whiffs on his block — another failed cut-block — and San Diego's ILB Jatavis Brown manages to hold onto Booker's ankle. 
This is a rare example of Booker going down on first contact. The blocking concepts are executed well by the O-line, except Schofield at the point of attack. 
I understand that cut-blocking is a huge part of a zone blocking scheme offensive lineman's repertoire, but Denver's coaching staff must be more critical of how these guys are deploying it. If you leave your feet to cut, you better get home because by doing so, you take yourself out of the play. 
Carry 4: 17-yard gain
Q3: 3:31 (1st-&-10)
Defense: six-man box. 
All game long, the Chargers were just daring Denver to test them outside, shading on the tackles' inside shoulder. Some of Denver's biggest runs, since Gary Kubiak's offense returned, have been outside runs. 
You can't do it all the time, but it must be an approach consistently peppered into the game-plan each week. Here, we see Booker's vision and downhill burst deployed to perfection. OLB Melvin Ingram almost knifes through to make the tackle, but Booker is able to shuck him and keep moving. 
This play featured some great downfield blocking and Booker breaking three tackles. Again, they need to draw up more outside tosses like this. The play netted 17 yards on first down. 
Carry 5: 16-yard gain
Q3: 2:32 (2nd-&-5)
Defense: seven-man box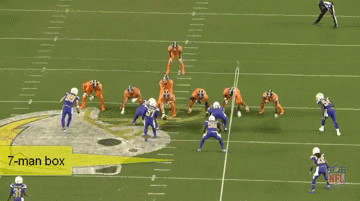 Another huge play from Booker. Denver stretches it left and the rookie cuts it back on the play-side A-gap. LG Garcia holds up and C Paradis gets just enough of a push on the ILB to throw him off course. 
Booker's vision allows him to see the hole and explode downhill. He's at full speed by the time he reaches the second level and as we've come to expect, finishes violently on first contact. Another missed tackle. 
These are the type of run plays Denver wants to hang their hat on. If they can execute like this consistently, the playbook will open up for them. 
Conclusion
Devontae Booker runs with great violence and physicality. It's rare that he'll go down on first contact. If the Broncos coaches can stick to their guns, both with Anderson and Booker, and continue to feed them in-game, we'll see the running game pick up some big second half yards. 
The biggest difference I see between Anderson and Booker is decisiveness. Booker trusts his eyes and makes up his mind a split-second quicker and it leads to more momentum when he's first contacted by the defense. 
The Broncos have to get back to a true commitment to the running game. Everything else will spring from it. More big plays downfield with the play-action. More opportunities to move the pocket and bootleg. 
The Broncos are not a team set up to win by throwing 40-plus times a game. C.J. Anderson should get a minimum of 20 touches per game and Booker 10. That is a recipe for offensive success. 
Chad Jensen is the Publisher of Mile High Huddle. You can find him on Twitter @ChadNJensen.
Follow Mile High Huddle on Twitter @MileHighHuddle and on Facebook. 
To get instant Broncos notifications, download the NEW Scout mobile app for iOS HERE! 
null