On Monday night, Denver's tight ends (Jeff Heuerman, John Phillips, and Virgil Green) failed to catch a pass from Trevor Siemian. In fact, they weren't even targeted. That makes the second time in three weeks that the Denver Broncos got a big zero from the tight end position in terms of production.
Even with the offense humming as well as it did against the Houston Texans, Denver needed to address the issue. John Elway promptly picked up the red telephone, called Foxborough and got on the horn with one the Hooded One, and for the second straight season, made a deal to acquire a tight end the day after playing their seventh game of the season.
http://www.scout.com/nfl/broncos/story/1719434-get-si-subscription-with-... No they didn't get Rob Gronkowski (who's anxiously sitting at 68 career touchdowns) or Martellus Bennett. For a fifth-round pick, the Broncos picked up second-year tight end A.J. Derby.
Derby played his college ball at Arkansas, where he made the transition from quarterback to tight end. The New England Patriots drafted him in the sixth round of the 2015 NFL Draft and threw him in with their 75 other tight ends. 
The 25-year-old tight end has not yet caught a pass in the regular season. His stat sheet looks remarkably similar to yours and mine at this point.
He has, however, put on a show in the preseason. Derby accumulated 15 receptions for 189 yards and a pair of touchdowns in the Pats' four preseason games. So why not take a look at what he brings to the table and check out his  performance in New England's second preseason game against the Chicago Bears? Let's go.
Going Up and Getting It
One of the signature plays of the Patriots offense is the seam pass to the tight end. Just last week, Tom Brady and Rob Gronkowski ran it to perfection against the Pittsburgh Steelers. It works so well, they can even dial it up with Derby and Jimmy Garoppolo.
On this play, the Patriots are operating out of the shotgun with three wide receivers and an in-line tight end (Derby). The Bears are in a nickel defense, so they have just two linebackers and five defensive backs. When the ball is snapped, the linebacker closest to Derby lets him go without so much as a shove to go cover James White in the left flat.
This means Derby has a free release up the left hash mark and no one puts a body on him until he's already in the end zone. Since no one jams him on his route, Derby is able to get to his spot just past the goal line before Chicago's safeties Chris Prosinski (who is lazily manned up on Derby) and Deon Bush are able to converge on him.
Of course, the most impressive part of this play is the catch itself. As a rule of thumb, you don't want to throw a high pass to the front of the end zone, but with a 6-foot-5 target like Derby, you just might get bailed out. That was the case for Garoppolo, who puts it on the money as Derby hangs on, despite being sandwiched at the point of the catch.
Another impressive part of this play is the way Derby uses his eyes. When he gets to the ten-yard line, Derby stares down Prosinski as if he's about to break for the left corner. Instead, he waits until he's inside the five to turn his head back inside. By that time, Prosinski is too late because he was waiting for Derby to cut outside. Not a bad play by a former QB.
Finding the Soft Spot
Let's move to the second half, when third-string passer Jacoby Brissett is in the game. This isn't nearly as flashy a play as the earlier touchdown, but it shows decent awareness by Derby.
In this formation, Derby is lined up in the flex spot, which means he's off of the line and in a two-point stance rather than a three-point stance you would normally see a tight end use. It's a third-and-11, and obvious passing situation, and the Bears are sitting back in zone coverage.
Again, Derby gets a free release, so he's uninterrupted in his route. When Derby crosses right in front of linebacker John Timu and doesn't get any resistance, he immediately notices Chicago is in zone. The way to beat zone is to find the soft spot, sit down, and hope the quarterback doesn't wait too long to get you the ball.
That's what Derby does. He settles in at the 29-yard line in between Timu and Prosinski, turns himself all the way back around to the quarterback, and hangs on to the ball before getting hit again by Prosinski.
The only complaint you might have about this play is the situational awareness. It's third-and-11, but Derby cuts his route off at 10 yards. Ideally, you want to be past the sticks on third down or at least close enough to where you can fight for a first down. Something to work on. Overall, however, it was a good job of recognizing the defense by Derby and sitting down in the dead spot of the zone coverage.
Resilience
Let's fast forward to the Patriots' next preseason game against the Carolina Panthers. This game was significant because it was the first appearance of Tom Brady in the 2016 preseason.
Unfortunately Derby did not ingratiate himself too well with Brady in the second quarter.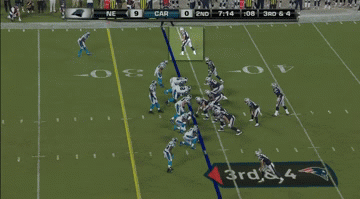 Derby is split out wide to the right on third-and-four with the rookie corner James Bradberry playing off coverage. Derby runs a simple hitch route at five yards and turns around expecting the ball. When it does come from Brady, it's a little bit off target to the right. Derby takes a couple short steps to his left and just drops it. The Pats don't convert on third down and Brady is not a happy camper. Stephen Gostkowski ends up missing a 52-yard field goal.
You have to move on, though, and Derby gets back in the good graces of the Patriots in the fourth quarter with Brissett back at quarterback.
New England is lined up in a single back formation with three wide receivers and Derby in-line to the right. The ball is snapped and finally Derby gets a little bit of heat off of the line from linebacker Brian Blechen. Derby does a good job of getting his hands out in front of him quickly and is able to easily blow by Blechen. Since it's a play action from under center, there's a good chance the quarterback will be under some pressure. Derby recognizes this and gets his head around within three yards of the line of scrimmage and makes himself a target for Brissett.
Upon catching the ball, Derby gets up the field, cuts off of his right leg and weaves past a potential tackler, finally getting clobbered after moving the chains on a long second down. Awareness, hands, and athleticism all on display.
This is more or less what we can expect from Derby with the Broncos. He's a terrific athlete who knows how to play in a nuanced offense and has the ability to get open using his eyes and his head. The one thing you won't want to hold your breath on is blocking ability. That might have to be left to Phillips and Green.
Ideally, this addition will open up the middle of the field for the Broncos and eventually force defenses to focus on someone not named Thomas or Sanders in the passing game.
Oh, and let's hope this move is a little more successful than the one last year. 
To get instant Broncos notifications, download the NEW Scout mobile app for iOS HERE! 
Will Keys is an Editor for Mile High Huddle. You can find him on Twitter @WillKeys6.
Follow Mile High Huddle on Twitter @MileHighHuddle and on Facebook.
null