Sunday afternoon, one of the biggest plays of the game was made by a player who was informed he would be suiting up on gameday only hours beforehand.
On a crucial fourth down play late in the fourth quarter, Lorenzo Doss —a sparingly-used cornerback — stepped in front of a Philip Rivers pass and deflected it, preserving the Denver Broncos lead and eventually the win.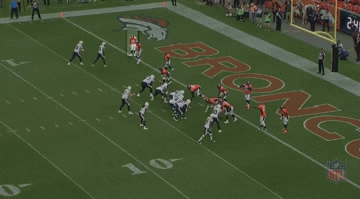 For those who don't know much about Doss, the second-year defensive back was Denver's fifth-round selection out of Tulane in the 2015 NFL Draft. Doss made six appearances during his rookie season mostly in a special teams role, notching one tackle.
With the league's most talented secondary, boasting names like Harris, Talib, Roby, Ward and Stewart, Doss has been a gameday inactive for all of Denver's contests this year. That changed on Sunday with injuries befalling Aqib Talib — who did not dress for the game — and Kayvon Webster, who tweaked his hamstring early, forcing Doss into emergency action.
Doss played 36 defensive snaps on Sunday. He was targeted six times and gave up two receptions for 29 yards and ta TD — according to Pro Football Focus. On the TD, Doss tipped the ball but Travis Benjamin made a circus catch.
After the game, Doss talked about stepping in on short notice and how his teammates in the No Fly Zone helped him with his first extended action as a Bronco. 
"Every time I came off the field today, Kayvon Webster was telling me what he could see from the sideline," Doss said Sunday. "He was helping me, Aqib was helping me, Chris [CB Harris] and [CB Bradley] Roby, the whole secondary was just motivating me to do my job, and that's what I did."
http://www.scout.com/player/149439-lorenzo-doss?s=101
Not as well-known as some of his other teammates, Doss was a ballhawk during his time with the Green Wave, collecting the second-most interceptions in team history with 15. Stepping into the famed No Fly Zone has been quite the experience for the young gun. 
"It's fun. It's fun being a part of the 'No Fly Zone'," Doss said. "This is the best secondary in the league. It can't get any better than this. I just wanted to come in, step in and do my job. Next week we have a big game and we just have to do our job. We have a great coaching staff, great players, and like I said, we just have to do our job."
Doss' effort on Sunday didn't go unnoticed. Bradley Roby talked about the impact Doss had on the field and how he responded in a big divisional throwdown. 
http://www.scout.com/nfl/broncos/story/1719434-get-si-subscription-with-... "Doss stepped up big," Roby said. "It was his first game being able to get in that action and he dropped two picks. He made a great play on fourth down on the goal line and the sky is the limit for him as well. He's just learning from all of us and he played great today."
Head coach Gary Kubiak would join in the praise of Doss, commenting that he was impressed with the type of play he got from his unproven corner. 
"Obviously, Doss did not find out until this morning that he was going, when we knew Aqib couldn't go," Kubiak said Sunday. "Good job by him stepping up and making some plays. Again, he made a great catch on him in the end zone. He had him covered really well. You look at what Doss did and what Bradley did. You watch those guys come together after losing their leader in Aqib. I'm very proud of them."
It's a testament to the strength and depth of Denver's roster when someone like an Aqib Talib goes down and a relative unknown steps in with no discernible drop-off in performance. Doss has always possessed the upside to be good player in this league but he's had to patiently bide his time, waiting for his opportunity to show what he could do on the field.
Coach Kubiak would end his time talking about Doss by observing how special a moment this would be in the young player's career and how this could be a building block going forward. 
"Doss, this has to be a big game in Doss' career," Kubiak said. "There are moments in your career where you come in, gain confidence that you can do something. He got put on the spot and made some really big plays in the game so I'm looking forward to build off of that."
Adam Uribes is an Analyst for Mile High Huddle. You can find him on Twitter @auribes37.
Follow Mile High Huddle on Twitter @MileHighHuddle and on Facebook.
To get instant Broncos notifications, download the NEW Scout mobile app for iOS HERE!
null