Digging into the film of Sunday night's Denver Broncos-Oakland Raiders battle is a little bit like slowing down a multi-car pile up frame-by-frame and watching each chip of paint scrape off, each airbag deploy, and each headlight smash.
http://www.scout.com/nfl/broncos/story/1725227-broncos-were-embarrassed-... It all happened very quickly, but it's worth going back and seeing the precise moment where it all went wrong.
There's more than one reason Denver lost last night; it was a case of the Raiders exploiting a few of Denver's weaknesses, and the Broncos either self-destructing or putting themselves in less-than-preferable spots, over and over again.
Without further ado, let's take a gander at just how the Broncos dropped their second AFC West matchup of the season.
The Great Wall of Oakland
One of the big reasons the Broncos were defeated in the Super Bowl three seasons ago was because they didn't have the personnel to contend with the heavy packages of the Seattle Seahawks. Such was the case against the Raiders, as well.
A major kryptonite to the 3-4 defense the Broncos run is a competent power run game. With just three defensive lineman and four linebackers, Denver lacked the push up front necessary to get penetration and stop runs before they begin.
Just to double down, the Raiders ended up adding a sixth offensive lineman during the first half to drive the point home and power straight through the Broncos defense to the tune of 200-plus yards on the ground.
Before the snap, the Raiders position utility lineman Denver Kirkland at the wing back spot, where you would typically see a tight end or a fullback. By placing Kirkland at wing back, Oakland essentially tipped their hand that they would be running to the right side. That's the thing about the power run though, it works whether or not you know it's coming.
When the ball is snapped, everyone gets manned up and manhandled. Jared Crick gets sealed on the back end, Todd Davis is occupied, and Billy Winn gets moved off of his mark. Rodney Hudson slams the left shoulder of Brandon Marshall and DeAndre Washington finds an open lane. If not for the aggressive play of T.J. Ward, this play would easily go for a first down. Instead, it's just eight, but this was the play that gashed Denver up and down the field last night.
Roby Gets Picked On
We've all heard the optimistic school of thought that if Aqib Talib had to move on in free agency, the Broncos could plug Bradley Roby into his starting spot and essentially not miss a beat.
Well, after last night it looks like Talib may finally receive the credit he deserves for being the play-making, shutdown corner that he is. It's not to say that Roby isn't capable of starting, but last night was just not his night.
Derek Carr had Roby in his crosshairs all night, completing eight passes his way for a total of 99 yards. It's a world of difference from the show he put on a week ago against Philip Rivers.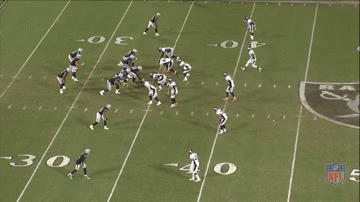 Down 10 points late in the fourth, the Broncos defense desperately needs to hold and get the ball back on third-and-eight. The Raiders set up with three wide receivers and a back to either side of Carr in the shotgun.
What's very odd here is the cushion that the corners, particularly Roby, allow their receivers. This is a must-stop situation, not a prevent defense. Roby backpedals eight yards (right at the sticks) yards from Amari Cooper right before the ball is snapped.
When it is snapped, Roby continues to backpedal and eventually gets in the trail position and closes his hips to Cooper as if he's covering a straight go route. Nope. All Oakland needed was eight to keep the chains and the clock moving, and Cooper just hooks right at the marker all by himself. Roby is a good five yards away.
It's a frustrating lack of awareness on the part of Roby. If he beats you deep, so be it. Down 10 with three and a half minutes in the game is not the time to be conservative. This conversion was far too easy and a little bit perplexing as well.
Cool Hand Mack
The Broncos offensive line suffered from a failure to communicate against an opportunistic sack artist in Khalil Mack last night.
Blah, blah, blah, we've heard it 1,089 times already that Michael Schofield gave up four sacks to Mack last year. We get it. Antonio Gates played basketball in college, Tom Brady was a sixth-rounder, etc.
A big issue on Denver's front five is their lack of experience with one another and the growing pains associated with that. Such was the case on one of Mack's two sacks of Trevor Siemian.
With 3:43 to go in the third quarter, the Broncos find themselves down 10 and in need of a scoring drive. On first down, it falls victim to sabotage.
Mack lines up to the outside of Donald Stephenson, trying to put himself in a favorable one-on-one situation. Pre-snap, it might have been wise to audible into a run play that attacked Mack's wide split. No dice.
When Siemian drops back, Stephenson immediately is losing ground to Mack and becomes vulnerable to an inside move. it comes and Stephenson just sort of lets him go, thinking (or perhaps hoping) that Schofield will slide over and try to chip Mack. Instead, Schofield is helping out Matt Paradis with Denico Autry like a useless third wheel. Mack flies straight through to Siemian and the Broncos lose nine on first down.
Time and continuity. Two things the Broncos line does not have.
To get instant Broncos notifications, download the NEW Scout mobile app for iOS HERE! 
Will Keys is an Editor for Mile High Huddle. You can find him on Twitter @WillKeys6.
Follow Mile High Huddle on Twitter @MileHighHuddle and on Facebook.
null