The Denver Broncos wanted to keep Malik Jackson. Let's get that out of the way. 
They offered him about $10 million per season over five years but after watching fellow Broncos trenchman Derek Wolfe take a "haircut" in potential salary to stay in Denver, Jackson knew he could get more money on the open market. 
And that he did. The Jacksonville Jaguars offered him a six-year, $85.5 million dollar contract, with $42 million in full guarantees. Malik took the money. 
But he missed the boat. 
Wolfe has openly talked about why he chose to take less money than he knew he could get on the open market. He preferred to stick with a successful team with a winning culture, than risk playing in the Conference doldrums.
He chose winning over money. And let's not forget, it's not like Wolfe is making peanuts in Denver. The Broncos are paying him $9.175 million per season. He's a rich man. 
http://www.scout.com/nfl/broncos/story/1719434-get-si-subscription-with-... Wolfe is playing for a 7-4 team still very much in the hunt for a playoff berth, despite having rolled out a starting quarterback with zero NFL starts to open the season. Jackson, conversely, is playing for a team whose season is already over, sitting at 2-9. 
Don't get me wrong. I'm all for NFL players taking every opportunity to cash in on their finite playing careers. They deserve to make as much money as they can. 
But for many pros, winning and career satisfaction play just as important of a role as contract size does in their decision making. It's no different for the average American. Many of us would rather stick with a job that makes us happy, than take a little bit more money to change jobs and risk losing that satisfaction. 
Malik Jackson spent four years in Denver. And yet, he earned that mammoth contract from the Jags based on one season's production. Winning the Super Bowl certainly didn't hurt. 
Jackson can be a very explosive player at the point of attack. His problem has always been consistency. The Jags are paying him like J.J. Watt (almost), but Jackson is nowhere near as consistent a force. 
We saw that play out in his time in Denver. And guess what? It's been no different in Jacksonville. When Jackson signed with the Jags, my concern was that they were paying him to be the man, but in Denver, he was a just another cog in an elite defensive machine. 
Jackson can't carry a defense. He has the talent, but he lacks the motor. Just watching his tape from Jacksonville's Week 12 loss to the Buffalo Bills, it was plain to see that the Jags get about 60 percent effort from Jackson on most of his snaps. 
And he'll pepper in a big play every once in a while. But his impact doesn't come close to justifying $42 million guaranteed. Let's examine the dichotomy that is Malik Jackson. 
Here we see Jackson line up as a 4-tech defensive tackle. The Jags have the Bills on a third-&-12. QB Tyrod Taylor is lightning fast and always a threat to tuck it and run, and that's exactly what happens here. 
Jackson gets his push on the left guard, trying to push the pocket, but Taylor squirts free with Jackson in hot pursuit. But Jackson doesn't dive. He throws his hands up in the air, taking his foot off the gas. And Taylor picks up the first down. 
Yes, Jackson is a big boy. But what you see above is a heart issue, not a lack of ability.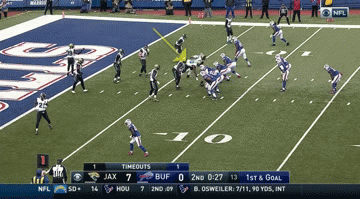 Next we see the Bills in business on the Jags 7-yard line. First-&-goal. Jackson's playing the 3-tech between the right guard and tackle. 
It's a read-option and pitch goes to RB LeSean McCoy, who proceeds to turn the ball up field and jump-cut his way to pay-dirt. Jackson engages the center, and then just kind of lackadaisically watches the play unfold. 
This is a play McCoy would likely make regardless, because of his speed. But does that look like Jackson's going full bore to you? He actually stops moving for a second. 
Here we see the Bills start the third quarter on their own 25-yard line. It's first down. The Bills run 21-personnel. It's a power run going left. Jackson's playing the 3-tech betwen the RG and RT. 
McCoy has elite vision and sees the immense cut-back lane vacated by Jackson, who takes his eyes off the ball-carrier — ever so shortly — to execute a kind of trenchman's pirouette. Jacksonville's Jalen Ramsey and Tashaun Gipson completely fail to seal off the edge and it's off to the races for McCoy. 
Jackson's effort on this play isn't necessarily poor, but it's his execution that leaves much to be desired — again, inconsistent. I understand the D-line's responsibility to flow to the ball, especially knowing they had help on the edge with Ramsey and Gipson. They were probably tasked with slanting. But if you're going to spin at the point of attack, you'd better guess right.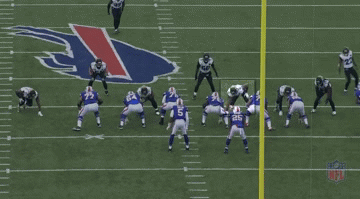 This is the type of play the Jags paid $42 million for. Jackson is again lined up as the 3-tech and he completely blows by the RG, utilizing excellent hand fighting, and turns the corner to sack Taylor. 
As you can see, when Jackson decides to turn the motor on, he's very hard to stop. The trick is getting him to do it consistently. 
Conclusion
Jackson has the raw ability to be an upper-echelon player in this league. But now that he's been paid, I have to wonder at how motivated he is to perform. 
Watching his film this year, I've been far from impressed. He flashes that ability we came to know in his time in Denver, but it's ever so rarely. He has 24 tackles and 4.5 sacks through 11 games. Two of those sacks came last week.
He's talked a big game this week about how he left Denver and about how the Broncos now "have to deal" with him.
Who knows? As an emotional player, maybe Week 13's bout with his former team will gas his motor with a higher octane. Revenge, etc. 
But I doubt it. Malik Jackson might be a max contract guy, but he's not a max effort player. Derek Wolfe is. Broncos fans collectively say, once again, "thank you, John Elway!"