There's uncertainty around every corner for the Denver Broncos. After a painful loss to the Kansas City Chiefs, the 7-4 Broncos are on the outside looking in at the AFC playoff picture.
This weekend, they travel to northeastern Florida to play the 2-9 Jacksonville Jaguars in what has become a must-have game, especially considering the difficulty of the remaining schedule.
Oh, and if this wasn't enough, the Broncos might have to go into battle without their fearless leader, quarterback Trevor Siemian, who injured his foot and has spent the last couple of days in a walking boot.
Should Siemian not be able to go, rookie Paxton Lynch will make his third appearance and second start of the season. In a game that's crucial to their playoff chances, the Broncos would be in a less-than-ideal position, even against a team that has managed just two wins thus far.
http://www.scout.com/nfl/broncos/story/1733908-malik-jackson-max-contrac... A year or two from now, the Broncos may be counting on Lynch to fulfill all of the responsibilities they expect from a starting quarterback; operating from under center, dropping back three to seven steps, and seeing the whole field. But they don't have the luxury of waiting for him to fully develop between now and Sunday afternoon.
With the fate of the season on the line, Gary Kubiak and the rest of Denver's coaching staff needs to play for the short-term and let Lynch do what he does best. Now what exactly is that?
When Lynch was at the University of Memphis, he thrived in the spread offense. He worked almost exclusively out of the shotgun, made fairly quick reads, and was on the move frequently. Obviously, the Broncos aren't a team that is equipped to adapt their playbook to an all-shotgun attack, but there are plenty of elements of the spread they can use to make Lynch comfortable on Sunday. It would especially make sense given the loss of fullback Andy Janovich, too, as shotgun formations rarely feature a fullback.
The Broncos did this to some extent in Lynch's first appearance against the Tampa Bay Buccaneers, when he came in to relieve Siemian, who had sprained his AC joint in the second quarter. In his 49 total plays (not counting kneel-downs), Lynch operated from the shotgun 17 times (35 percent) while the remaining 32 plays were run from under center.
When he was in the shotgun, Lynch was able to see the field quicker, getting rid of the ball fast enough to negate the Bucs' pass rush.
Play 1 (at Tampa)
Attempting to grab a two-score lead before halftime, the Broncos were faced with a third-and-10 at Tampa Bay's 47. As they did for the whole drive, they're in the shotgun, this time with C.J. Anderson to Lynch's right along with four wide receivers. When he gets the snap, we see the Bucs rushing just four and keeping seven back in zone coverage. 
Lynch drops back just three steps as the offensive line holds up characteristically well, and very quickly sees Emmanuel Sanders faking an out at five yards and finally cutting back to the seam. Lynch recognizes the massive void in the zone and starts to throw as Sanders makes his cut. With his laser arm, the ball is on target 14 yards deep. The free safety is playing extra deep in the Bucs' cover four and has no chance to make up the distance.
Tampa Bay fell victim to the shotgun all game. For whatever reason, they rarely rushed more than four after Lynch, giving him ample time to find the soft spot in their zone, which he was accustomed to doing at Memphis.
Another way the Broncos played to Lynch's strengths was getting him to roll out and throw from the run.
Play 2 (Touchdown)
The Broncos have a second-and-three from the Bucs' five-yard line, a great short-yardage situation to run a play-action pass. Denver is using 21 personnel with Devontae Booker flanking Lynch, Jeff Heuerman tacked on to the right side of the line, and two wide receivers. Lynch taps his left foot and Janovich, split out wide, motions back in to the fullback spot and a two-point stance.
The ball is snapped and everyone sells the run to the left. Lynch keeps the ball and takes off to the wide right part of the field with three targets breaking across. He could have probably hit Janovich for the score, but opts to make a longer throw to Sanders who is all alone in the end zone.
http://www.scout.com/nfl/broncos/story/1733164-film-room-is-denver-s-def... This is an effective play to run with a young quarterback. It effectively cuts the field in half, gives him fewer options so as not to make his head explode, and utilizes his athleticism.
Overall, the Broncos adapted their play selection well after Siemian's injury and Lynch's arrival. Lynch finished the game 14-of-24 with 170 yards (7.1 yards per attempt) and a touchdown.
Things didn't go quite as well a week later when Lynch was forced into his first career start against a tougher opponent, the Atlanta Falcons.
The Broncos had a similar ratio of shotgun to under-center plays for most of the game, skewed by the lopsided score in the fourth quarter as the Broncos had to pass on virtually every play to get back in the game.
Lynch couldn't get going and find a rhythm in this game primarily because his protection wasn't holding up at all. The Falcons finished with six sacks for a loss of 40 yards.
Play 3 (Atlanta)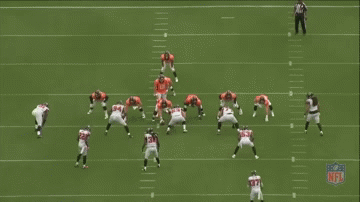 Denver has a first-and-10 at their own 20-yard line. They're operating from under center in the pro-set I formation. The ball is snapped, Lynch fakes to Booker, and the Falcons only rush four while Denver has Anderson chip before starting his route.
Lynch is targeting Demaryius Thomas past the 30-yard line but hitches and stops his release when he sees Kemal Ishmael start to read his eyes. Lynch has Janovich open to the right on an out right but never even lays eyes on him.
You rarely get second chances in the NFL: Lynch is sacked by former Bronco Ben Garland. Fortunately, the play is wiped out as the result of a facemask from Tyson Jackson.
The problem is that this play is too slow-developing and requires a little too much from Lynch in just his first start. By the time he fakes to Booker and gets to the top of his seven-step drop, Ty Sambrailo is already beat on the right side. Lynch has good natural elusiveness, but his pocket awareness isn't good enough yet to allow him to maneuver and regain his platform like we saw from Siemian against the Chiefs.
When you give a young quarterback all five options and a bad offensive line, they're more than likely going to lock on to one receiver from the start. If that receiver isn't open, the play will go down in flames. That's what happens with Lynch; his eyes are glued to Thomas the whole way. The Broncos overloaded Lynch with a seven-step drop from under center, a play fake, and five receivers to go along with an orange traffic cone at right tackle. This is the obvious result.
To some extent, this was also the symptom of an anemic run game. The Broncos ran the ball 24 times for just 3.5 yards per clip against the Falcons, which more or less eliminated any threat of the play action. 
Against Jacksonville, the Broncos will succeed with Lynch (if Siemian is out) if they can get him quick, easy reads and utilize his mobility. Typically, that comes out of the shotgun or with bootlegs and three-step drops from under center. Protection is also key. Between Malik Jackson and rookie Yannick Ngakoue, the Jaguars have 10 sacks and plenty of pressure up front. If Donald Stephenson can hold up as well as he did in relief of Sambrailo, Lynch should have more time than he did against the Falcons.
Kubiak and the rest of the Broncos coaching staff will have plenty of time to advance Lynch's development in the offseason. Right now, they need to let him do what he does best and get a much-needed victory.
To get instant Broncos notifications, download the NEW Scout mobile app for iOS HERE! 
Will Keys is an Editor for Mile High Huddle. You can find him on Twitter @WillKeys6.
Follow Mile High Huddle on Twitter @MileHighHuddle and on Facebook.
null