The 2016 Denver Broncos are not as good of a team as their 2015 version. This was to be expected with the major transition at quarterback, and on offense, and the lost players in free agency.
While Trevor Siemian is showing reasons to be optimistic about the quarterback position going forward, the major disappointments — the offensive line and run game — have many pointing the finger at the offense for this year's team falling short of franchise expectations. While the offense is definitely more at fault for the Broncos losses this season, another area that should be under the microscope is the defense's inability to stop the run with any sort of consistency.
In 2015, the Broncos had arguably one of the best defenses in NFL history, finishing first in pass defense at 199.6 yards per game and third in run defense at 83.6 yards per game. This year, the No Fly Zone is still ranked number one in pass defense, dropping the passing yards per game to 183.5 yards on average.
http://www.scout.com/nfl/broncos/story/1719434-get-si-subscription-with-... However, this stat is a tad misleading, because teams are having far more success against the mediocre Denver run defense, ranked 29th in the league, allowing 127.2 yards per game, and are opting to attack via land rather than air. It was inevitable that the Broncos fantastic defense took a slight step back this year, due to a multitude of reasons, but the losses of Malik Jackson and Danny Trevathan are certainly the most likely culprits.
Unfortunately, the defensive line lost starter Vance Walker early in training camp, forcing the Broncos to add the solid yet unspectacular Billy Winn to the roster and forcing Jared Crick and the raw — and coming off an ACL injury— Adam Gotsis into more prominent roles than they should have been.
There is likely little Denver can do down the stretch to fix the defensive line. It's an area GM John Elway should look to upgrade in the offseason, especially with Walker and the solid yet unspectacular and miscast nose tackle Sylvester Williams set to hit free agency. Despite the limited ability to get better in the trenches on defense, Denver does have an obvious wildcard they can play to spark the run defense.
I believed that the Broncos would miss the presence of Malik Jackson over that of Danny Trevathan. Skilled interior pass rushers are, in my opinion, the second hardest player to find outside of a franchise quarterback.
While I did expect the Broncos to miss Trevathan, I didn't think it would be to this level. In Trevathan, the Broncos not only lost speed and instincts to their linebacker corps, but they lost tenacity. While Todd Davis is a solid linebacker, he is likely best served as a backup/rotational role as an inside linebacker.
He tends to be a tad slow at diagnosing plays and lacks the overall explosiveness to make up for it. This often leads to Davis being slow to the spot in the run game, leading to a few extra yards for the opposition per carry.
Corey Nelson also has been playing a role for the Broncos inside linebacker group. Nelson is a respected player in the Broncos locker room and a very hard worker, making impact plays regularly on special teams throughout his career.
However, he has trouble getting off blocks and plays with more finesse than a team that runs a 3-4 defense needs, considering the amount of blockers these players must take on and shed to get to the ball carrier. This past Sunday, we saw how important Brandon Marshall is to the run defense, as both Nelson and Davis struggled to fill in the gaps and shed blockers.
Credit should be given to the Tennessee Titans, as they have been a very good rushing offense all season. However, something changed in the second half and the Broncos started to shut down the exotic smash-mouth offense the Titans love to run.
While scheme changes and adjustments by defensive coordinator Wade Phillips obviously had an impact, another X-factor may have played a large role in changing the tide defensively for the Broncos. That man is Zaire Anderson.
Jim Brown/USA TODAY Sports
During his career at the University of Nebraska, Anderson was a very solid player and a statistically productive player. In his senior season, Anderson showed he could play as well as any linebacker in football, notching 103 tackles, 13 tackles for loss, 5 pass deflections, 2 fumble recoveries and 3 forced fumbles.
These stats alone would grab any scouting department's attention. Despite his production, Anderson did not fit the prototype size of a NFL linebacker, being only 5-foot-11 and 225 pounds, did not hear his named called in the 2015 NFL Draft and was instead signed as an undrafted free agent by the Denver Broncos.
He showed enough in the preseason that the Broncos brass decided to keep him on the practice squad as a developmental season. This past preseason, Anderson really began to show flashes that he may have a future in this league, causing two forced fumbles against the San Francisco 49ers and 7 tackles against the Los Angeles Rams, despite not starting either game.
http://www.scout.com/nfl/broncos/story/1737671-von-dishes-on-the-biggest... If one was just looking at the stats, they would think Anderson was solid, but nothing more. However, watching the tape told a different tale, as No. 50 was flying around behind the defensive line and around the ball on every play.
Denver decided that Anderson had shown too much this preseason and promoted him to the active roster to start 2016, rather than taking the chance of another team snatching him up by attempting to hide him another year on the practice squad.
While Anderson has contributed some on special teams this season, he had yet to really be given a chance to make a difference on the defense. Being fourth on the depth chart, behind Marshall, Davis, and Nelson, Anderson waited patiently for his turn.
With 13:00 minutes left in the third quarter, after a first half of the Broncos defense being consistently punched in the mouth by the Titans run game to a tune of 4.8 yards per carry, Davis sustained an oblique muscle injury. He was replaced by Anderson who almost immediately made a play and tackled DeMarco Murray for a short gain on 1st and 10.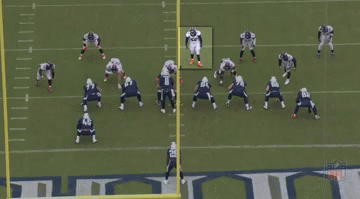 From that point on, the Broncos run defense changed its complexion. While it took a team effort, Anderson was flying around and obviously made an impact on the changed dynamic of the Broncos run defense.
Pro Football Focus Writer Steve Palazzolo took notice.
https://twitter.com/PFF_Steve/status/808395713524756481
While 26 snaps is hardly a notable sample size, and defensive adjustments had a major impact on stifling the Tennessee run game, after Anderson entered the game, the Titans averaged a puny 2.9 yards per carry, a far cry from their third ranked season average 4.7 yards per carry.
While the 2016 Broncos defense is still elite and would be getting much more recognition if the Denver offense could sustain drives and hold the ball, they still have weaknesses that can be addressed. Todd Davis and Corey Nelson are both admirable and solid linebackers, but they have not been able to fill the void left by the offseason departure of Danny Trevathan.
So, in order to add more tenacity and run -stopping ability to the starting Broncos inside linebackers, Gary Kubiak and Wade Phillips should give Zaire Anderson a shot to start next to Brandon Marshall. Over the last decade, mainly under Elway, the Broncos have been able to find and groom a number of late round and undrafted defensive players into starting caliber players, and Zaire Anderson could very well be next.
Nick Kendell is an Analyst for Mile High Huddle. You can find him on Twitter @ndkendell.
Follow Mile High Huddle on Twitter @MileHighHuddle and on Facebook. 
To get instant Broncos notifications, download the NEW Scout mobile app for iOS HERE! 
null