Things might look a bit bleak right now in Broncos Country, but at least one area outside of the vaunted Orange Crush defense has been a bright spot, and it might not be exactly where you think.
Second-year quarterback Trevor Siemian has played some pretty good football as of late, when he's been on the field. In his last five starts, Siemian has thrown for at least 276 yards in four of them, adding another eight touchdowns to just four interceptions.
http://www.scout.com/nfl/broncos/story/1738417-is-the-denver-d-up-to-thi... Over his last two starts against the Kansas City Chiefs and the Tennessee Titans, Siemian has throw for a combined 702 yards and four touchdowns with zero interceptions, completing roughly 65 percent of his passes.
On the year, Siemian has thrown for 2,730 yards and 16 touchdowns to just seven interceptions. Take away the Tampa Bay game where he attempted just seven passes and Siemian is averaging just under 270 passing yards per game, which is a major improvement over last year's passing attack with Peyton Manning and Brock Osweiler.
That's actually really solid work from a guy many doubted coming into the year when you consider he's doing this behind one of the worst offensive lines in the AFC, along with the fifth-worst rushing attack in the entire league.
Sure, you can point to Siemian in some losses and say he's been a bad quarterback, but in Denver's last two losses to the Chiefs and the Titans, the former Northwestern product has been superb.
Let's take a look at some plays from this past Sunday's game and see how Siemian truly performed.
Play 1
Starting things off on the first drive you get a chance to see some of the terrible protection that Siemian has gotten at times throughout the season.
Rookie running back Devontae Booker just completely whiffs on his poor cutblock attempt on Derrick Morgan off the edge, leaving Siemian no chance to get rid of the ball as he's just setting up to throw coming off of the play-fake.
I've read and heard a lot of complaints about Siemian and how he holds onto the ball too long behind this offensive line, but when you get less than two seconds to set up to throw coming off of a play fake, there's not a single quarterback in this league who gets rid of that ball for a positive play.
Play 2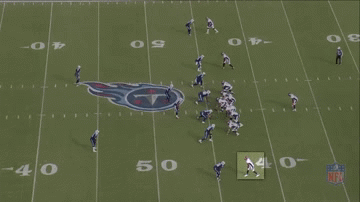 This is an absolute dime from Siemian down the left sideline that hits Emmanuel Sanders right in stride between the numbers, yet the Pro Bowl receiver couldn't come up with the catch. Granted, Sanders had a massive day against the Titans, but this could have jump-started the Denver offense should he have hauled in the completion.
Again, I've heard a lot of complaints about Siemian throwing the deep ball inaccurately with what appears to be a weak arm at times, and I totally get it — I really do — but this was one of the best balls I've seen him throw all season long and his best receiver couldn't make the play.
Play 3
Working from under center, Siemian has a five-step drop here to allow Sanders to work underneath against the Tennessee defense. This play is designed to get the ball out quickly to his playmakers, allowing them to work in space, yet right tackle Donald Stephenson gets worked over on the right side, forcing Siemian to work in a muddied pocket.
Despite having guys crashing down around his lower half, Siemian is able to stand in there and deliver a strike to Sanders, who picks up the first down in the process. The young signal-caller has a ton of poise for this Denver team, and I think his poise in the pocket on this play was a very positive sign.
Most quarterbacks in that situation can get happy feet and pull the ball down, or take their eyes away from what is happening downfield, but not Siemian.
He doesn't get enough credit for that while playing behind that porous offensive line.
Play 4
While this play turned out to be a positive for Siemian, Sanders and the Broncos offense, I came away quite concerned with Siemian's footwork and overall mechanics on the play, which I feel continues to deteriorate behind the bad offensive line.
For the most part, in the second half Siemian seemed to be falling away from a lot of his throws, especially on ones in the middle of the field and just outside of the boundary.
That's concerning because he doesn't have the rocket arm to sling it around without having to put body weight behind it. Fortunately though, he couldn't have placed this one any better to Sanders for the score.
Conclusion
That being said though, his footwork and mechanics is definitely an area that must absolutely be addressed in the offseason if the Broncos really are set on him playing a major role for this franchise.
John Elway and company can start by making major changes up front to the offensive line, providing as much protection for whomever is under center next season, while also looking to take heat off of a passing game that isn't used to being the focal point of a Gary Kubiak-led team.
But the main thing I want folks who read this to come away from this understanding is that Siemian is nowhere near the problem for the Broncos offense. He's actually the one who has kept them afloat in recent weeks with no semblance of a running game and very little protection.
It's easy to label him as the scapegoat should this team miss the playoffs this season, but that would be the easy and misguided way out. Just pop on the tape this season and you'll see far more good than bad from Trevor Siemian.  
To get instant Broncos notifications, download the NEW Scout mobile app for iOS HERE! 
Josh Carney is a Featured Writer for Mile High Huddle. You can find him on Twitter @JCarney_Sports.
Follow Mile High Huddle on Twitter @MileHighHuddle and on Facebook.
null