Wednesday, the mood was somber as DeMarcus Ware was placed on injured reserve. With his contract set to expire at the end of this season, it's likely that the future Hall-of-Famer has played his last game in Denver.
Although he only spent a small portion of his career here, the void he potentially leaves behind is wide. From the leadership he brought to the defense on a weekly basis, his mentoring of Von Miller — transforming the Super Bowl 50 into a superstar in the process — will be dearly missed.
http://www.scout.com/nfl/broncos/story/1681565-5-reasons-you-should-go-p... Signing with the Denver Broncos in the spring of 2014, Ware would leave the Dallas Cowboys as their all-time leader in sacks, but his exit came amid injury and age concerns. It would be Denver's gain, as Ware shook off those labels, continuing his high level of play.
Voted into the Pro Bowl his first two seasons with the Broncos, he would also rack up 21.5 sacks along the way.
While his time in as a Bronco may be over, I thought it would be fitting to look back at some of the best moments during his time in Broncos Country.
Week 8, 2015: Ware Wrecks Green Bay In Battle Of Unbeatens
Both the Broncos and Green Bay Packers came into this Week 8 showdown in 2015 undefeated and looking to make a statement with a national audience watching. Starting off 6-0 but short on style points, many national media pundits looked at this game as the perfect foil for the emerging Denver defense.
The Broncos would win that game resoundingly, 29-10, leaving little doubt in the process that this defense was for real. Holding Aaron Rodgers to an abysmal 77 yards passing with no touchdown passes, and forcing a safety, the Denver defense announced to the rest of the NFL that they would be a force to be reckoned with.
It wasn't the first time Ware had blown past a double team in Denver but it was a moment that typified many of his sacks as a Bronco.
Late in the game and deep in their own territory, Rodgers dropped back to pass. Sending out fullback John Kuhn to double-team Ware, the linebacker would blow by tight end Richard Rodgers so quickly that Kuhn had little time to react. Ware pulled down a surprised Rodgers, causing him to fumble, which led to a safety and put an exclamation point on the victory.
Week 7, 2014: Spin Move On Joe Staley
In Ware's first season with Denver, he would rack up 10 sacks. One of those in particular was more memorable than the other nine in a game in October vs. the San Francisco 49ers, at
The week 7 matchup is remembered more for Peyton Manning breaking Brett Favre's all-time touchdowns record. That same night, Ware would have his own signature moment at the expense of the Pro Bowl tackle Joe Staley.
On the previous play before the sack, Ware tried a spin move to the inside shoulder of the Niners tackle, which was diagnosed correctly, keeping Ware out of the backfield. On the next play, Ware would take that insight and set up a fake spin move, putting Staley on roller-skates and ending with Ware planting Colin Kaepernick on the turf for the second time that night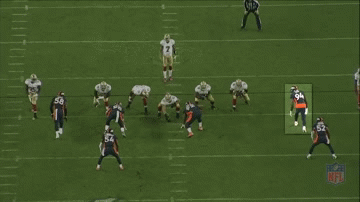 .
Von Miller once opined on the technique of his mentor.
"If he has 100 sacks, he has a technique for each one of them."
It was a rarely seen move by a great player like Ware, who had probably stashed that technique away, waiting for the perfect time to unleash it.
Week 9, 2015: Ware Gets Into The Top-10 All-time
Going back to those 100 sacks, it's a testament to the longevity and productiveness of a pass-rusher to get to the triple-digit mark in sacks. It wasn't the flashiest of his career but in a game versus the Indianapolis Colts, Ware would put himself in special company
Bringing down Andrew Luck in a road loss, Ware would join the likes of Reggie White, Bruce Smith and others in the top-10 in all-time sacks. Currently sitting at number eight, Ware has amassed a whopping 138.5 sacks over his career. 
Whether or not Ware decides to hang them up after this season, the numbers he totaled and the company he passed on the all-time list, speaks to how special he is, and how lucky the Broncos were to have him.
Divisional Round, 2015: Ware Recovers Fumble
In what became a chronic issue, a back injury forced Ware to the sidelines for a sizable chuck of the 2015 season. He would make it back for the last two games of the regular season and have a hand in getting Denver the No. 1 overall seed and home field advantage.
Putting aside his injury troubles, Ware would open the playoffs at home with a bang, bringing down Ben Roethlisberger. Ware and his fellow defensive teammates would keep Denver afloat in a tight playoff game that figured to go down to the wire.
With the Steelers holding a slim lead and threatening to score again late in the game, Ware would gamble and make a bee line for Big Ben sitting in the shotgun. In a rare miscue, Alejandro Villanueva would take Ware up the field and Roethlisberger would hand off to running back Fitzgerald Toussaint with plenty of field ahead of him.
Bradley Roby had other ideas, coming up from his corner back spot and punching the ball of the Steelers player hands. In a veteran realization of the magnitude of the game, Ware would quickly peel back on the play and cover up the loose ball, reenergizing the offense who would use a late touchdown to help Denver on its championship campaign.
Bonus: Ware Sacks Big Ben
With two minutes to go, the Steelers were hoping against hope to tie the game, but Ware had other ideas, taking down Big Ben. 
Super Bowl 50: Ware Takes Down Cam
Ware had signed with Denver due his feeling that they were a couple of defensive pieces away from winning a Super Bowl. Following the dismantling loss to the Seattle Seahawks in Super Bowl XLVIII, Denver made Ware a top priority in free-agency.
Much was made of Ware potentially playing in his only Super Bowl almost two years later. If he and the Broncos were to come out with a win, it would be the last accomplishment needed to cement his already substantial career. If Ware knew that this would be his only shot, his play merited that out.
Von Miller would win the MVP honors that day with 2.5 sacks and two fumbles on Cam Newton. But in saving arguably his best game for last, Ware added Super Bowl Champion to his many list of accomplishments, chipping in two sacks and five tackles.
All good things must come to an end, sadly. With so much tradition and history that this franchise has been privy to, it was an honor to be able to say we were able to witness one of the best this game had to offer.
DeMarcus Ware — a great leader, a great player and a phenomenal person. 
Adam Uribes is an Analyst for Mile High Huddle. You can find him on Twitter @auribes37.
Follow Mile High Huddle on Twitter @MileHighHuddle and on Facebook.
To get instant Broncos notifications, download the NEW Scout mobile app for iOS HERE!