The Chicago Bears seem to be at a tipping point with regard to quarterback Jay Cutler. After eight seasons, the man from Santa Clause, IN, has worn out his welcome in the Windy City. 
While the Bears have yet to release him, there has been buzz that GM Ryan Pace will try to deal Cutler on the trade market. But will Pace find any takers? 
If Chicago is unable to find a trade partner for the soon to be 34-year-old Cutler, they are expected to release him. Cutler signed a seven-year, $126.7 million contract extension back in 2013, but most of the guaranteed money has been paid. 
http://www.scout.com/nfl/broncos/story/1681565-5-reasons-you-should-go-p... The Bears can save $30 million on the salary cap in 2017 and 2018 — with just $3 million in dead money — if they release Cutler before June 1. After the Bears dealt two first round picks, a third rounder and Kyle Orton to the Broncos in return for Cutler in 2009, it's safe to say he hasn't provided the type of return on investment the organization was hoping for. 
Cutler has since started 102 games. His record? 51-51. 
But does he still have value? And would he make sense for the Denver Broncos?
First off, the only way this conversation has merit is if the Bears release him and Cutler is free to negotiate with any team in the NFL. GM John Elway is not about to give up personnel capital to re-acquire the same player the Broncos fleeced the Bears over. 
What we've heard out of Dove Valley this week is that the Broncos are looking for a veteran quarterback to serve as the fail-safe, at the very least, for their two young signal callers — Paxton Lynch and Trevor Siemian. 
It is my belief that the Broncos would be best off rolling with Lynch — build around him and let Siemian be that fail-safe quarterback. But our sources say the Broncos want to bring in a veteran from outside the organization. 
That veteran could be Tony Romo, if he too is released by the Dallas Cowboys. Romo told Ed Werder of ESPN this week that he expects to be released. 
I would argue that Jay Cutler would make more sense for the Broncos than Tony Romo. The last three times Romo has taken a hit, he's been seriously injured. 
Ponder that. 
Cutler has dealt with his own struggles with the injury bug, no doubt. He is currently rehabbing from shoulder surgery. Over the last five seasons, Cutler has missed 19 starts due to injury and hasn't played a full 16-game season since 2009 — his first season in Chicago. 
http://www.scout.com/nfl/broncos/story/1754332-5-impact-prospects-for-th... But Cutler is younger than Romo and doesn't have the same serious injury history (back, clavicle) that Romo does. And, Cutler has history in Denver. 
In a controversial move, Mike Shanahan's Broncos drafted Cutler in the first round of the 2006 NFL Draft out of Vanderbilt and later benched veteran starter Jake Plummer down the stretch, with the Broncos still atop the AFC West at 7-4. 
As a rookie starter, Cutler would go on to lead the Broncos to three losses in their final five games, and miss the playoffs. Although Cutler showcased his arm and ability, the move from Plummer to the rookie was an unmitigated disaster and started the downward spiral that would result in Shanahan's firing at the end of the 2008 season. 
The whole Plummer-Cutler affair was detailed from the inside by former Broncos tight end Nate Jackson in his book "Slow Getting Up". It's a must-read for any and all Broncos fans. 
Cutler has been an enigma as a pro. His measurables, athleticism and arm talent are among the best the NFL has to offer, if not the best. What he can do with a football in his hand has tantalized many a GM, head coach and offensive coordinator for the last 11 years. 
In his third career start, Cutler faced the Arizona Cardinals on the road. It was in this game that he began to grow his legend as an arm talent in the NFL. Watch as he rolls to his weak side on a naked bootleg, re-squares his shoulders with the line of scrimmage and throws a 54-yard touchdown to Javon Walker. The ball traveled 64 yards on a rope to it's intended target.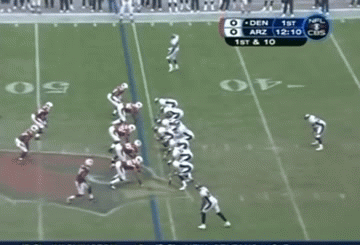 Phenomenal. It didn't take long for the Denver media to begin to compare Jay Cutler with John Elway the quarterback. When asked who had the stronger arm — himself or Elway, Cutler once chose himself. Hubris.
Still, with all the quarterbacking tools at his disposal, what has held Cutler back from being the Aaron Rodgers of his generation? 
Character. A dearth of leadership. The perception by his teammates and coaches that he doesn't care. In other words, the intangibles. 
The truly great quarterbacks lift and elevate their team. With the exception of a deep playoff run in 2010 that culimanted with the Bears losing at home to the eventual Super Bowl Champion Green Bay Packers in the NFC Championship game, true success has eluded Cutler. 
He is now considered to be more Jeff George than John Elway. But he's also had no small measure of obstacles along the way. 
Since the Bears acquired him, Cutler has worked under seven different offensive coordinators in eight seasons. During the 2007 season Cutler inexplicably lost more than 30 pounds while struggling to lead the Broncos. 
He was diagnosed with Type I Diabetes in early 2008. 
They thought it was stress, and I was like 'Listen, I'm not really stressed.' It was missed," Cutler said. "Sometimes it's easy to miss it. I found out in April that I was diabetic. I got up to like 215 somehow by a miracle. Then I went the whole summer just kind of dealing with it and figuring it out, test driving insulins to see what worked, what didn't work, what my numbers were.
With his Diabetes under control, Cutler had his best season as a pro in 2008, throwing for 4,526 yards (career high) and 25 touchdowns on the way to his one and only Pro Bowl selection. His value was at an all-time high, which allowed Josh McDaniels to exploit the Chicago Bears in the trade that soon followed. 
It hasn't been an easy path for Cutler. His attitude and demeanor make him an easy target. And his penchant for throwing the ill-timed interception has haunted him throughout his career. 
But could he fit with the Broncos? The odds of it happening are slim, even if Chicago releases him. It's rare that you ever see a high-profile player, especially a quarterback, return to a previous NFL destination, especially to a team who traded him away in the prime of his career. 
Even if the Broncos wanted him, Cutler might not want to return to the city who once spurned him. However, working with offensive coordinator Mike McCoy, and quarterbacks coach Bill Musgrave, it's possible we could see a side to Cutler we haven't glimpsed since his early days as a pro. 
A change of scenery could do him well and the Broncos certainly have the weapons for Cutler to hit the ground running. Having Demaryius Thomas and Emmanuel Sanders on the outside, a couple of young tight ends and C.J. Anderson in the backfield could help take pressure off of Cutler, who too often has taken matters into his own hands as a quarterback, trying to do too much. 
In such a situation, Cutler would not be expected to step in and be the face of the team. Rather, he would be one component in a machine made up of elite parts. The Broncos are one difference-making quarterback away from returning to Championship contention. 
Could Jay Cutler be that quarterback? I submit that he could. He's older and wiser but it's hard to figure out what motivates him. He's been on a losing team for so long that some wonder how acute his will to win is. 
Speaking for myself, I would have to wonder at what it would cost to get Cutler. If he's all about the money — as some of his detractors say he is — surely he could find a team willing to gamble on his physical attributes at a much higher price than Denver would ever be willing to pay. 
But I also contemplate what could have been had Jay Cutler remained in Denver and never had to deal with the drama that has weighed down his career in the NFL. If Tony Romo is willing to take a short-term, incentive-laden contract to play for a contender like the Broncos, perhaps Cutler would be too. 
And if such a situation were to come to pass, believe it or not, I'd take Jay Cutler over Tony Romo. For now, it's a moot point. Cutler is still under contract with the Bears, although GM Ryan Pace said in January that "everything is on the table" with regard to Chicago's quarterback situation. 
Chad Jensen is the Publisher of Mile High Huddle. You can find him on Twitter @ChadNJensen.
Follow Mile High Huddle on Twitter @MileHighHuddle and on Facebook. 
null