At the beginning of May, the Denver Broncos put their second-year running back on notice.
They started by spending a sixth-round pick on Coastal Carolina back De'Angelo Henderson a day after trading Kapri Bibbs to the San Francisco 49ers, and then followed up the draft by signing the former Kansas City Chief-great Jamaal Charles. Those few moves were enough to signal that the Broncos weren't happy with their depth behind starter C.J. Anderson.
So where does that leave the incumbent backup, Devontae Booker, whom the Broncos spent a fourth-rounder on in 2016?
http://www.scout.com/nfl/broncos/story/1779583-broncos-on-the-brink-jord... We know one thing for sure: his role will be significantly decreased from the end of 2016, when Anderson's season-ending MCL injury forced Booker into the lead spot. Booker struggled to find holes and find his second gear most of the time, averaging just 3.5 yards per attempt in his rookie season.
The former Utah and junior college standout had productive games here and there, but his best work came when he was able to spell Anderson after Denver's starter had already set the tone and softened up the defense.
In 2017, with Anderson, Charles, and Henderson all potentially getting some of the carries, Booker will have to make the most of his limited snaps in order to stay relevant in the shuffled Broncos backfield.
Fortunately, Booker's receiving ability will earn him some time on passing downs. Last year, Booker caught 31 passes for 265 yards, reeling in 68.9% of his targets. His versatility as a receiver was on full display in the last game of the season against the Oakland Raiders when Booker motioned out wide to the left, caught a quick screen from Trevor Siemian and followed his blocks 43 yards down the field for a score, his second of the game.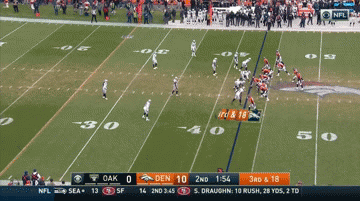 It's plays like the one against Oakland that will earn him touches. All of the backs on the roster have the ability to catch the ball out of the backfield, but Booker presents a bigger target than either Anderson or Charles.
Take, for example, a crucial overtime play from Denver's overtime loss to Kansas City in Week 12. With Siemian rolling away from the interior pressure, Booker mirrors him down the field and snags a lob, breaking a tackle and moving the ball into field-goal range.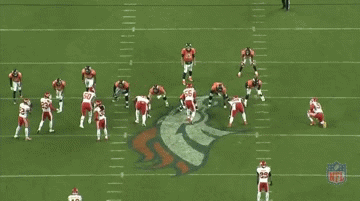 Alas, it was not enough to come away with a victory, but in a year where the Broncos struggled to find a tertiary receiving threat behind Thomas and Sanders, Booker's contributions were very timely.
Another area where Booker has done well and excelled at times is on the goal line and in the red zone. The Broncos' push up front was frustratingly weak, so it took plenty of drive to just cross the line of scrimmage. A few times, Booker had what it took.
Take a look at his touchdown against the Jacksonville Jaguars in Week 13. This was not a successful outing overall for the rookie, earning just 35 yards on his 18 carries, but a nice effort on a six-yard touchdown run was a bright spot on an otherwise rough afternoon.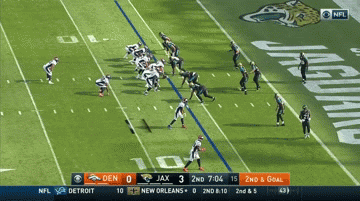 Right guard Michael Schofield pulls to the left side but fails to seal the edge. Booker still manages to squeeze in between him and Virgil Green, take linebacker Telvin Smith head on, and drive his legs through Johnathan Cyprien and Paul Posluszny into the end zone for the score (with a little assist from Russell Okung).
Fitting into tight spaces and taking advantage of lower-body strength is a skill necessary for punching the ball into the end zone at close range, and Booker can handle those duties when the Broncos find themselves in a goal-to-go situation or a jumbo package.
Like most rookie runners, Booker wasn't built to carry the load down the stretch. Whether that was a result of the offensive line struggling, getting used to the length of the NFL season, or any other factors, it shouldn't be an issue in the upcoming season with Denver's newfound depth at the position, as long as the injury bug keeps its distance.
Ideally, the Broncos would probably like to see Anderson take around 65 or 70% of the carries, while Booker and Charles split the rest along with a few targets each. Not a pure committee approach, but a diverse attack that hopefully takes full advantage of each player's unique strengths and hides their deficiencies.
It's also worth noting that Booker, along with the rest of the stable of backs, should benefit from an upgraded offensive line and a new power scheme brought over by offensive line coach Jeff Davidson. Booker played in both the zone and power scheme at Utah, but Denver's new offensive philosophy might be just what the doctor ordered to get on track in year two.
It might be an uphill battle for Devontae Booker, but he still has plenty of tools to get him on the field in 2017 despite the influx of talent at running back.
Will Keys is an Editor for Mile High Huddle. You can find him on Twitter @WillKeys6.
Follow Mile High Huddle on Twitter @MileHighHuddle and on Facebook.