Jordan Taylor never heard his name called on Draft Day in 2015. But the Denver Broncos liked the size and athleticism the former Rice Owl brought to the table and signed him as a priority free agent. 
As a rookie, Taylor immediately began making 'wow' plays in training camp. It didn't translate to much production in the preseason but the Broncos still kept him around on the practice squad as a rookie. 
Despite not being on the active roster, Taylor still found a way to make a huge impact on Denver's 2015 season. With Peyton Manning hobbled by a plantar fascia tear in his foot, he was benched in a Week 10 loss to Kansas City. 
Brock Osweiler would go on to start the next seven games. Meanwhile, the Sheriff — after taking a little time off —began battling back.
http://www.scout.com/nfl/broncos/story/1779411-broncos-on-the-brink-shaq... "I needed time to get healthy," Manning said on NFL Network's America's Game televised production. "I was going to be two weeks in a cast and then time after that to kind of see how your foot feels." 
Once he was out of the cast and out of the training room, Manning conscripted the young Jordan Taylor, who worked diligently every morning with the five-time MVP to help him get his groove back. Despite the fact that Osweiler steered the ship straight and continued to win some big games, the Broncos would need Manning in their greatest hour of need — that fateful playoff run. 
"I did do a lot of my rehab throwing with some receivers who necessarily didn't have to be in meetings, like Jordan Taylor, who was a practice squad receiver," Manning said.
Leading up to Denver's matchup with the Carolina Panthers in Super Bowl 50, Taylor, who had never traveled with the team as a practice squader, needed a suit for his first official road trip. The rookie importuned Manning for one of his old suits, since they're both 6-foot-5, but instead, the Sheriff paid for Taylor's first custom-fitted suit. 
"He may have been one of the best dressed players on the team coming out here," Manning said. "I just appreciate his help, and I'm excited about his career. He's a tall receiver, maybe the Eddie McCaffrey, Eric Decker-type mold, and I really think he's got a bright future ahead of him."
On Super Bowl Sunday, Manning continued his tradition from that season, warming up on the field before the game with his trusty rookie receiver. All that one-on-one work with the most prolific passer in the history of the NFL would eventually pay dividends for Taylor. 
Once again, Taylor — dubbed "Sunshine" by Manning — made circus catches a regular occurrence at training camp the following summer. With Andre Caldwell gone, there was a new opportunity to rise up the depth chart and make the final roster out of camp. 
This time, Taylor was able to convert his impressive camp performances to production on the field in the preseason games. He caught 10 passes for 192 yards and two touchdowns.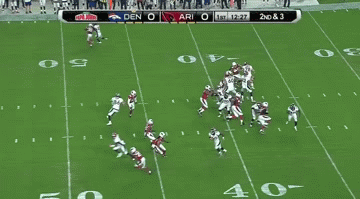 He's a long-strider, but Taylor has the speed to get downfield. He made some big plays after the catch in 2016. As a willing and able special teams contributor on top of his ability as a receiver, it was a no-brainer for the Broncos to keep Taylor on the 53-man roster. 
Taylor entered his first year with the Broncos No. 5 on the depth chart. The biggest hurdle to overcome would be leapfrogging fellow former undrafted rookie, Bennie Fowler, for playing time on offense. 
Taylor did just that, earning 277 snaps on offense to Fowler's 241. Where Fowler struggled with injuries and drops, Taylor found a way to make the most of his small opportunities for playing time. Taylor's signature performance in 2016 was in a road match with the New Orleans Saints. 
Taylor would only catch two passes in that game, but one of them was a spectacular juggling feat. 
As you can see from this clip, Taylor has phenomenal body control. Taylor's control reminds me of former Broncos Pro Bowl wideout Brandon Lloyd. Taylor also has great situational awareness, especially as the synapses fire in fractions of a second mid-play. In the clip above, watch as he's coming down with the ball, his eyes flash briefly to the boundary, so he knows how to lay his body down in bounds — all while securing the catch. 
As a former undrafted guy, Taylor plays with a motivation and willingness to do whatever is asked of him to contribute to the team. Special teams, blocking. It's a small thing, but watch as he chips Kansas City's Tamba Hali from his tight position in the slot, before releasing into his route and making a big catch-and-run.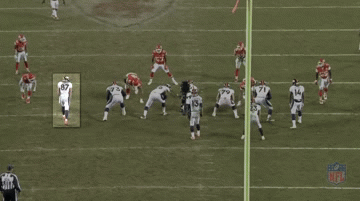 That brief chip bought Trevor Siemian a fraction of a second longer to scan the field and make the completion to Taylor. Then we see him eat up 26 yards in the blink of an eye and lower his shoulder to pick up an extra yard or two, rather than just run out of bounds. 
For undrafted guys, nothing is ever guaranteed. Year in and year out, they have to prove themselves and work harder than some of their teammates. In 2017, Taylor will have to prove himself to a new coaching staff.
Taylor will not only have to compete with the likes of Cody Latimer, Marlon Brown and Bennie Fowler, but also Denver's two draft choices — Carlos Henderson and Isaiah McKenzie. 
Both Henderson and McKenzie offer special teams value as returners. Henderson is guaranteed a roster spot as a third-rounder, while McKenzie will have to truly earn his. That means that Kalif Raymond is likely gone.
The Broncos carried seven wideouts for most of the season in 2016 but that was with a different coaching staff. Three spots are guaranteed to Demaryius Thomas, Emmanuel Sanders and Carlos Henderson. I highly doubt the Broncos will carry seven receivers again. 
Although Denver could carry just five wideouts, the magic number is six. That means that Taylor will have to set himself apart against Latimer, Fowler, Brown and McKenzie. I like Taylor's odds. He's the type of utility player coaches value and his ability as a receiver is impressive. 
There's no doubt Taylor has a battle on the horizon. Even if he makes the team, he'll still have three guys ahead of him on the depth chart but in what portends to be a pass-happy offense under Mike McCoy, that fourth receiver will see a lot of snaps. 
He might not be on the brink of stardom, but I still view Taylor's stock on the upward trajectory. If he fails to make Denver's roster in 2017, I have little doubt another NFL team will snatch him off waivers before the Broncos can stash him on the practice squad. 
Chad Jensen is the Publisher of Mile High Huddle. You can find him on Twitter @ChadNJensen.
Follow Mile High Huddle on Twitter @MileHighHuddle and on Facebook.