Heading into this offseason, it was easy to see the Denver Broncos put a huge emphasis on bulking up the trenches on both sides of the ball. For the defensive line, Domata Peko comes in at a whopping 322 pounds and Zach Kerr at an even bigger 335.
All year, Broncos fans voiced their concern with the run defense and clearly, the Broncos saw the very same issue. However, the Broncos had more issues than just stopping the run this past year compared to the historic 2015 season on defense.
They lacked an inside pass rush that kept quarterbacks from stepping up in the pocket, allowing the outside rushers to get home for big plays.
Malik Jackson ended up being a bigger loss than anybody wanted to admit. While he wasn't a guy that put up big sack numbers on the interior of the defensive line, he did make quarterbacks very uncomfortable with the middle of the pocket collapsing down on them.
http://www.scout.com/nfl/broncos/story/1777865-film-room-garett-bolles-v... In fact, in 2015 he was a top-10 interior pass rusher, finishing with 60 total pressures (sacks, QB hits, and hurries). Unfortunately, his replacement. Jared Crick, was nowhere near those numbers. Teams could focus on Derek Wolfe, Von Miller, and the combo of Shane Ray, Shaquil Barrett and DeMarcus Ware — leaving Crick and Adam Gotsis one-on-one, thinking they wouldn't lose that battle.
All of that brings us to the 2017 NFL Draft where in the second round the Broncos were able to snag one of the most productive pass rushers in the entire draft. DeMarcus Walker, of the Florida State Seminoles, finished up his final season as a consensus All-American.
He put up some incredible numbers, with 21.5 tackles for loss (8th in the FBS) and 16 sacks (2nd in the FBS). If those numbers can translate to the NFL then the Broncos just got themselves a huge steal in the Draft.
I would put the brakes on those kind of lofty expectations day one but I do think Walker can still be a big contributor to this team from the get-go. Let's look at some plays that show just what this kid brings to the table.
The Florida State defense did not show up well in the first half of this game. In the second half, though, they came out with a fire and DeMarcus Walker was definitely the man leading the charge.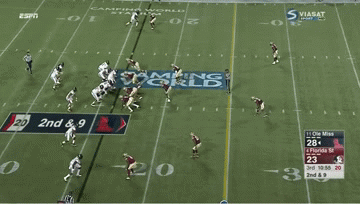 On this play, Walker starts on the outside shoulder of the left tackle (7-Tech). He gets a great jump on the snap. This allowed him to really push towards the outside, making the LT think he was going for an outside rush and try to hurry to beat him to the edge.
Instead what we see is one of Walker's go-to moves where he uses his inside arm to keep pushing the blocker in the way their momentum is taking them, then swimming back to the inside. This gave him a free lane right to fellow draft pick Chad Kelly for the strip-sack and a big play when his team needed one.
Analysis: In Walker's first year as a Bronco, this is what he needs to continue to build on. He can be a situational pass rusher that adds a great inside push this team desperately needs.
Play 2 vs. Ole Miss (2016)
After watching this Ole Miss game, I can promise you Chad Kelly is a very happy man knowing that DeMarcus Walker is on his team. Walker had times where he truly did dominate this Ole Miss O-line.
This play is just another example of what Walker can bring to the table. He moved to the inside on this play — just to the outside shoulder of the right guard (3-tech position). Florida State has taken the lead and can now pin their ears back and go after the QB.
Initially, Walker gets a little stood up trying to do another inside swim move. His left hand got held up as he let the blocker into his body a bit. However, instead of just giving up, he uses that arm to grab the RG and toss him to the side. This again gave him a free lane to Chad Kelly for another sack.
Analysis: DeMarcus Walker isn't going to be the fastest pass rusher on the field, or the guy that does a great job of bending around the edge. What he does bring are powerful hands that just never want to stop fighting to make a play. We see him here just toss a 300-pound man to the side. That is no easy feat, certainly, and I hope we see him doing it on Sundays for the Broncos.
Play 3 vs. Clemson (2016)
On the third play of this film study, I decided to focus on Florida State's very tight game against Clemson last year. This time, we see Walker lined up straight on with the RT (5-tech position).
Clemson is in a 4-wide shotgun formation. This is a very common set for Clemson. Walker decides to take an outside rush. That is not really his strength, which leads me to believe he recognized exactly what Clemson was trying to do on this play.
He reads the eyes of Houston Texans first-rounder Deshaun Watson, deduces that the quarterback is trying to hit the quick slant route to the outside receiver and jumps the lane, knocking down the pass.
Analysis: Walker shows incredible football intelligence here. He recognizes the play design very early and flows to a spot where he can go make a play without even showing much of a rush. He has great awareness on the field and keeps his head up to see where the ball is going.
One of my favorite things with Walker is that he never gives up. He is always looking for different ways to impact the game and his ability to read the QB and knock down passes will be a very nice addition to this D-line.
Play 4 vs. Miami Hurricanes (2015)
Now, not everything about DeMarcus Walker is perfect. There is a reason he went in the second round, despite his statistical production.
The play I have highlighted here is the one area I think Walker can improve on the most and really take his game to a whole new level. It is 2nd-&-5 early on in the game. He is lined up straight on with the left guard (2-tech position). I'm not sure if he meant to do this or not but on this particular play, he is about a yard back off the LOS.
At the snap, we see the other four players that Florida State has rushing the QB take off. Unfortunately, Walker is just a little late out of his stance. This gives the LG a chance to really get set up and stifle any kind of pass rush hopes that Walker has at this point. If the QB so chose, he could have stepped up in the pocket to avoid the outside rush and buy himself an extra half second.
Analysis: One of the biggest weaknesses I see in Walker's game is that he can be one of the last guys up and out of his stance when the ball is snapped. He either needs to work on better snap anticipation (something Von Miller can help with immensely), or he is struggling to have a game plan before the snap of the ball, which causes him to have a bit of a delay.
Both of those issues are more than fixable. When he fires off the snap with great anticipation he can be a big-play defender. He just needs to show he can do that more consistently throughout the game.
Play 5 vs. Miami (2015)
The final play I want to break down here is a 3rd-&-Goal during the same 2015 Miami game.
Walker lines up on the outside shoulder of the RT (7-Tech position again). He does a pretty good job of firing off the snap. He does a bit of a stutter step, faking like he is going to go inside with one of his go-to moves.
This causes the RT to pause, opening an outside lane for Walker to make a play. This time he uses a rip move and gets below the pads of the RT, giving him leverage to win the edge and get a nice sack on a big play early in the game.
Analysis: While most of Walker's best work is with inside moves, he does have enough speed to still win around the edge and make the blocker respect his outside threat. If he can build up his ability to fire off the ball, then Walker early on could establish himself as a very nice pass-rushing option for the Broncos.
He has the right pieces around him to help him with the weakest parts of his game and build to the strengths.
Conclusion
I know there are a lot of mixed reviews about the DeMarcus Walker pick. He definitely has plenty to work on in his game. I didn't get into it much here, but he definitely struggled to anchor in the run game and needs to work on not running so hot and cold throughout a game.
Bronco fans should not expect him to be a day-one starter but that doesn't mean he doesn't have value. Again, the Broncos really missed that second inside pass rusher opposite of Wolfe that can win the one-on-one matchups.
Walker showed that when he puts it all together he could be the best interior pass rusher in this Draft class. Thankfully for him, I do think he will be eased into things with all of the additions the Broncos made through free agency and, of course, the growth of Adam Gotsis.
This really should allow the Broncos to put Walker into a position to be successful on the snaps he does see. He has a great work ethic and I expect the coaches to love the effort he puts forth every single day. 
RELATED: Film Room: Carlos Henderson vs. Western Kentucky | Film Room: Chad Kelly vs. Alabama (2016)
Carl Dumler is an Analyst for Mile High Huddle. You can find him on Twitter @supermanlives4. 
Follow Mile High Huddle on Twitter @MileHighHuddle and on Facebook.
To get instant Broncos notifications, download the NEW Scout mobile app for iOS HERE!