"If you're healthy enough to suit up, you're healthy enough to play. No excuses."
It's a common refrain we hear uttered in NFL circles. One of the few absolutes about pro football is that a player is never at full health during the season. And yet we expect these athletes to perform at a high level week in and week out, regardless of whatever ailment might be plaguing them. 
Denver Broncos running back Devontae Booker experienced true adversity as a rookie fourth-rounder in 2016. He suffered a meniscus tear in November of 2015 — his final season at the University of Utah — which required two surgeries to repair. Less than six months later, he was a Bronco. 
But Booker arrived at Broncos OTAs still recovering from his knee injury. The team eased him into full participation and by the time training camp and the preseason came around, he was a full go. 
http://www.scout.com/nfl/broncos/story/1781116-broncos-on-the-brink-benn... As a rookie, the expectation for Booker was to serve as C.J. Anderson's backup. But just seven games into the season, Booker had to step up and carry the load for the Broncos the rest of the season, after Anderson injured his meniscus and was placed on injured reserve. 
Not only was Booker enduring the typical rookie learning curve — assimilating the playbook, acclimating to the speed and violence of the pro game — he was still less than a year removed from his meniscus tear when he received his first career start. 
Nowadays, if NFL players don't recover from knee injuries at the same rate that Adrian Peterson did in 2012, the perception is that they're just not trying hard enough. That mentality is rubbish. 
The game of football is unbelievably violent — so physically taxing and brutal. For many rookies, the NFL season is 20 games long, when you factor in the preseason. Booker had 24 touches in the preseason last year, every one of which whittled away at his physical constitution.
You see it every year; usually the best teams in the postseason are the ones who've managed to stay the healthiest. 'Health' is a relative term and there's an art to it. The Broncos have been blessed to have one of the best strength and conditioning programs in the NFL — led by coach Luke Richesson. 
Still, by the time Denver entered their stretch run late in the 2016 season, Booker had seemingly hit that proverbial rookie wall. But it wasn't just him. The veterans aren't immune to war of attrition that is the 16-game NFL season either. 
"We all do [get fatigued]," Booker said following Wednesday's practice session at Denver's UC Health Training Facility. "We're all pros, and we just have to push through it and play through injuries and our bodies being fatigued. We just have to all push through it."
http://www.scout.com/nfl/broncos/story/1777865-film-room-garett-bolles-v... Compounding Booker's rookie wall was his recovery from meniscus surgery. But he 'pushed through it'. Booker finished his rookie campaign as Denver's leading rusher, carrying the ball 174 times for 612 yards and four touchdowns. He also contributed 31 receptions for 265 yards and a score. 
Some fans look at his 3.5 yards-per-carry average and discount the impact he had. I shudder to think what the Broncos offense would have looked like in the middle of the season without Booker there to bear the load. What also rarely gets mentioned in the Booker conversation was his inexperience — and lack of fit — in Gary Kubiak's zone system. 
Coming from Utah, Booker built his NFL resume on the power-gap system. Following the 2016 Draft, I can't tell you how many scouts I talked to who were dubious about Booker transitioning to Denver's zone running game — because it wasn't his bag.
The zone system requires many things from it's running back, especially vision. But to fully capitalize on and recognize the backside holes and creases the zone-stretch running game can create, the ball-carrier must be comfortable and knowledgeable of the system.
The ball-carrier has to know it like the back of his hand, so that when he takes the ball from the quarterback, and flows behind his blockers, patiently waiting for the backside crease to open up, he's not thinking — he's just reacting. 
All things considered, Booker faced some enormous obstacles as a rookie, but he battled through them like a pro and finished the season off strong. Although he did not start in Denver's Week 17 finale against the Oakland Raiders, he still made a big impact. 
Booker contributed 109 yards from scrimmage, with both a rushing and a receiving touchdown. He showcased his ability as a runner and as a receiver out of the backfield.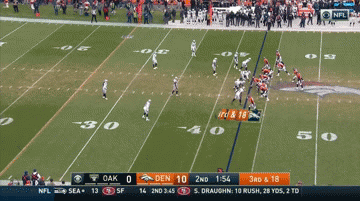 In the open field, Booker can make some great things happen. He's surprisingly developed as a route-runner and has excellent hands. 
But Booker is best between the tackles. He is a violent, powerful runner. All of the tools he brings to the table fit perfectly with what Mike McCoy's offensive system demands from it's running back. 
In McCoy's offense, the Broncos will return to the same type of power-gap scheme used during their hayday with Peyton Manning at quarterback. McCoy was Denver's offensive coordinator from 2009-12. He coached Manning in 2012, before leaving for the head coaching job in San Diego. The year before he coached Manning, McCoy's offense led the league in rushing. 
When McCoy left, the system that Adam Gase ran was built on the same bones. Booker will benefit from the same system in which C.J. Anderson exploded in his second year, to the tune of more than 1,000 yards from scrimmage and double-digit touchdowns — all in just eight games. 
"I think it's just different for me," Booker said. "I was used to a gap scheme system over the zone system. Like I said, it just kind of plays of my skill set, so I'm excited for it."
McCoy likes to feature the running back in the passing game. In the two seasons in which Danny Woodhead appeared in all 16 games for McCoy in San Diego, he totaled 156 receptions. 1,360 yards and 12 touchdowns. 
Lost in the all the prognosticating about what a healthy Jamaal Charles and C.J. Anderson duo could do for the Broncos in 2017 has been Booker's remarkable qualifications for McCoy's offense. It could be said that Booker is almost the perfect back for Mike McCoy. 
"Like I said, I love the offense already," Booker said. "They do a lot with the running backs, whether its splitting them out in slots or wide. Or just having the different route combinations for us running backs to run and get open on."
In his two years at Utah, Booker hauled in 80 passes, to go along with 2,773 rushing yards. With a new system that fits his skill-set perfectly, a revamped offensive line bent on being the bullies, and a full offseason under his belt, Booker could be the darkhorse on the brink of exploding for the Broncos. 
And if the early returns from Broncos OTAs are any indication, we could very well see an entirely different version of Devontae Booker in 2017. Don't sleep on the possibility. 
Chad Jensen is the Publisher of Mile High Huddle. You can find him on Twitter @ChadNJensen.
Follow Mile High Huddle on Twitter @MileHighHuddle and on Facebook.