Dove Valley currently hosts eight tight ends on the roster — depending on how you view Cedrick Lang. In each of the last six years, through two coaching staffs, six starting quarterbacks, two different blocking schemes and one general manager, the Broncos have consistently carried four tight ends on their 53-man roster.
Denver likes to keep as much versatility across their roster as possible, including the tight end position. If we are to assume the Broncos will carry four tight ends again, then it's safe to also assume they will likely keep the most versatile of the eight.
http://www.scout.com/nfl/broncos/story/1782574-broncos-on-the-brink-lore... Let's take a look at the four most likely tight ends on the roster and how each of them could factor into new offensive coordinator Mike McCoy's offense.
Ideally, the Broncos would like their four TEs to be your classic 'Y-tight ends''. A 'Y'' would be your most versatile of the group. They are expected to be able to stay in-line and block, as well as run routes out of the slot.
The Y is your Rob Gronkowski or Martellus Bennett type of player. The 'F-tight end' is your flex player. This TE is your "matchup nightmare" guy you consistently hear about. The F is your Jimmy Graham or Greg Olsen type of player, who you can get matched up on a smaller safety or a slower linebacker.
http://www.scout.com/player/156747-jake-butt?s=101
We'll start with possibly the "safest" TE on the roster, Jake Butt. Taken in the fifth round of this year's Draft, Butt suffered a torn ACL in late December of 2016, as well as during a practice in 2014.
He has all the potential to be your prototypical Y [TE] — runs very crisp routes out of the slot, but still needs to work on refining his blocking skills. He's expected to be a full go by October at the very latest.
http://www.scout.com/player/81555-virgil-green?s=101
Virgil Green has been the biggest tease on offense — showing flashes of brilliance and athleticism, but rarely doing it consistently. His run after the catch is often finished with attitude.
Since being drafted in 2011, Green has been the Broncos most consistent run and pass blocker but through two coaching regimes, he's often been relegated to just that, a blocker. Whatever the reason is, these coaches believed Virgil Green would be their reliable blocker and not their go-to pass catcher.
On Monday, Virgil spoke on his versatility and jumping back into the familiar offense.
"I'm always looking for a few more routes," Green said. "My teammates and the coaches know that I am a very athletic tight end. Obviously, I'm still going to be required to block in this system. We're all going to run the ball and have a little play action because all of that stuff compliments the pass. I just look forward to being very versatile."
http://www.scout.com/player/137411-jeff-heuerman?s=101
You could argue that no player out of Denver's 2015 Draft class has under-performed more than Jeff Heuerman. In the early summer of 2015, Heuerman tore his ACL and missed the remainder of his rookie season.
He came back in 2016 and caught 9 passes for 141 yards. We have yet to see the "seam-ripper" he was back at Ohio State before he was drafted. He's another TE who might be better as an in-line guy vs a mismatch nightmare.
Heuerman is eager to show he has plenty of potential left in his still budding career. But after that ACL, he dealt with hamstring issues in year two. The best ability is avail-ability, as they say. 
"Having knee surgery your rookie year, then coming back last year and being banged up, obviously, there is a lot that I need to get out there and want to show," Heuerman said. "It's going to be a good year. This offense is fun. It allows guys to play football. I'm just excited about that."
http://www.scout.com/player/122164-a-j-derby?s=101
In-season trades have become a bit of a rarity in the NFL, which is exactly how A.J. Derby found himself on the Broncos in 2016. Last year, the Broncos sent a 2017 fifth round draft pick to the New England Patriots for Derby.
Derby began his college career at Iowa as a backup quarterback, before transferring to a community college where played QB and then transferred back up to D1 Arkansas, where he was the backup QB. Before his last year in college he changed positions to TE and was later taken in the 2015 draft by New England in the sixth round.
He competed with Clay Harbor for the team's No. 3 TE spot before being traded to the Broncos. When he got to Denver, he found himself in the middle of a team in need of a pass catching, mismatch TE and Derby quickly became a favorite target of Trevor Siemian's.
Derby's problem was not route running as a move TE. It was his hands and ability to hold on to the ball. This was on display Week 14 of last year when he fumbled during a would-be late game comeback throw by Trevor Siemian with a minute left.
There's still a lot left to be learned and a lot of growth to be had by Derby, seeing as he's only played one year of TE in college and coming into now his third year, Derby believes he has a lot to offer the offense.
"I think it helps out," Derby said on Tuesday. "I think it helps more tight ends stay on the field more often. That's all we're trying to do is make plays for the offense."
What Can We Expect From The Tight Ends in 2017? 
During his tenure as head coach in San Diego, Mike McCoy was as creative with his TE usage as anyone in the league — something the Broncos saw first hand in Week 6 of last season. The Broncos saw, at one point, four TEs on the field and had no answer for them.
Hunter Henry finished with a game high 83 yards and a touchdown. McCoy's system ran a lot of Y-ISO TE sets, which was designed to get the Y-TE out on an empty side of the offensive line and trips wide to the opposite side.
If the defense is playing man-coverage, your TE is most likely going to get an undersized safety or a slower linebacker in coverage. On the other side of the O-line, you will have three wideouts.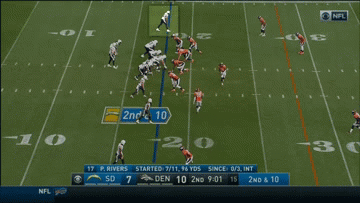 From this trips formation, they can run a myriad of plays, from a multitude of routes. Like we saw in 2012, the Broncos can run short yardage pick plays or Demaryius Thomas' favorite play — the WR-screen.
When playing against zone-coverage the formation is the same; three WRs to one side and an isolated TE on the opposite side, with a running back in the backfield. The RB will either stay in for a blitz pickup, or he will go out into the flat, thus dragging a linebacker up to help cover him.
Its then up to the slot receiver on the other side of the O-line to occupy the seam and drag over the presumed safety covering the middle of the field. All the TE has to do at this point is get out of his break crisply and box out his defender for any throw coming his way.
This formation can be run with multiple TEs or just one, but it does require a TE to be recognized as  both a blocker, as well as a pass catching threat. Right now Broncos have four players who are either new to the position, good but not great at everything, or simply just need the right system to shine in.
If there was ever a coordinator to breathe some life into the TE position it is Mike McCoy.
Colby Valdez is an Analyst for Mile High Huddle. You can find him on Twitter @colby_valdez.
Follow Mile High Huddle on Twitter @MileHighHuddle and on Facebook.