The NFL Draft made one thing very clear for the Denver Broncos and that is they wanted to add some major playmakers. Sixth-round running back De'Angelo Henderson fits that bill perfectly.
Henderson was a touchdown machine at Coastal Carolina, finding ways to score as both a runner and receiver. In fact, he just barely missed the NCAA record set by Danny Woodhead (former RB for Broncos OC Mike McCoy), scoring a touchdown in 35 straight games.
Henderson now joins the Broncos in what is shaping up to be a very competitive running back competition. C.J. Anderson, Jamaal Charles, and Devontae Booker are all finally looking healthy and ready to show the NFL they are back and ready to dominate. Carries could be tough to find early on for De'Angelo Henderson.
http://www.scout.com/nfl/broncos/story/1784455-limited-offer-get-3-month... I wouldn't count him out of the competition just yet, though. The man, who was given the nickname "Hop", has shown an incredible ability to rise to the moment and above the adversity thrown his way.
That's how he got his nickname. Back in high school he suffered an injury that trainers told him would keep him out for 6-8 weeks.
"I looked in my trainers eyes and told him he was crazy," Henderson said. "I'm not missing 6-8 weeks. So I came back and I was hopping around."
It didn't take long for the nickname to stick.
Let's take a look at some plays that show exactly what he brings to the table and why that nickname "Hop" means even more when you watch what he did in college. I also have a couple of plays that show just what he needs to work on to become a possible steal in the 2017 NFL Draft.
Play 1 vs. North Dakota State (2014)
This first play we are going to take a look at shows why the nickname is so fitting. The go-to move for Henderson is a quick jump-cut that has embarrassed a lot of players over the last four years in college.
The situation that we see here is a critical moment in the game early on. Coastal Carolina has already fallen behind 14-3 to the eventual FCS champions North Dakota State. They find themselves in a 4th-&-1 play in the redzone.
Now, just thinking forward to the Broncos, these types of plays last year were maybe my least favorite to watch. Nothing frustrated me more than just knowing the odds of Denver picking up a first down on short-yardage situations were not in our favor.
Back to the play at hand. Coastal Carolina is making it very clear they plan to run to pick up the first down. They have lined up in a 2-TE formation to give them more blockers up front and hopefully open up a lane to pick up the first down.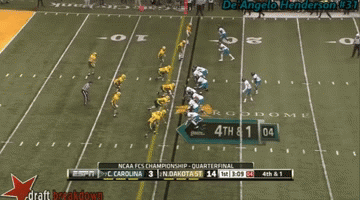 As the ball is snapped the right guard is late out of his stance and gets beat to the inside — right where Henderson is supposed to be running the football. This is where the vision of Henderson is very impressive, knowing quickly that the original hole won't work but also knowing since that defensive tackle shot inside that the hole he vacated is now open.
Henderson does a great job doing a quick jump-cut back to the right and using his quickness to turn a 2-yard loss into a 4-yard gain.
Analysis: Last year for the Broncos, unfortunately, this play would have ended in the disaster of a 2-yard loss way too often. Gary Kubiak even spoke that the running backs have to learn to make one person miss in those situations and that is what we see here with Henderson.
He has great vision and understanding of the situation. He knows he has to get up the field as quickly as possible and secure the first down. This would go a long way this season in making this Broncos offense at least respected — if they can keep drives alive with the running backs making somebody miss and picking up extra yards.
Play 2 vs. Jacksonville State (2016)
I wanted to also include in this player breakdown a couple of the major issues that I see within in his game. The first of these is a very similar situation to the play above. Coastal Carolina once again finds themselves in a 4th-&-1 situation in the redzone. This time they are up 12-7 and looking to really add some nice separation early in the game.
Formation-wise, once again Coastal Carolina is making it very clear they plan on running this football. They are in the pistol goal-line formation with no wide receivers on the field. As the ball is snapped Coastal Carolina works to form a huge wall on the left side to push the defense back and open up a hole. The RG then pulls across the formation to try and clean up any extra outside defender trying to make a play.
Two defenders end up coming around the edge as Henderson tries to use his speed to beat them to the hole. He ends up trying to stick his right arm out to brace for running into the pile and a defender gets his hand on the ball causing a fumble on the play. In the end the defense hold up on a redzone stand.
Analysis: Maybe the biggest issue for De'Angelo Henderson to work on in the NFL is that of making sure to take care of the football. His senior year alone he had five fumbles.
When you factor in — especially for this game where he fumbled twice and the team lost by one point — those are critical plays to winning and losing. He has to learn to have both hands on the ball when going through traffic or his fumbling issue could see him end up on the bench in a hurry.
Play 3 vs. Florida A&M (2016)
If you watch just about any highlight video of De'Angelo Henderson there is a good chance you will see this play. This isn't a one-time occurrence, though, if you watch his college game tape. On this play Coastal Carolina is leading 36-7 and is on the goal-line ready to add to their lead.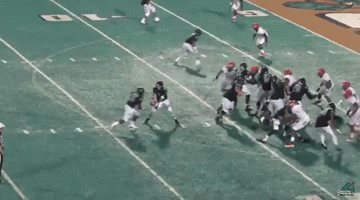 At the snap of the ball we see the O-line open up a small crease on the right side and Henderson burst through following his lead blocker perfectly. On his way to scoring a touchdown there is just one defender who tries to square up and take him down. Henderson lowers his shoulder and just runs over him on his way to pay-dirt.
Analysis: It would be easy for me to show highlight plays of Henderson getting the edge and making people miss in the open field. He did that plenty in college. However, one of the more underrated aspects of his game and why he was able to score some many touchdowns in college, is his ability around the goal-line.
He is not afraid of contact and even at times goes looking for it. Do not let his 5-foot-7, 208-pound frame deceive you, as Henderson plays much bigger than his size would suggest. He isn't just a change-of-pace back but has some ability to show he could become a true three-down player in the NFL.
Play 4 vs. Charleston Southern (2016)
This is maybe the defining example that puts most of De'Angelo Henderson's best attributes into just one play. At this moment, Coastal Carolina is down 30-29 in a game that went back and forth the entire time. Henderson did about everything you could possibly ask of a player to try and win this game. On this particular play, they have a first down on the 47-yard line.
At the snap of the ball, the play is designed to go inside and pick up positive yards to make second down and beyond easier. The linebackers end up crashing inside to try and make the tackle on Henderson. It looks like they lose sight of him, as he runs into the inside and sees that there is no one to the outside. He quickly bounces it out and with his superior quickness/speed, he easily wins to the edge with blockers in front of him.
One of the great things you can see on this play is that Henderson does a great job of reading off of his blocks. He read early on in the play that everybody crashed inside and then as the play develops, he reads that the middle of the field has opened up with the wide receivers pushing their defenders towards the sideline.
The first guy to touch him tries to take him down with an arm tackle and Henderson easily breaks through that, continuing downhill. As the second wave of defenders appear, we get the opportunity to see his great jump-cut making two defenders look silly.
Both defenders get turned around and with Henderson once again having open field we get the opportunity to see his superior speed win to the corner of the end zone for a huge play at a very big moment of the game.
Analysis: There is so much to like about Henderson's game. He has speed, power, and even some vision to find the small hole to explode through. On this play, we see his big-play ability to read off his blockers and turn a nice gain into a game changing touchdown.
Conclusion
De'Angelo Henderson has a great opportunity to make this team and be a difference maker for the Denver Broncos. He does some things that this team just did not have on the roster last year and desperately needed. The backfield in Denver is looking pretty crowded, but Henderson has the ability to make it difficult for the coaches not to keep him on the 53-man roster.
There are a couple of things I am looking forward to when training camp starts up as it pertains to Henderson. The first is how he does handling blocking assignments. If he wants to really secure his spot on this roster then his ability to handle a linebacker blitzing up the middle will be a very important piece of the puzzle for him to figure out.
The Broncos have had talented runners in the past that couldn't make it on the roster because blocking was such an important part of the game they were missing.
The second will be how well he does holding onto the football. Nothing can get a player in the dog house quicker than turning the ball over on offense. We saw last year with Devontae Booker that he had a very rude welcome to the NFL with his first carry being a lost fumble. That type of issue is only highlighted all the more in the NFL.
If Henderson can handle those two concerns, I believe he will find his way onto the field sooner than later. Mike McCoy can find some great ways to take advantage of such an explosive player that truly can turn the tide of a game with just one touch of the football.
Carl Dumler is an Analyst for Mile High Huddle. You can find him on Twitter @CarlDumlerMHH. 
Follow Mile High Huddle on Twitter @MileHighHuddle and on Facebook.