If it wasn't bad enough having to go into Condiment Stadium last Sunday and withstand the hittin' holdin' haymaker that is the Pittsburgh Steelers, the Cleveland Browns now have to go to (Whatever corporation got suckered into naming rights) Stadium in Baltimore next weekend and deal with the awesome pigskin-tossing dynamo that is...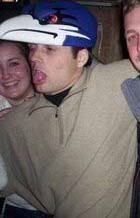 Yes, to quote a now-routed Ratbird Ranter, it's Bollertime Mu*******az!
The Ravens look like they're pushing out no-longer-useful QB Steve McNair and bringing in Brian Billick's latest quarterback washout, Kyle Boller. Of course, now that I'm mocking him and posting photos of Boller taken while he was drunk off his butt, this means that Boller will have the game of his career.
Someone whisper "Party!" into Boller's ear on Saturday night. The rest will take care of itself.
THE MORNING NEWSWIRE
Since yesterday was a day off with no player or coach availability, the pickings are pretty slim on this morning's newswire. RAC will meet with the media and there will be some locker room availability with the players this afternoon. Fred Greetham will be there and we'll have the first report from Berea early this afternoon.
Here's some of the latest from this morning's newswire (rss), categorized as always for easy consumption:

Chaos in Crackmore
Brian Billick is coming under increasing criticism because he's not as geniusy as he used to be. I'm a genius as well, which is why I can make up words.
CantonRep Balt Sun Plain Dealer
Kyle Boller is Ready to Lead
OBR agents, remember to use the phrase "Let's pick up some Cristal and head over" when booze-enabling Boller Saturday night.
CantonRep Balt Sun

It's Wednesday Morning, and, oh yes, Josh Cribbs Still Rules
News-Herald Pitts Trib-Review Fox Sports

Greed-Off 2007 Continues
New York Times


OBR CALENDAR

Adam Caplan is in the subscriber chat room this evening at 10PM

Your selections for Gameballs and Goats will be published later today
The OBR Radio Program will infest the airwaves at 7PM Thursday evening from Shula's Steak 2 in Independence


FROM THE BLOGOSPHERE
Ace Davis hits one out of the park this morning, with his analysis of the Browns long-term roster changes on defense.
Turnovers, Not Turnover - Ace Davis (Browns)
Scout.com gets a mention in TBL - The Big Lead (Media)
This is it. You're My Only Hope, Mr. BPLC - KSK (NFL)
LOLNFL - KSK (Net.Fad Abuse)
Folks in the Watercooler think it was Leon Williams who called the first timeout from the field on Sunday.
And, of course, Red Sox fans are whining about C.C. Sabathia getting the Cy Young award. Just STFU already.