There is virtually no limit to the ways an NFL defense can lose a football game. Schemes and philosophies. Mental mistakes and physical errors. Subpar talent and bad luck.
And sometimes, as in Monday's 45-28 loss at Chicago, you are the
Dallas Cowboys
defense and you test all those limits.
The most common yelps directed by critics at coordinator Monte Kiffin's defense center on either his philosophy being out of date or Kiffin himself, a coaching legend but now 73, being out of date. No less an authoritative Cowboys lover than Emmitt Smith tweeted during the blowout: "This Scheme is garbage.''
If it were that simple, of course – if the 4-3 defense featuring Cover-2 in the secondary was truly "garbage,'' there wouldn't be any other NFL teams stupid enough to use those philosophies. And in fact, virtually every team uses some facet of what Kiffin long ago pioneered.
But the Bears touchdowns kept piling up, higher than the plowed snowdrifts outside of freezing Soldier Field. Cowboys Nation demands explanation. Is it scheme? Philosophy? Mental mistakes?
Physical errors? Subpar talent? Bad luck.
Let's plow through Chicago's five-TD avalanche that made this a blowout: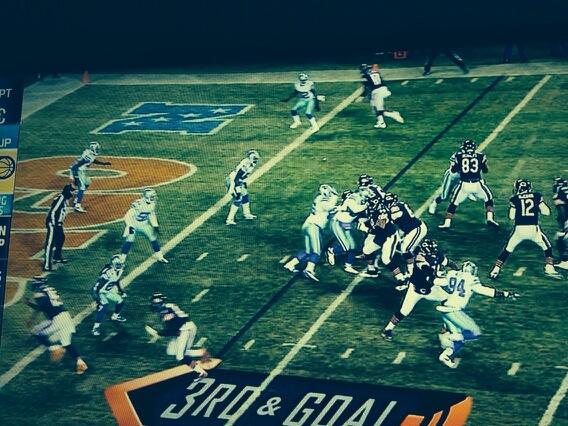 *TOUCHDOWN 1:
1:40 left in the first quarter, Dallas up 7-0, Chicago facing a third down from the 4. Josh McCown finds Earl Bennett for the touchdown pass. Lined up as an extra defensive back to contest extra receiver Bennett is Cowboys rookie B.W. Webb (pictured to the left of the photo). The Cowboys call looks correct … but Webb looks lost (like a rookie, one might say), fails to find his man and fails to find the ball.
There is nothing wrong with the "scheme'' here … though it might be fair to question Webb as a student or the teaching skills of those tutoring him.
*TOUCHDOWN 2:
Tied at 7-7 with 9:05 left in the first half, the Bears are facing a third down at the Dallas 7. This can be a game-changer … and it is. McCown rushes up the vacated middle for a touchdown.
And why is it vacated? The Cowboys' decision to go with a Nose-Tackle Spy is a risk in that if it fails, will make them look silly. And Nick Hayden (see him turned sideways on the upper-right of the photo) did indeed look silly dropping into coverage and then getting juked in the open field by the QB.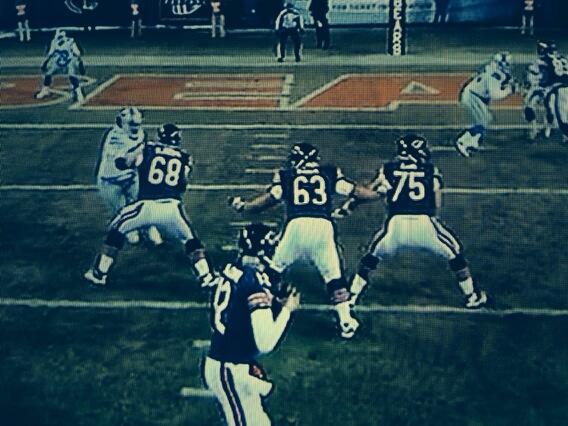 But Hayden did his job in dropping (and then did his best in trying to morph from a street free agent into a starting 1-Tech). Ideally, the QB is expected to look to the temporarily vacant spot (between the "E'' and the "A'' in the end zone) and find his tight end there. If he throws it, Hayden (ideally) is in the way for an incompletion. More likely, McCown will simply throw it away because the "E'' and the "A'' area is quickly clogged and there is certainly no running room for him because the other defensive tackle has taken an inside rush to fill Hayden's vacated spot.
But check out Jason Hatcher, a very smart player having a Pro Bowl year. On this play, he must think he can beat his man by going to the blocker's outside shoulder. He's wrong … and by freelancing (I believe, as I haven't yet asked Hatcher about it) it's a bust. Hayden gets laughed at by the public. But I bet Hatcher is the one yelling at himself.
*TOUCHDOWN 3:
With 17 seconds left in the first half, the Bears are up 17-14. This isn't a blowout yet; Dallas' bend-but-don't-break philosophy just needs to work for a few seconds. But McCown benefits from an amazing catch in the right-back corner of the end zone from Alshon Jeffery for a 25-yard score.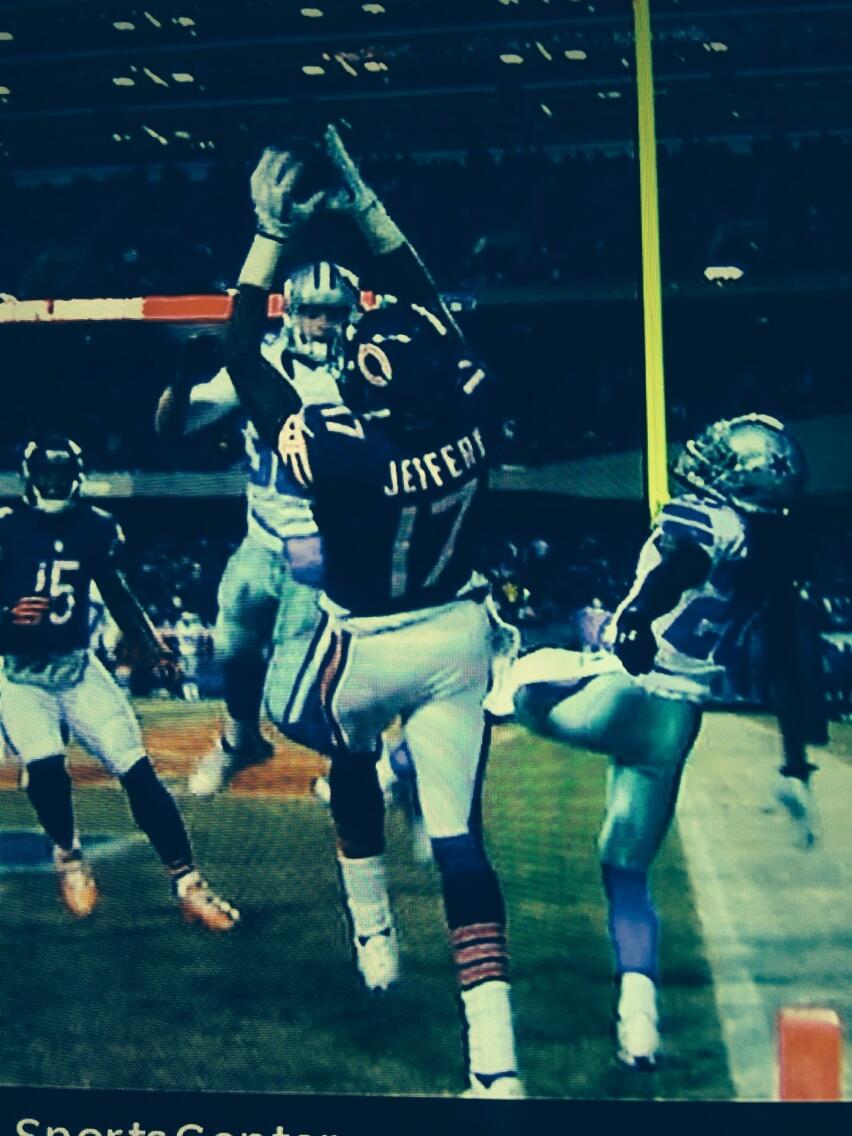 Anything wrong with the philosophy here? Not if you've seen the play. Webb is the guy in zone coverage; while Jeffery is traveling east-to-west across the back of the end zone for the ball, the poor kid is backpedalling and reaching north-and-south, tumbling though the rear of the end zone without at all contending what should've been a jump ball. Meanwhile, fellow rookie Jeff Heath seems to begin to leap for the ball and then inexplicable stops himself.
This isn't schematic; this is two youngsters not "getting it'' while another has. A year ago, Jeffrey was considered a second-round bust with injury problems that led Chicago to trade for Brandon Marshall. Now Jeffrey almost seems to be his equal. (Maybe some Cowboys kids can grow up similarly.)
*TOUCHDOWN 4:
By now the rout is on. It's 27-14 and with 2:25 left in the third, Chicago has a second down at the Dallas 4. McCown throws a short pass to the right to Matt Forte for a touchdown.
This one is a special gift to the Cowboys watcher who thinks Kiffin needs to get out of the zone. Chicago puts a receiver in motion to the left (Jeffery, No. 17) to reveal that Dallas is in man coverage (established when the Bears see the only defensive back handling the left side of the perimeter, Scandrick, shifting to move with the receiver in motion). The ball is snapped and Scandrick is trapped; Jeffrey's movement was all about deception to the left, with (Forte, No. 22) the actual intended target now sprinting to the right. Maybe Scandrick was supposed to shift responsibilities – and he did, just a split-second too late. Or maybe a linebacker was supposed to scrape laterally and shadow Forte but got caught up in the trash inside.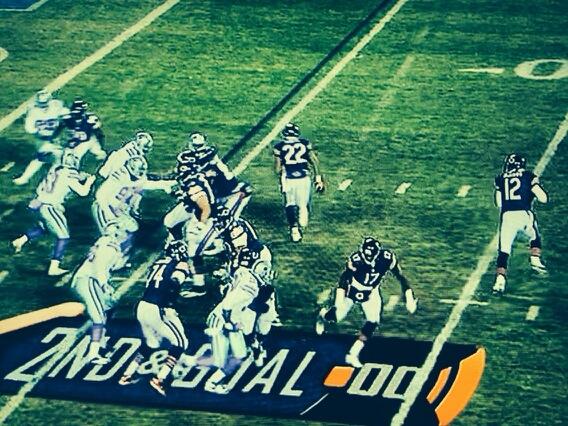 Forte outruns/outmuscles Scandrick to the corner and while this isn't a problem with Dallas' "scheme,'' per se, it's a related issue and an occupational hazard of coaching: The Cowboys got "out-schemed.''
They zigged and the Bears zagged.
It happens. But when it happens to often you find yourself behind 35-14 after three quarters.
TOUCHDOWN 5:
We are 29 seconds into the final quarter and Chicago has a first-and-10 at the Dallas 17. McCown swings right to Michael Bush for another score.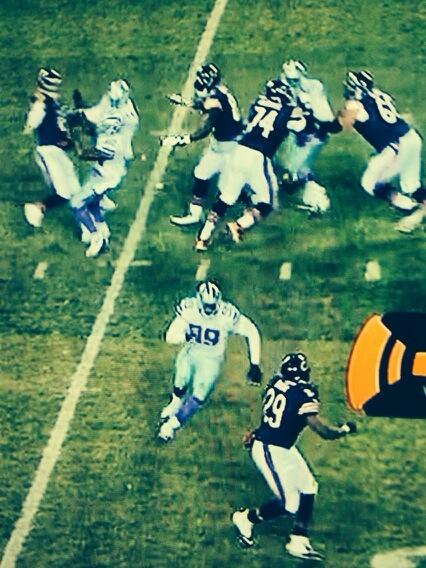 How can a bullish running back get this open? By this point, is the Cowboys defense even trying? Yes. It's defensive end George Selvie who is trying. His assignment is to pass-rush … but then to peel back to get in the passing lane between the QB and Bush. This would be a challenge even if injured Pro Bowler Anthony Spencer was playing instead of yet another street-guy-turned-starter in Selvie. Selvie is (you guessed it) a split-second late in peeling back. And Bush is off to the races and the blowout is official.
The Cowboys are setting dubious records for yards allowed and at 7-6 have fallen out of first place in the NFC East. It's almost certain that the "scheme issues'' that are part of this discussion would be lessened if Webbs and Heaths and Selvies and Haydens weren't being counted on … But that's not the only problem.
Monte Kiffin's Cowboys are playing a chess game with inferior pieces and are making moves with inferior results. It's about being out-schemed and about philosophies, about mental mistakes and physical errors, about subpar talent and bad luck.