Shawn Marion experienced a
Dallas Mavericks
career-high with 32 points (on 14-of-19 shooting), with six rebounds, three assists, one steal and one block ... and ensured the hallmark 100-98 win with a defensive stop on budding superstar Kevin Love.
"That's two gameballs in a row for him,'' Carlisle said, referencing back to the 35-year-old's work over the weekend in his hometown of Chicago with a his 14-point, 13-rebound double-double in a victory over the Bulls.
The defensive work on Love -- unstoppable in so many ways with his 36 points -- put the cap on a night when Dallas held a 21-point lead in the third quarter and almost blew it.
The Mavs' jump to 18-13 came down to the final seconds, with Love taking the inbounds pass, turning to shoot from near the corner (with his foot on the 3-point line) and finding himself stripped by the quick-handed Matrix.
The Target Center audience didn't like the non-call but Love barely protested. Maybe that's because, contrary to the thoughts of the Minnesota announcers who terms the non-call "criminal,'' Love is aware of the possibility that Marion slapped the offensive player's hand while it was on the ball, a legal play.
Later, Love said: "I'm the type of person that if you see a foul, an obvious foul, you call it. I thought that was pretty, pretty obvious. ... Without saying too much, you look at the replay, and it was obvious he got arm."
"It was not a foul,'' Marion insisted. "It was not a foul.''
Anyway, Marion's celebrated his survival on the defensive end along with his 4-of-6 shooting from the arc on a night when Minnesota defiantly left him alone outside.
One of those 3's came with 4:56 remaining and it ended up giving Dallas a lead it would not surrender. Matrix followed that up with a corner 3 on the next possession. ... and the Mavs were suddenly leaving on him for offensive production on a night when Dirk (16 points) and Monta (3-of-14 for nine) didn't quite have it.
"I'm more about winning games, whatever it boils down to,'' Trix said.
Added Carlisle: "He just produced. We need him to keep doing what he's doing."
Do that and the answer to
Who Deserves "The Dirkie'' will be an easy one. (Vote here!)
Marion's not going to do this regularly on the offensive end.
Of course, he wouldn't have had to had Dallas not blown that huge lead. Earlier this season we've seen the Mavs lose games in which they led by 17, 18, and 19 points ... The frequency of which has me wondering: "Hey, maybe everybody loses games in which they once led by 17, 18 and 19 points!''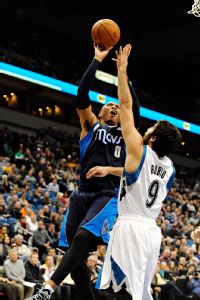 But no; Brandan Wright (with 14 points and three huge defensive rebounds late in the game) frankly chalked it up to "veteran complacency'' and this team -- while good enough to get up by 21 -- is not good enough to cruise. This game included a 38-19 margin in the third, matching Dallas' worst quarter deficit of the season and making it seem like the fellas are slow learners on this subject.
But the Mavs do have a positive track record against the T'wolves at the icy Target Center: they have won 12 of the last 15 in the Twin Cities. And while Love has now scored 25-plus points in 11 straight games (the longest streak in NBA this season), Marion didn't let him score the final two.
"It was only fitting,'' Carlisle said of Marion, "that he made that play.''