I've known Jerry for 24 years and quite possibly have engaged in more 1-on-1 visits with him than any media human. Most of those visits have been of the journalistic variety. But some of them have occurred while Jerry was 'a-geein' and a-hawin'" and "honky-tonkin'" and "talkin' just between us girls." Those are all Jones country colloquialisms meaning, "engaging in discussion while also having a blast at a restaurant or a saloon."
Jones has never shied from this approach to life, and his wife - to my knowledge still the apple of his eye as she's been since 1960 - is his judge, not I. What I judge is not whether he backs down from an invitation to pose with strippers; in the literally hundreds of times I've seen him the subject of a photo request, he has obliged. Pretty women, Giants fans, old men, more pretty women, celebrities, little kids, and still more pretty women. They all get the treatment.
More interesting to me: Has he backed down from his hands-on operation of the Cowboys?
I can tell you he remains the final Cowboys word. But Jerry lieutenants concede that while there is no "changing of the guard'' atop front-office hierarchy, there is a change in the 'un-pretzeling' of Jerry's organizational chart. On another day, I will spin more Jerry-at-the-bar tales. But for now, a chance for CowboysHQ to take you inside jerry's organizational chart.
Contrary to popular opinion, there has been no offseason "changing of the guard'' inside Valley Ranch (or here inside The Marriott Residence Inn in Oxnard) as it relates to Jones' authority. He remains the final voice, his remains the final vote, and he remains the
Dallas Cowboys
' general manager – just as he was even when the gifted Jimmy Johnson strutted through the halls of Valley Ranch.
At the same time, other, younger voices and voters are rising. So it's not that Jerry is "stepping back''; it's that son Stephen and the next generation of front-office leadership is stepping up.
And the two concepts are not mutually exclusive.
The perception of Jerry as a lavish and foolish over-spender is a gross simplification; the truth is more complicated than that. When he purchased his first private jet, he did so over the phone, sight unseen. But this same man – a billionaire three times over – still has over the years found the time to make sure his office isn't overspending on coffee filters.
And he certainly intends to avoid foolishness. Jones has uttered the following statement to me 100 times and it resonates not only as a touchstone for understanding his mind but even a piece of advice that I have for the last 25 years used as my own personal guideline.
"Mr.
Miii-ke
,'' Jones will drawl. "Don't ever let your money get mad.''
This offseason, the Cowboys have used free agency to make impact moves. But they've all been made with fiscal responsibility -- and not emotion -- in mind.
"We can't just spend freely and that's probably a good thing,'' said Stephen upon the start of the free-agent shopping season, acknowledging both cap limitations and a philosophical change from the past. "We have to get value.''
Cowboys great
DeMarcus Ware
was allowed to leave. Aging standout Jared Allen came and left Dallas without a deal. The injured Anthony Spencer remained largely un-pursued and Dallas finally took him on a strict prove-it deal. The signings of Jeremy Mincey, Terrell McClain, Rolando McClain and
Brandon Weeden
are extremely cap-friendly. Dallas did not move to create more cap room by "kicking the can'' on the contracts of
Jason Witten
and
Brandon Carr
.
And in the case of the signing of Henry Melton to what amounts to a one-year commitment worth $3.5 million (with a three-year option that will pay him like a star if Dallas wishes to pick it up), the meeting, recruiting and signing of the Pro Bowl defensive tackle was accomplished with Jerry Jones not even being in the state.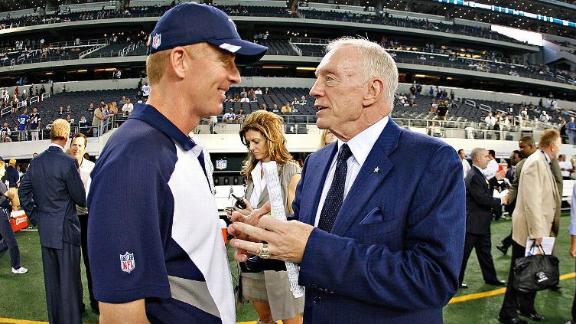 "Jerry had a business function he just couldn't miss,'' Stephen explained to "Ben & Skin" on 105.3 The Fan.
That doesn't mean Stephen acted unilaterally to acquire Melton, or that the contributions of the other major organizational figures – personnel boss Will McClay (who pinpointed the player), head coach
Jason Garrett
(who hosted him at team HQ), defensive coordinator Rod Marinelli (who took him to dinner and recruited him) and Stephen (who negotiated the final contract) – were mice playing while the cat was away.
This isn't some hostile overthrow, or Jerry being moved into hospice care, or the left hand being unaware of what the younger hands are doing.
"No, I think we both do it,'' Stephen said of he and his father. "At the end of the day, I wouldn't say anything changed. Jerry and I work very closely together and work very closely together with Jason Garrett and Will McClay.''
But "we both do it'' suggests a co-general management. And the acknowledgment of those latter two names means that the organization chart is flowing in a way not seen at Valley Ranch since Bill Parcells was coach, and before that, since Johnson was in many ways the de facto "co-GM'' of Jerry's Cowboys.
McClay is in charge of the team's draft board. The personnel people, included respected veteran Tom Ciskowski, report to him. McClay, ideally, reports to Stephen. Who, ideally, reports to Jerry.
Garrett is in charge of the team's roster. The assistant coaches, including new offensive coordinator Scott Linehan and the newly elevated Marinelli, received their jobs due to Garrett's push. They report to the coach. Who reports to Stephen. Who reports to Jerry.
A reasonable organizational flow. A responsible approach to the cap. Coaches coaching. Scouts scouting. The Joneses as overseers.
As a long-time "Jerry Translator," I concede that these truths aren't always are transparent as they should be. In Jerry's first appearance at this camp, he used the words "mantra" and "fungible," double-talked his way through an answer about coordinator changes and said something really nice about linebacker "Reynaldo" McClain, who might be a soccer player or a track star but is not a member of this GM's roster.
Still, the changes, subtle or disguised as they are, are there. The changes can be undone in an instant – Jerry and many other draft-room bosses, have made the mistake of undoing 15 months of planning in the 15 frantic minutes of being on the draft clock – but a sound foundational change is obvious.
Indeed, the passing on Johnny Manziel was part of a pre-determined plan featuring, of course, Tony Romo. Anthony Hitchens was given a fourth-round grade by McClay's department, Kiper be damned. The selection of DeMarcus Lawrence represented "overpaying'' according to Dallas' own Trade Value Chart, but the Cowboys were transparent about having done so.
And what pushed that decision over the edge? McClay insisting to his colleagues that Lawrence is a "Quarterback Hunter.'' ... with Jerry listening. And who was running the phone with 31 lines to every other NFL city to facilitate trades? Stephen ... with Jerry listening.
But yet …
"The one who runs the draft is Jerry,'' Stephen said. "He's the general manager. Jerry will make the call.''
Fast-forward to camp. Why did Tyron Smith sign an extension worth $109 million -- but featuring a cap-helpful base salary of $1.8 mil? Because he feels indebted to the fatherly figure that is Jerry. ... Who is in charge of the team's negotiations with Dez Bryant? That's Jerry, too.
So it's true. Jerry ultimately "makes the call.''
And as the Cowboys Organizational Chart un-pretzels itself so staffers and players cannot dodge their superiors to get straight to the owner's box, it's not that commander-in-chief Jerry is "stepping back.''
It's that his lieutenants are "stepping up.'' ... And yes, I will concede maybe his lieutenants should step up a bit more prominently when Mrs. Jones' husband is 'a-geein' and a-hawin'" and the pesky cameras come out.
Hear "Fish on The Fan'' with
live updates from inside practices throughout the day on The Cowboys Station, 105.3 The Fan.