Earlier this month, Randy White
joined United Way and Americorps volunteers at CitySquare in Dallas
to raise awareness about summer meals for underserved children in North Texas. He played the part of the beloved bespectacled Uncle Randy, leading the children in Simon Says as a full gray goatee descended from his beaming cheeks.
However, when speaking on the Cowboys minicamp fight between center Travis Frederick and defensive lineman Tyrone Crawford, it didn't take long for the Manster within to surface.
"Actually, I'm glad to hear they're having that kind of fire," the Hall-of-Fame defensive tackle said. "You got to have that type of attitude if you're going to be successful as a football player."
Before any bold detractors dare challenge the lineman who once chased a wide receiver down from behind after a fifty-yard head start, understand that White knows constant bickering doesn't a successful team make.
"You've got to learn to corral it," White said. "You can't go around fighting all the time, but you know, that happens.
"When you have guys out there competing for their job, and you don't have full pads on, and no one wants to lose, everybody wants to win, and it just happens. You know, but I'm sure there's no grudges held. It's over as soon as it starts, and you move on, but that's part of it.
In White's own 14-year playing career, all with the Dallas Cowboys, he recalled an incident with young offensive lineman Nate Newton, who was White's teammate from 1986-88. During practice, the 360-pound Newton picked a fight with the nine-time All-Pro. White found the sparring a complete waste of energy on the defensive line's part, since they were running a skeleton crew at the time due to injuries. Newton got to take three plays off while White continued to practice.
When the young lineman, nicknamed "The Kitchen," returned, the Manster had a few words for him.
"I told him, I said, 'Nate, don't start another fight with me while we're in practice. You want to fight, we'll go off the field.' Just kidding; it happens, man. When you're teammates, you have a good bond with them."
The co-MVP for Super Bowl XII bonded with coaches alike during his career with the Dallas Cowboys. One of White's best friends was defensive coordinator and defensive line coach Ernie Stautner, who coached the Cowboys from 1966-88.
White sees a lot of the same qualities in current Cowboys defensive coordinator and defensive line coach Rod Marinelli that he saw in Stautner.
"I think Rod is an excellent coach, and I think he's going to turn that defense around," White said.
Does the second No. 54 in the Dallas Cowboys Ring of Honor truly believe that Marinelli can turn around a last place defense that features only two Pro Bowlers who are hurt and may not be ready for training camp?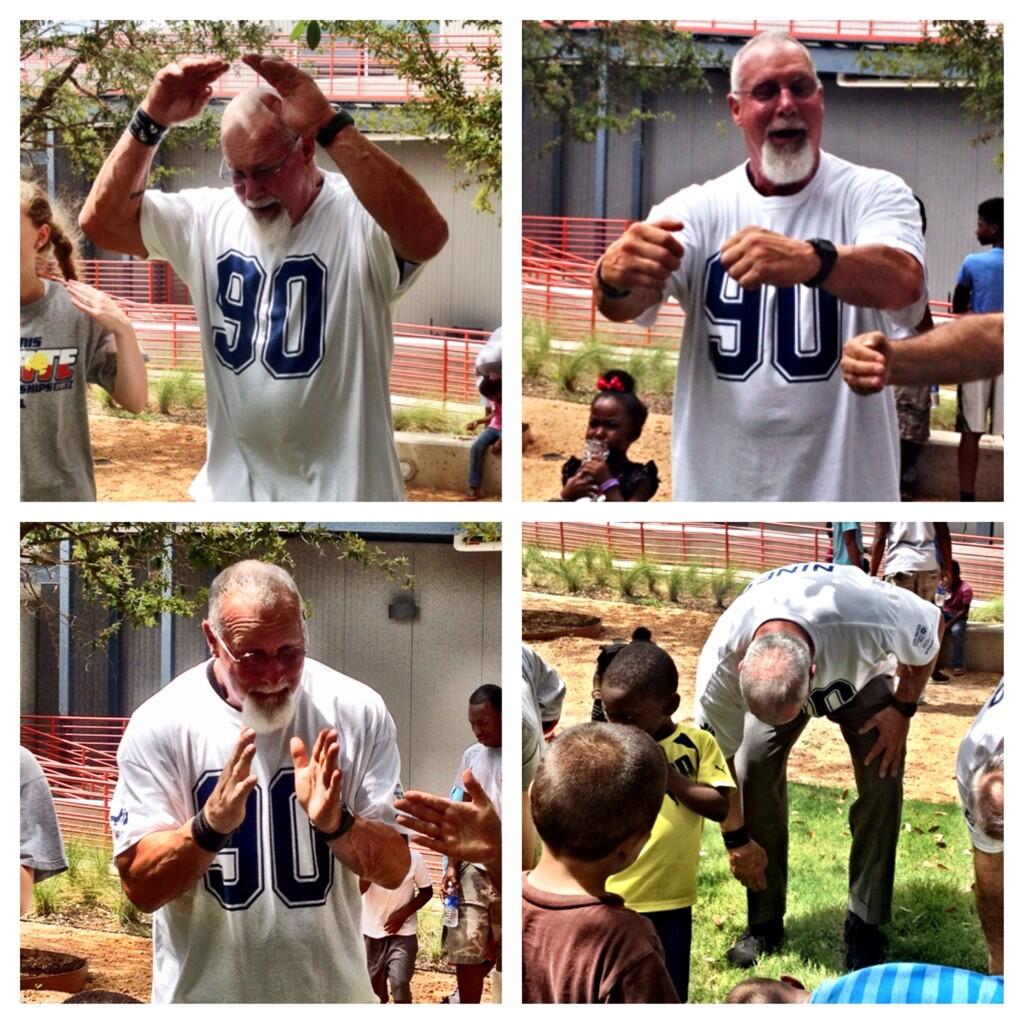 "I do. [Marinelli has] got the right attitude. He's the right kind of guy, and I think if anybody can turn it around, he's the one who's going to be able to do it. I have a lot of confidence that he's going to put it together."
The proof White submits to fans and critics is the job Marinelli did last season amidst the barrage of defensive line injuries. With DeMarcus Ware, Anthony Spencer, and Jason Hatcher appearing sporadically and playing hurt throughout last season, Marinelli was forced to use "smoke and mirrors," according to White, in order to compete.
"Let him get some young healthy guys, bulletproof, they're not all beat up, let's see what he can do."
A month before training camp, the Dallas Cowboys legend can't tell you who is going to be the player to watch on the defense, but he attests that is the thrilling part of the upcoming months.
"They're going to have some young enthusiastic guys in there that are going to have a lot of energy and a lot of ability," said White. "So, you know, when I walk into that team now, that's what I'm looking to see. Somebody is going to come out of it, and you know, hopefully they end up better off."
Keep it here!:
Keep it here on CowboysHQ as we will keep you posted in a variety of ways from inside Valley Ranch ... Here on the HOME page,
here on CowboysHQ Discussion Boards
, and on Twitter, where we encourage you to follow
Mike Fisher
,
KD Drummond
,
Mark Lane
and
Jordan Ross
along with our 105.3 The Fan colleague
Bryan Broaddus
.