THE LEAD STORY
Two decades ago, Jimmy Johnson used to arrange with Michael Irvin to start a fight on purpose, as a way to spark the team through the doldrums of a baking The
Dallas Cowboys
summer training camp in Austin.
Wednesday at Valley Ranch was sweltering enough. But it wasn't Austin. There were no pads. It wasn't training camp. Jimmy, Irvin and usual victim James Washington were nowhere in sight.
Nevertheless, the conditions were conducive enough for a fist-throwing brawl between Tyrone Crawford and Travis Frederick.
Fight! Fight!
On the business end of the play, Dez Bryant scored a touchdown. But in the mixmaster, Crawford felt "disrespected'' by Frederick's clutch-and-grab blocking tactics and threw a punch. The anger lingered for a bit, with Mackenzy Bernadeau coming to the defense of fellow O-lineman Frederick.
Said Crawford of Frederick: "I felt disrespected ... It was just the way he grabbed me by my head. I was really upset."
Crawford, of course, is coming off that season-ending Achilles injury from 13 months ago and doesn't wish to be put in precarious positions. Frederick, of course, is a nasty bear-like blocker.
"These guys have been going at each other a little bit,'' said Cowboys coach Jason Garrett. "And you know, it's I guess our 11th practice of the offseason. We're in a two-minute type situation, and we always preach competitiveness and competing and you have to compete the right way. The best teams I've been on have always had skirmishes happen, a healthy respect for each other."
Very true. In fact, the best team Jason Garrett ever played on has fights in practice -- designed on purpose.
STAR UP
*DeMarcus Lawrence: We had the
story on Lawrence's Wednesday a.m. signing early this morning
. After practice the rookie end was asked what would be his first big investment.
"A financial adviser,'' he said, wisely.
*Bruce Carter: It has been a terrific week for the outside linebacker aiming for a bounce-back season. Carter in coverage, Carter wrestling with Witten, Carter with an interception ... Coaches suggest to us that it's "mental'' more than "physical.'' Garrett even said Bruce might be "helped'' by Sean Lee's injury absence because he doesn't have Lee to lean on.
But whatever it is, this week, in the backyard, it is a tangible thing.
*Gavin Escobar: He looks bigger, yet smoother. He's lining up outside a lot but on Wednesday lined up inside as a first-team tight end and was terrific. He's not only making the catches, but making adjustments on the fly. He's getting it.
*Dez Bryant: The perfect way to launch CowboysHQ? A 1-on-1 sit down with Dez, who discusses with us
being "The Class of 2010 - and The Class of NFL Wide Receivers.''
Premium stuff - and thanks, Dez!
A taste of what Dez is talking about?
After carefully arranging his Nike/Michael Jordan gear in his locker so it would appear neat on camera, Dez on Wednesday followed up on some of his Tuesday comments to CowboysHQ. Included: Contract talk.
"That's going to take care of itself,'' said Bryant, away that extensions for him and Tyron Smith are in the plans. "I'm very confident in the work I put in. Whatever happens happens. ... All I know is I'm going to continue to keep doing my job. That alone shows my dedication and love I have for the game. I'm going to let it work out.''
Bryant has a base salary of $1.78 million now but figures to get a new deal worth more than $10-mil annually. And while it's "going to take care of itself,'' Dez The Businessman plans on sitting in on talks.
"I'm going to be very involved,'' Bryant said. "That's me. I'm the one playing on the field. I'm the one being injured. When it's time for me to be up in a meeting, I'm going to be there.''
In other words, he'll have all his ducks in a row. And probably all his Nike/Michael Jordan products neatly arranged, too.
*Leon Lett and Rod Marinelli: As a response to their defensive linemen's dissatisfaction with having to wear injury-preventing knee braces, the two defensive coaches took to wearing them themselves.
Though as you can see, Lett wore then more like a pair of Uggs boots.
*DeMarco Murray: He's in the final year of a deal that pays him about $500,000 a year. He's entering an era when running backs don't often make five times that as they used to. Yet DeMarco's stated approach Wednesday is the proper one.
"I'm going to continue to play like I've played and come here like I have been," Murray said. "I don't worry about that, and it doesn't matter to me, to be honest with you."
Last year, Murray rushed his way to his first Pro Bowl selection.
Here on my Facebook page, a video from today showing DeMarco's dance steps.
STAR DOWN
*The Cowboys are getting increasingly comfortable with the idea of Brandon Weeden as their No. 2 QB in place of the self-exiled Kyle Orton. But Weeden did have some sketchy moments in semi-full-speed action on Wednesday with a series of overthrows.
OFFBEAT BEAT
Our Jordan Ross caught up with
George Selvie to discuss the defensive end's participation in Sunday's Pro wrestling event
-- which eventually included a bunch of his D-line buddies:
Q: How'd you get involved with TNA's Slammiversary event?
A: "They were coming into town and me and
Troy Hughes from 105.3 The Fan
are big wrestling fans. He's a really good friend of mine and asked if I wanted to go, so I asked the other guys if they wanted to go too. It was really cool, they pulled out the red carpet for us and everything.''
Q: Who is your favorite wrestler?
A: "My favorite wrestler of all-time is the hardcore legend Mick Foley. I love Mick. I got to meet him at an event in Pensacola and went back stage, it was cool. I'm one of those hardcore fans.''
Q: What would your wrestling name be if you went pro?
A: "When I was a kid I always changed my mind but I kind of like the name, 'Next.' I'm not sure why, I just liked the way it sounded.''
Q: How important is it to you to have a good relationship with the d-linemen outside of football?
A: "It was great getting the guys out there. We have a good camaraderie. I think it's important to be friends off the field too. We're together all the time, just doing stuff outside of football.''
Q: Out of the d-linemen, who would make the best pro wrestler, and how would be the worst?
A: "Tyrone (Crawford) could definitely do it. I think Caesar (Rayford) would be good too. The worst would probably be Ben Bass. He's just too serious.''
NEW COWBOYS FACILITY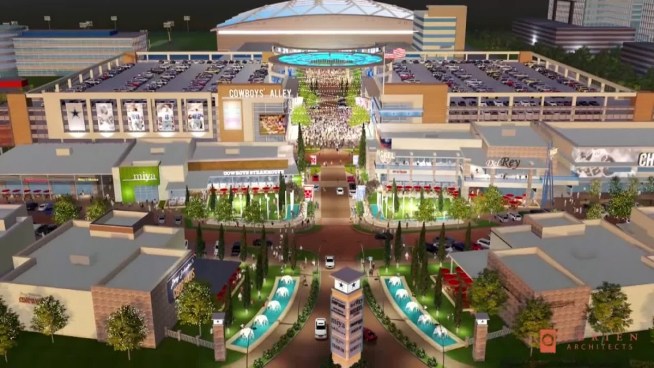 Cowboys COO Stephen Jones provided an update on the team's new practice facility in Frisco.
"They're going to start doing some work (Thursday)," Jones said. "It's exciting. We're fired up about our place. Hopefully, it'll be state-of-the-art and best-in-class. We're excited to get with it."
The timetable to open the new facility? The start of the 2016 season. The plans for the existing Valley Ranch complex? Stephen said the Jones family, which has extensive real-estate holdings, will "more than likely'' build apartment complexes on the land.
QUOTEBOARD
"Of course. I've got two baby boys and they're watching me every day." - Dez Bryant on his efforts to "do the right thing.''
ONSIDE KICKS
Here's
the must-read All-Access Practice Report from Minicamp Day 1
... Justin Durant -- working as the first-team middle linebacker -- tells
105.3 The Fan's "K&C Masterpiece'' that his favorite song to sing-a-long to is "I Will Always Love You'' by Whitney Houston. ... ...
Ex-Cowboys linebacker Robert Jones tried to hire a hit man? What?
... Terrance Williams continues to work at being more than a body-catcher ... Tight ends coach Mike Pope has his fellas wearing goggles, which makes it harder to see the ball and more important to focus on it. "He's got all the tricks,'' Jason Witten said. ... Staffers with the London trip in mind worked their way through the locker room double-checking with players making sure they know to have passports in order ... Dez fielded some punts. For fun. Then, after doing so, he sprinted the returns the length of field. For business. ... The offseason sessions officially end on Thursday with a workout at AT&T Stadium. CowboysHQ will, of course, provide full coverage!
COMING TO JERRY'S DEFENSE
"Because we were so bad last year,'' Jerry Jones said, "there's no place but up.''
Is there a statistical, historical efense for Jerry Jones' defense of his defense? Mark Lane thinks so.
His analysis here.
THE FINAL WORD
"Obviously we think Tony is an elite quarterback and we put this supporting cast with him,'' Stephen Jones said. "I think we're better on the offensive line – you'd hope so if you spent the 16th pick in the draft on one of the better offensive lineman in the draft. I think we have a chance to have an elite offense."
CowboysHQ will keep you posted in a variety of ways from inside Valley Ranch ... Here on the HOME page,
here on CowboysHQ Discussion Boards
, and on Twitter, where we encourage you to follow
Mike Fisher
,
KD Drummond
,
Mark Lane
and
Jordan Ross
along with our 105.3 The Fan colleague
Bryan Broaddus
.
Hear "Fish on The Fan'' with
live updates from inside Valley Ranch throughout the day - including 11:30 a.m. from the practice field - on THE Cowboys Station, 105.3 The Fan.