TONY'S BIG PICTURE:
Once we get beyond the pomp and the circumstance of Cowboys training camp in Oxnard, we get to the point of the camp: Problem-identifying and problem-solving.
But first there's a "first.''
''I don't think you're into evaluating your football team for how good they are,'' QB Tony Romo said of the first days of camp. ''I think you're just about getting better right now. In some cases, we have new stuff on both sides of the ball and we need to get people up to speed and need to fly around and know the system like the back of your hand so you can play at your fastest tempo and speed.''
Deal. Coach Jason Garrett and staff will spend the next few weeks working on tempo and speed. Romo will do the same, on a personal level, as he ramps up to full health - or heck, maybe that happens by the first practice on Thursday.
Shortly thereafter, though, comes the identifying and the solving. ... all of which we analyze below:
NOW TO RANKING THE ROSTER: It is a time for optimism as the Cowboys roll into Oxnard for the start of camp - and as CowboysHQ.com rolls into Southern California with them.

But as we rank Cowboys players on the roster in an attempt to identify just how solid of a roster the Cowboys have assembled, starting today and beyond, we find more questions than answers. Success is now defined as simply reaching the playoffs for the Dallas Cowboys. Let that sink in for a minute.
Can we see a path to the playoffs for Dallas? It's the middle of summer. That seems a ways off. What we do see here is Dallas having definitely done a good job improving the bottom of the roster; "the churn,'' as Bill Parcells used to call it. But beyond that? We think Dallas is a middle-of-the-pack team that under the right circumstances could be good enough to make the playoffs.
So, keeping in mind that these are part-accomplishment, part-projection for 2014, here it is, the ranking of the 2014 Cowboys offseason roster.
The Top 5
A mixture of the team's young stars and it's aging veterans. Smith gets the nod as the top Cowboys player for a few reasons. After Week 7, Smith did not allow a single defender to get his hands on Tony Romo; not a single sack or hit assigned to him. Also, the Dallas running game was outstanding to Smith's side. We imagine he will end the year talked about as possibly the best left tackle in the game. The other name to raise eyebrows is surely No. 5 Dan Bailey. He's simply the best kicker in the game that comes through in the clutch (eight game-winners in three years). Not only is he accurate percentage wise, but almost all of his kicks are directly down the middle of the goal posts, which is why we nicknamed him "SPLIT'EM" three years ago. He hasn't disappointed since.
The Rest of the "Starters"
It says a lot we don't see a defensive player until No. 7. Last year, we were able to identify a clear delineation after the Top 16 players. This year, no more. Instead, we've separated the list by who we project to be Dallas' starters. This isn't just the standard 11 guys on offense and 11 on defense. We expect Dallas's offensive sets to utilize 3 wideouts, a Change of Pace back or 2 tight ends much more than when they use a fullback. We expect them to line up in a nickel defense with no true 1-technique, a third corner and only two linebackers. If you include their two special teams aces of Bailey and returner Dwayne Harris, you basically have 26 starters.
There's a lot of contingencies in this group. ... A lot of players we hope progress or live up to their draft pedigree. Many players have recent and/or questionable injury histories. Some will scoff at Lance Dunbar's rank in the Top 15, but looking at what Linehan did with Joique Bell, and we have no doubt if healthy Lance will live up to this billing.
The Key Backups
For everything the starters group are, this next tier is just as important. We know they will play, they need to ensure that they aren't the weak links for the team when they are put into the lineup, or else they will be the focus of the opposition.
The Depth
You typically want this final tier to be chock full of youth, and that is the case here. Dallas will need a handful of these players to prove capable, but generally these guys are going to have to bust their tails on special teams. We're also including an eighth lineman that isn't currently on the team. Joseph Randle gets the nod over Cam Lawrence here because Cam had a crazy amount of ST coverage penalties in 2013.
The Practice Squad
The practice squad. More youth, and a handful of these players could have made the 53, but because they are eligible to be stashed on the eight-man squad while others weren't (we're looking at you, BW Webb), here they are, including a fourth tight end (Maybe Dallas Walker).


We'll update our roster projections again as camp progresses. But we think this takes a big bite out of what to look for, for now.

BIG MAN ON CAMPUS: DEFENSE: It's Rod Marinelli, and the expectations of him to fix a group that was very much broken a year ago.

"Because we were so bad last year,'' Jerry Jones says, "there's no place but up.''

History, along with math, actually confirms Jerry's view here: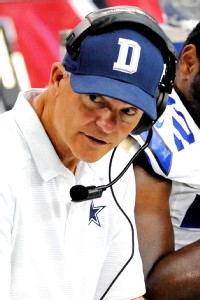 In 2005, the 49ers finished dead last. The next year, they finished 26th.

In 2006, the Titans finished at the bottom. Come next season, they finished fifth in the league and made the postseason.

In 2007, the Lions finished 32nd, and 2008 saw them finish way behind again. The same would also be true of the 2009 season. However, they catapulted up to 21st once the stink wore off in 2010.

And, yes, these were the same Lions for which current Cowboys defensive coordinator Marinelli served as head coach from 2006-08. And that stint includes the "historic" 0-16 season.


The 2010 Broncos finished last, but they improved the next season to 20th.

The Packers, coming off a Super Bowl-winning season and finishing 15-1, surrendered 6,585 yards. Patriots, who would represent the AFC in that year's Super Bowl, finished just ahead of them at 6,577.

In 2012, Green Bay finished 11th as New England improved to 25th, yet still made it to the conference championships.

The 2012 Saints placed last giving up over 7,000 yards. They jumped to fourth place last year.

So there is a way to avoid being 32nd one year ... and doing it again the following year. In fact, Marinelli has been part of such a turnaround.

In 2009, the Bears finished 17th in the league in total yards surrendered. In 2010, after taking overas defensive coordinator, Marinelli's D finished ninth in the league and Chicago hosted the NFC Championship game.

From Day 1 of camp, Marinelli is charged with building, brick-by-brick, wave-by-wave, nickname-by-nickname, a defense that ... doesn't end up finishing 32nd.

BIG MAN ON CAMPUS: OFFENSE: Tony Romo is coming off two offseason back surgeries, a pledge to stay off the golf course, and optimism regarding his fitness.

"I'm miles ahead of last year," Romo said of his conditioning. "I don't think they're comparable. ... Now it's going to be more perfecting as opposed to just trying to hammer everything out in four weeks, three weeks."


There is a pep in his step and a confidence in his voice when we ask Romo about his weight and fitness. Listen here. But that's not solution or resolution enough. Not yet.

On Saturday night, we're told Romo was at the Four Seasons, but not to play golf. He was bustin' his butt in cardio work. That's a good sign for someone who showed up to camp a bit chubby a year ago.

Dallas' first workout in Oxnard (scheduled for Thursday) will be a telling one. Is it Romo taking the pat-and-go reps before giving way to new No. 2 Weeden as the star QB ramps his way up? Or does "miles ahead'' mean "full steam ahead''?

Cowboys Nation will voice a collective sigh of relief the moment Romo establishes that it's "full steam ahead'' ... whenever that is.

ABOUT THAT SCHEDULE: The schedule is subject to change (all times Pacific Coast time) and here is the plan:

Wednesday, July 23th, 3 p.m. - Jones/Garrett presser (live on 105.3 The Fan)
Thursday, July 24th 3:45 p.m. – Practice
Friday, July 25th 3:45 p.m. – Practice
Saturday, July 26th 3:45 p.m. – Practice
Sunday, July 27th 3:45 p.m. – Practice
Monday, July 28th No Practice
Tuesday, July 29th 3:45 p.m. – Practice
Wednesday, July 30th 3:45 p.m. – Practice
Thursday, July 31st 3:45 p.m. – Practice
Friday, August 1st No Practice
Saturday, August 2nd 3:45 p.m. – Practice
Sunday, August 3rd 2:30 p.m. – Practice Blue/White Scrimmage
Monday, August 4th 5:15 p.m. – Practice
Tuesday, August 5th 3:45 p.m. – Practice
Wednesday, August 6th No practice Team Travel to San Diego


Thursday, August 7th Dallas vs. San Diego (9:00 PM CDT)
Friday, August 8th No Practice
Saturday, August 9th 3:45 p.m. – Practice
Sunday, August 10th 5:15 p.m. – Practice
Monday, August 11th No Practice
Tuesday, August 12th 3:45 PM – Practice against Raiders
Wednesday, August 13th 10:30 AM – Practice against Raiders
Thursday, August 14th 3:45 p.m. – Practice
Friday, August 15th 9:00 a.m. - Walkthrough Break Camp


FIVE CAMP BATTLES: Competition makes a training go 'round. Who is up for it?
see how we ranked and projected the 53,
Middle Linebacker:Justin Durant vs Devonte Holloman vs Anthony Hitchens
This position battle may very well determine the success of the Cowboys 2014 season. If they find a player capable of dropping into the deep middle of the field, while also getting the rest of the Front 7 in proper positioning, while also being able to cover backs out of the backfield with success, then the team might be able to put forth a consistent defensive effort. Durant has the experience, entering his eighth year in the league, and might actually be the most athletic of the three. Amongst the draft community, great things were predicted for the under-drafted Holloman.
He showed his flashes with an 11 tackle 2 sack game against Philly in the 2013 finale. Hitchens, of course, was the fourth round pick this year for the specific purpose of dedicating a guy to being the backup MLB. Whether the team of training experts that Jerry Jones had assigned to bringing him up to (warp) speed is able to do that and give him a shot to win the job in camp remains to be seen.
X-Factor: Outside vet brought in during camp.
Prediction: Holloman wins the job, Hitchens becomes the primary backup during the season. And Rolando McClain needs to work his way through legal problems.
Left Guard: Mackenzy Bernadeau vs Ron Leary
For our money, Bernadeau had the better season last year, with Leary giving up a fair amount more QB pressures and being called for way more penalties. Bernie accepted a pay cut in the offseason in return for guaranteed money, and Leary is entering his third season in the league.
Having Bernie able to play both guard and center is a plus, and may make him more valuable as a backup if he doesn't dominate the battle in camp. Offensive lines are about continuity, and for that reason, teams would rather only replace one player if an in-game injury happens. If Bernie starts and Frederick is injured, then you have two players in new positions.
X-Factor: Newly signed guard Uche Nwaneri
Prediction: Leary (assuming he untangles his legal entanglements) gets the nod and stays at LG
Strong Safety: J.J. Wilcox vs Matt Johnson vs Jeff Heath
Who will win the role opposite of Barry Church? Before the passing of Wilcox's mother last summer, he was in line to be the starter heading into 2013. He was starting by Week 3 and acquitting himself well until injury. That allowed Jeff Heath to step in and show a few flashes. We'll be honest, others are more enamored than what Heath showed than we are.
On the other hand, Wilcox's potential is extremely intriguing to me and I think he's going to open a lot of eyes this year. Matt Johnson is a unicorn, for better or worse, and hasn't practiced much this offseason. Anyone surprised?
X-Factor: Jakar Hamilton, a player with SEC pedigree, had a tremendous spring and could throw his name into the ring.
Prediction: Wilcox holds the spot down, but Cowboys run with 5 safeties for depth and ST.
Starting Cornerback: Brandon Carr vs Orlando Scandrick vs Morris Claiborne
By almost all accounts, Orlando Scandrick was playing the best out of all three corners by the end of the 2013 season. With an out from Brandon Carr's expensive contract in full view, and time running out on Morris Claiborne to prove he is capable of living up to his draft billing, Scandrick might just remain as the starter he was when he replaced Claiborne.
On the other hand, Mo has been doing his best to show the coaching staff that Year 3 will be magical for him. The move to more press coverage helps both he and Carr, who has yet to live up to the $50m price tag his free agent contract was worth in 2012.
X-Factor: There is none; these are the three guys fighting for two starting spots.
Prediction: No losers. Cowboys will primarily nickel coverage and all three will log over 850 snaps each (pending health).
Dime Corner: B.W. Webb vs Sterling Moore vs Terrence Mitchell
Very interesting battle of young guns. Underlying the competition is the thought that if someone plays with enough skill, they could convince the club to move on from Brandon Carr's expensive contract in 2015 (using June 1st rule, would save them over $5m in '15, and $6.4m in '16 from projected cap charges).
For some reason, the club was hesitant to bring Moore back last season, waiting until Webb's confidence was completely shaken down the stretch. Moore's a young vet, but Terrence Mitchell plays like he's been in the league for a while. It will be a very interesting battle to say the least.
X-Factor: UDFA Tyler Patmon was raved about his awareness from his tryout and the first few OTAs while Mitchell was finishing his semester at Oregon.
Prediction: Mitchell gets the nod as the fourth corner, but Dallas keeps six corners on the roster and one in the chamber (Practice Squad)

Speaking of the DBs ...

VIDEO VISIT: B-CARR:
Brandon Carr hooks up with our Mark Lane and fields the tough questions:
RADIO COVERAGE:
You can hear "Fish on The Fan'' with
live updates throughout the day from Oxnard on The Cowboys Station, 105.3 The Fan.
Joining us will be an assortment of Cowboys players, coaches and staffers, along with Brad Sham, Babe Laufenberg, Bryan Broaddus and more!
THE RIDE:
If you are a Cowboys fan and are new to CowboysHQ, welcome!
Best way to get acquainted? Come ride shotgun with Troy Aikman for "The Ride''!
ONE CLICK. ALL COWBOYS. ALL CAMP:
Keep it here on CowboysHQ as we will keep you posted in a variety of ways from inside your team ... Here on the HOME page,
here on CowboysHQ Discussion Boards
, and on Twitter, where we encourage you to follow
Mike Fisher
,
KD Drummond
,
Mark Lane
and
Jordan Ross
along with our 105.3 The Fan colleague
Bryan Broaddus
. ... we are heading for Oxnard and hope you'll join us!
VIDEO VISITS: WILCOX AND CHURCH GET SILLY:
It's not all business as the fellas get ready to go to work, as our Jordan Ross proves with safeties JJ Wilcox and Barry Church:
ONSIDE KICKS:
Dallas is expecting big things from Dez - including offensive leadership. 'I wasn't understanding the whole process of how to be a professional player,'' Bryant says of his younger days. ''As time went on, I started learning little by little and it all came together, and it still is.'' What will also come together soon: An extension for Bryant and Tyron ... Linebacker Rolando McClain wanted to delay his disorderly-conduct trial in Alabama because of training camp but it looks like it will be the other way around. The judge has declined to push back the trial set for Friday. ... Making the trip to Oxnard but trying to settle on a date? May we recommend Aug. 12 and 13, because that's when Dallas will engage in workouts with the Raiders? ''We used to have some unbelievable practices with the Raiders way back when,'' said Garrett, referring to his Cowboys playing days. ''And I have always just felt it's a good way to really spice up training camp.''
THANKS TO OUR SPONSORS:
Please give a click and a call to the Cowboys-lovin' friends of ours who help make CowboysHQ.com's coverage possible, including 105.3 The Fan, FOX Sports and Bud Light. Also:
*
McKinneyDentist.com
*
Red Rock Bar and Grill
*
Dee Lincoln's
*
LS Wealth Strategies
*
Estilo Gaucho Brazilian Steakhouse
THE FINAL WORD: Dez Bryant is suddenly accomplished and experienced and talking more respectfully than ever about his place in the game.

I'm a positive guy," Bryant says. "Instead of me explaining and telling the world I'm a positive guy, why not go out and show it to them and let everybody see it for themselves? That's what I've been doing."

The reasons for positivity in Oxnard start showing themselves ... today.