THE LEAD STORY
The
Dallas Cowboys
opened Tuesday's three-day minicamp with a familiar, welcome and limited sight:
Tony Romo
was under center.
And then he tried to get under center again -- during a portion of the workout beyond walk-through, pat-and-go and a pretty intense making-all-the-throws operation of the slot-receiver route tree -- using a more sneaky approach.
"You saw that, huh?'' Romo said coyly.
"It was pretty obvious that the jersey was a little snug on him," coach Jason Garrett said when noting that the enthusiastic Romo, trying to take it slow while recovering from back surgery, attempted to don Caleb Hanie's No. 7 jersey to steal some reps. "That's when I looked and said, 'Get him out of the huddle.'
Romo pledges to be ready for the July 22 reporting to camp in Oxnard, complete with a repeat of last year's pre-camp mountain-running.
"I'm miles ahead of last year," Romo said of his conditioning. "I don't think they're comparable. I think last year I was just starting around this point so this year I've had whatever [number of] months to kind of get myself into feeling like I can go. Now it's going to be more perfecting as opposed to just trying to hammer everything out in four weeks, three weeks."
There is a pep in his step
and a confidence in his voice when I ask Romo about his weight and fitness. Listen here.
STAR UP
*Josh Brent update: Unless, I suppose, you are an unbending moralist, the Cowboys are saying all the right things here.
Garrett and Jones both talked of Brent needing to "get his life together'' before concerning himself with a return football.
"That's a positive relative to his business with the league, as well as his business with the overall judicial system," Jones said. "He needs to continue working through that. His business with the league in reinstatement is just that, it's with the league. It's not with us, but we do want to support him.
"But it'd be real way ahead of ourselves to talk about when, if and how he rejoins the Cowboys."
We've got the exlusive on
Josh Brent's connection with the Joneses here.
*Mo Claiborne: He's fighting to get his job back from Orlando Scrandrick. So he fought himself in line during receiver-release drills so, even thought it wasn't his turn, he could match up with Dez.
That's a sign of confidence from a kid who needs to believe he belongs here.
*Dallas' defense. Citing the work of Rod Marinelli, the Cowboys seem confidence their defense will be improved from a year ago.
How about you, Jerry Jones?
"Because we were so bad last year,'' the owner said, "there's no place but up.''
*Dez Bryant: He sets the tone in practice with performance and work ethic. He sets the tone in the locker room, too, with playfulness -- witness his "dunking over the crossbar'' of dirty laundry over a curtain rod.
And we're proud that
Dez helped set a standard of excellence here at CowboysHQ as he sits down with us, 1-on-1, to talk about being "The Class of 2010 - and The Class of NFL Wide Receivers.''
Premium stuff that you will enjoy!
STAR DOWN
The Cowboys do not plan to let no-show Kyle Orton out of his commitment and CowboysHQ has learned why: According to a source, that $3-million Retirement Payback CAN give the team $3 mil back in cap room (likely in 2015).
There, beyond "stubborness'' or "Lessons Learned From Rat'' or "cheapness'' is your real "why.''
"We're aware that he wasn't going to be here," Jerry Jones said. "We're just handling all of our business with him, just the way the agreement's called for. This is mandatory for him to be here and the consequences have been pre-negotiated when we did our contract."
Brandon Weeden has been the first-team guy all offseason as Romo works his way back. That's a football matter that can work out.
The financial matter?
The Cowboys almost certainly have informed Orton's agent that the team does not plan to cut him. If Orton retires, he would have to repay the Cowboys the bonus money from the deal he signed in 2012 and that is what Dallas wants here -- short of Orton showing up in shape and ready to help.
So it's a fine of $10,930 for missing Monday's physical, $11,575 for Tuesday and for the week, a total of $69,455. Keep missing once we get to Oxnard? That's $30,000 for each day he misses.
"The bottom line is we're just playing this as we move along on a day-to-day, week-to-week basis," Jones said.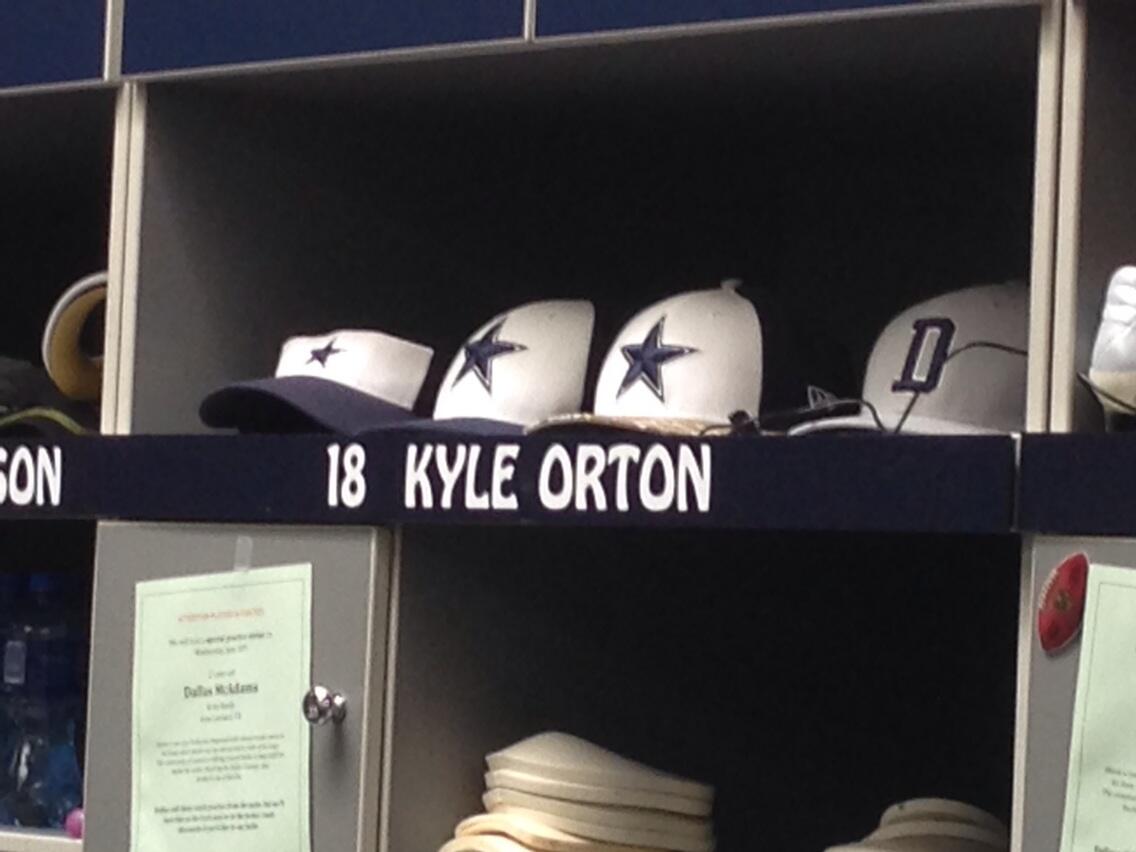 The biggest bottom line is $3 million cash and $3 million relief. So that caps pace you see above is, you know, symbolic. Representing next year's cap space. Get it?
We've got
the inside story on Orton's "disconnect'' here.
*DB Tyler Patmon did rehab work on the side. It's his first "down'' moment of a surprisingly promising month. Ben Gardner and Matt Johnson did the same - and this is not positive. Gardner, the Cowboys believe, would've gone higher in the draft if not for an injury history. And Matt Johnson, you know.
*Jerry's wardrobe: The Cowboys mystery of the day: in 90-degree Texas heat, why won't Jerry Jones remove his sportscoat?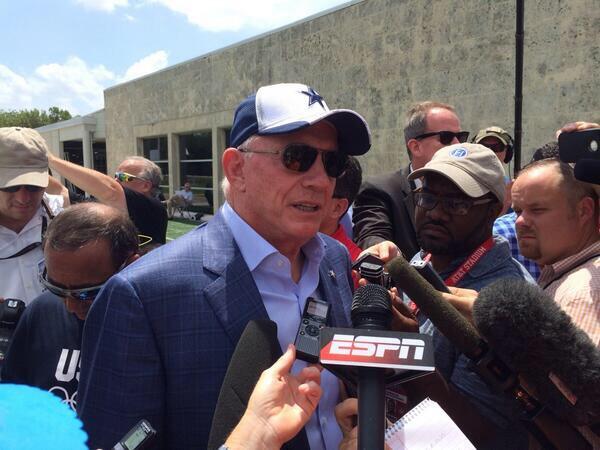 OFFBEAT BEAT
The Cowboys want to grow up to be ... the
Spurs
?
On the morning of the start of this minicamp, Garrett's meeting "theme'' was the NBA's world champions and how they "play the game the right way.''
"It's hard not to appreciate what they've done through these playoffs," Garrett said. "You can't deny brilliance. You can't deny excellence. That's what they are. They're the quintessential team.
"I don't care if you're a Miami Heat fan, if you're an LA Laker fan, if you're a Dallas Mavericks fans and you watch that series and how they played throughout the playoffs, it's hard not to have an appreciation for what they've done.
"The coach is as good as it gets. It's everything you aspire to when you're trying to build a franchise and build a team. There are a lot of lessons we can learn, a lot of lessons a lot of teams can learn because they do it the right way and they do it at the highest level."
Romo, like many of his teammates a hoops agreed.
"That's how basketball is meant to be played," Romo said. "It was just a great collection of individuals who came together as a team and you can just see it. It wasn't about any one person and that's what all teams are trying to get to. They just exemplified what you strive for in team sports. ... If you watch them, it's a great, beautiful game that they play."
QUOTEBOARD
"It's been a great joy to see him develop into the person he's become. He's got an exciting future ahead of him." - Tony Romo on Dez Bryant.
WHO IS THE FOURTH FIDDLE?
From our Man KD Drummond:
If no one likes to play second fiddle, how do you think the guys vying for fourth fiddle feel? Pretty damn good, I'd imagine. As the Cowboys mandatory minicamp gets underway today, every knows how the top of the pecking order shakes out. But what about the battle for 'Fourth Fiddle'?
A
CowboysHQ analysis with a Linehan-influenced angle ...
ONSIDE KICKS
The Cowboys will practice against the Raiders on Aug. 12-13 in Oxnard. "We've been doing practices with other teams for a lot of years," Garrett said. "I have always just felt it's a good way to really spice up training camp.'' CowboysHQ will of course be there for every snap ... Bruce Carter is not only playing well enough at outside linebacker -- he's even staying on the field in some Nickel packages ... ... The first-team defensive line at the moment: Tyrone Crawford at left end, Nick Hayden and Terrell McClain inside and Jerome Mincey appearing to get some work along with DeMarcus Lawrence at right end. ... Rookie DB Terrance Mitchell finished school and is in attendance now ... Jones wouldn't say much about except that there is no set timetable (other than what we know it before business start of 2015) and that Bryant has met the challenge of being in better shape than he was the past.
MEN IN TIGHTS
The Cowboys' injury plague last year was alarming enough to cause the organization to investigate changes in how they do their training business. Two potential solutions in place on Tuesday:
1) a number of Cowboys skill-position guys, including Dez, were wearing compression shorts (NBA-style) for assumed hamstring warmth/protection. Dez, seen above, is wearing fashionable off-white rather than the issued blue.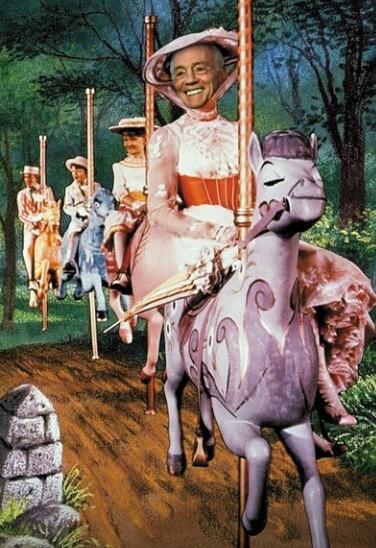 2) The Cowboys' offensive and defensive linemen are wearing custom-made knee braces.
"We're going to have them in practice right now and see how guys respond to them," Garrett said. "We think it's good. It's a good preventative measure.''
JERRY POPPINS' SPOON
The owner went into "Jerry Poppins'' mode on the subject of Sean Lee, saying the middle linebacker who had surgery Thursday to repair his left knee will be able to make the decision on whether he's placed on season-ending IR.
"We're not counting on [his return in 2014], but we haven't done anything on the roster to preclude that from happening," Jones said. "I would have to say right now we haven't made that decision, but it's his decision really for the most part."
That's really not the way this process works. But that doesn't keep Jerry Poppins from feeding you a spoonful of sugar to help the medicine go down.
THE FINAL WORD
"(Dez and DeMarco) both came back (from the Pro Bowl) and said the same thing,'' Garrett said. 'That was great but we want to be in The Big Game.'"
CowboysHQ will keep you posted in a variety of ways from inside Valley Ranch ... Here on the HOME page,
here on CowboysHQ Discussion Boards
, and on Twitter, where we encourage you to follow
Mike Fisher
,
KD Drummond
,
Mark Lane
and
Jordan Ross
along with our 105.3 The Fan colleague
Bryan Broaddus
.
Hear "Fish on The Fan'' with
live updates from inside Valley Ranch throughout the day - including 11:30 a.m. from the practice field and 8:30 nightly - on THE Cowboys Station, 105.3 The Fan.