Sports fans are some of the most passionate people in the world. Non-sports fans see them screaming on TV, wearing body paint and funky hats and think, "These people are crazy!" Crazy, enthusiastic, passionate - call it what you will. Whatever it is, there's no denying that sports fans are an interesting group of people. In fact, some fans are so passionate/enthusiastic/crazy that they become almost as famous as the teams they root for.
The New York Jets have Fireman Ed. The Washington Redskins have the Hogettes. The New York Giants have the License Plate Guy.
The Cowboys? Well, starting with training camp they have Carolyn Price - who is better known, simply, as 'Ms. Price.'
I'm sure you've all seen videos of her at Training Camp, yelling "Tony!" from the VIP section. Maybe you've seen photos of her with some of your favorite Cowboys players and wondered, "Why does she get to do that? What makes her so special?"
The fourth of nine children, Ms. Price grew up looking up to her older brothers. In the late 60's, her brothers started following a fairly new football team in Dallas named the Cowboys. Naturally, she began rooting for the young team as well. By the mid-70's she was attending nearly every home game. Ms. Price said she's probably been to about 250 games since then.
This enthusiastic fan has been front and center for some of the most historic moments in franchise history. She was in attendance at the famous 'Hail Mary' game in 1975. She was also at Super Bowl XIII, when Jackie Smith dropped a would-be touchdown that would've won the game.
Carolyn started attending every training camp, open practice and Cowboys-related event there was, quickly gaining recognition from the team and her fellow fans. Not long after, people started referring to her as the No. 1 fan of the Dallas Cowboys.
"I think it had a lot to do with the organization." Ms. Price told CowboysHQ. "Jerry always said, 'That's my fan!' and then the fans began to say it too. God just made it happen. It just happened. It's kind of like a popular player with a nickname, like 'Moose.' Where'd that come from? I don't know. It just happened."
Ms. Price's fame is a matter of televised record:
With her notoriety came some perks that most fans could only dream of. Over the years, Ms. Price has developed strong friendships with several Cowboys players, and even their families. Jason Witten, one of the players she's closest to, got to know Miss Price when he was a rookie in 2003.
Carolyn was in Houston for the preseason game against the Texans. After the game, she was heading to the VIP section when she bumped into Witten's wife. "They wouldn't let his wife in to see him because she didn't have a pass. I had one though, and she was standing there and I said, 'You take mine.' She went back and told Jason and we became really close after that."
A couple years later, in 2005, Ms. Price began another special friendship with a rookie by the name of DeMarcus Ware.
"I met Ware when he was a rookie in Oxnard, California." Ms. Price said. "We were eating at BJ's with his family and I told him then that he would be a Pro Bowler. We all laughed, but look what he turned into."
That relationship is still strong today. In fact, Carolyn said that she spoke with DeMarcus shortly after his exit from the Cowboys this offseason.
"We talked about how it's just part of the business," said Ms. Price. "You grow close to them, but things change. I remember when we let Herschel Walker go. When Emmitt went to the Cardinals, that destroyed me, but he came back and retired a Cowboy, which made me feel a little better. I know Ware will do the same thing."
With so many incredible stories, memories and experiences, it must be nearly impossible for Carolyn to pick a favorite player.
"That's terribly hard," Ms. Price said. "I love them all so much and there are so many great memories and great players. I just saw Emmitt in Vegas and he stopped what he was doing and came over to see me, but there are so many others. Troy Aikman, Leon Lett, Jay Novacek, Michael Irvin, Mark Stepnoski, Roger Staubach, Bob Lilly. They were all so nice. I probably shouldn't say just one of them or else I might get into some trouble with the other guys."
(She ended up telling me who her favorite player was, but I promised I wouldn't share it so no other players get their feelings hurt.)
To explain how close her and the players truly are, she told a cool story about something the team did for her just a few years ago.
"My birthday is on November 27th, which is the same as Larry Allen. It always falls during the Thanksgiving game week. About three years ago, they found out about my birthday so they came out of the locker room and gave me a signed ball after the game. Now it's up on my shelf in a glass case."
Ms. Price certainly has some interesting friendships, but they don't just consist of friendly conversations and free memorabilia. Her relationships with the players are much deeper.
"When Michael Irvin went through all of his problems, I took my vacation and went to court with him,'' she said. "I'd sit in the back and talk to him before he went in the courtroom. Anytime someone tried to come get his autograph, I'd chase them off."
When I jokingly asked if she was like their bodyguard, she replied "I've got to take care of my boys."
These are just a few of many stories that Ms. Price shared during our hour-long conversation. After taking a quick break to let her dog outside (who is named 'Star' by the way), we got back to talking football.
Carolyn talked about everything from her childhood to how many jerseys she owns (about 300 or 400). She says that if a player has a rough game, she'll wear his jersey the next week, but the two jerseys she wears the most are Dez Bryant's and Tony Romo's.
Once we started talking about Tony, it wasn't long before the topic of Romo-haters popped up. Ms. Price doesn't take too kindly to those fans.
"You tell them this," Ms. Price said. "If you were a true-blue fan, you'd hang in there and support our players. If he retires without a Super Bowl, he's still Romo. He's still my quarterback. I'm a true-blue Cowboy fan. You're wearing all the jerseys, having all this fun, and all of a sudden you're saying he's a horrible player. It takes the fun out of being a fan. We need to stand tall and support our players.
"People can say what they want, but I've never seen a game where Tony gave up before the final whistle. You'll never see him give up. I'm there. I'm around the team. I'm at training camp, at the games, I'm true-blue. I go to support my team."
Ms. Price not only supports Tony, but she believes in him as well.
"One day, before he leaves the game, he'll win a couple of big ones,'' she said. "He'll win. I believe that in my heart. He's just got to stay with the ship."
After spending over 40 years supporting this team, she's seen it all. From 1-15 to Super Bowls. After finishing 8-8 for the last three seasons, some fans don't see many reasons to get excited about. Not Ms. Price, though.
"I feel in my heart that we're going do really good,'' she said. "We're gonna get 'em."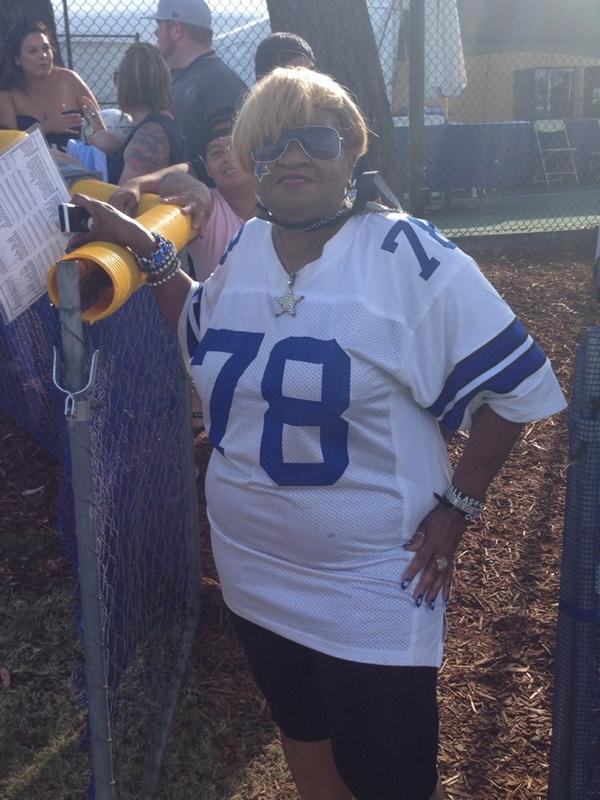 Whether or not she's right remains to be seen, but one thing is for sure - you've got to love her optimism and enthusiasm. Ms. Price has dealt with some hateful fans, though, who don't take kindly to Carolyn receiving "special treatment" and have sometimes lashed out at her.
"I've had some fans be ugly to me," said Ms. Price. "Some people have been prejudiced. I didn't care what they said and never made a big thing out of it though. I just kept thanking God every single day."
Ms. Price came to the realization long ago that the Cowboys are one of the most scrutinized teams in the NFL, and as a result, so are the fans scrutinized. She's come to expect people not always being friendly towards her.
To put it in her own words, "We're not the Tampa Bay Buccaneers, we're talking about America's Team. People are always going to talk about the
Dallas Cowboys
."