THE LEAD STORY
The
Dallas Cowboys
ended their off-season program with a short practice at AT&T Stadium on Thursday.
But really, it's just the beginning.
The Cowboys can "vacation'' for the next month before arriving to Oxnard on July 22 for the start of training camp. And coach Jason Garrett even mentioned the desire to find some 'sand and the beach' during the off time.
But in truth, this is a 24/7 job, from the coach on down. That's true for a champion. That's true for a perennially 8-8 squad.
"It's time that we all need to get away and get recharged mentally, physically, emotionally, so you want to take advantage of that," Garrett said. "You want to embrace every day away. But for all of us, we're really locked into this. We care a great deal about it. We're all very much invested in it. So you're always thinking about it. You consciously try to get away from it, but it's always on your mind, and it's always kind of in your person, trying to somehow, someway do it better, make it better, be better yourself, be better for your team. … You're always fighting that balance."
Garrett remarked that Dallas has spend three years "building a program and now it's time to build a team.'' Those sound like the words of a coach in the final year of his contract, knowing full-well what is at stake for him personally.
STAR UP
*Rookie corner Terrence Mitchell made plays all week, including a pick to end this practice. Orlando Scandrick yelled, "I told you about this guy! He is going to take a job!"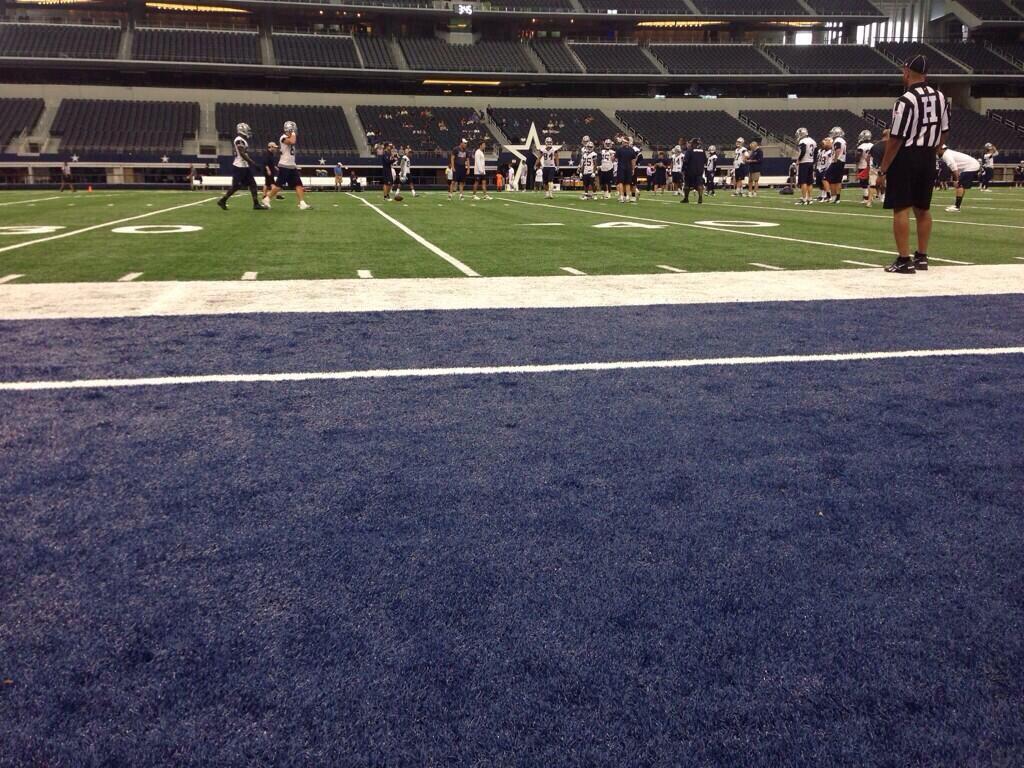 *New blue!: New blue turf has been installed in the bench areas at AT&T Stadium. As our man Jordan Ross points out, all the ex-Boise State guys on this roster must feel right at home.
STAR DOWN
*Dez Bryant: Star Down for Dez? Why?
Because for the second straight day he was back returning punts. And this is an awful idea.
Bryant wasn't used as a punt returner last year the Cowboys finally figuring out that the 14.3 yards per return average from his rookie year -- while good -- is highly replaceable. ...
And that what he does as a wideout is not.
"Dez is always somebody we've had back there as a punt returner," Garrett said. "He'll continue to work at that. He's very good at it. He's also very valuable to our offense, so when you make those decisions you try to weigh all of those things, 'Who are the other alternatives?'
Yes, Dez is special. But ... Um ... the other alternative is Dwayne Harris, as productive as Dez in that role and an "extra'' guy as a wideout.
"He'll always be in the bullpen for us if we need him,'' said Garrett, but allow me to go on record, Coach: You don't need him THERE. You need him ELSEWHERE.
Joseph Randle and Ryan Williams:
It's early, of course. But neither guy is winning the No. 2 running back job. If they're not careful, Lance Dunbar is going to gobble up that job and rookie free-agent Ben Malena is going to make a push, too.
*George Strait: At least three times, Cowboys punts clanked the bottom of the over-field big screen, the result of somebody forgetting to crank the monstrosity back up to its usual 90 feet following the recent George Strait concert.
OFFBEAT BEAT
Cowboys COO Stephen Jones is like his father in many ways. But unlike Dear Old Dad, Stephen understands the art of the "no-comment'' in all its forms. And he applied those when quizzed about absentee QB Kyle Orton back "a work in progress."
Hey, Stephen, can something like this cause dissent in the ranks? "It's a work in progress," Jones said.
Hey, Stephen, are you surprised it has come to this? "It's a work in progress," Jones said.
Artful, I tell you. Artful.
ONSIDE KICKS
At this point I'm told Dallas has no interest in on-the-street end Jason Babin ... Jason Garrett on Brandon Weeden: "There's no question he made great strides. His command, his ability to take charge improved dramatically." Better, anyway, that a guy who isn't here to accomplish any of those things. ... ... Dallas is working with Cole Beasley in being more than a slot guy. "To me, it's all about opportunities,'' he said. "They're doing a good job of kind of giving me more stuff, just to see what I can do, what I can't handle, what I can handle. I just got to prove to them that I can do that stuff, and I believe I can. It's just a matter of showing them." ... Gavin Escobar "has a long way to go'' as a blocker, Garrett said. But in addition to those concentration goggles for pass-catching, new tight ends coach Mike Pope orders his guys to practice blocking technique on a 350-pound, one-man blocking sled. "It's not fun," said Escobar -- who nevertheless knows it's necessary. ... Jakar Hamilton tells CowboysHQ that he's really focusing on being a special-team stud. But he was a playmaker at safety on Thursday with interception off a deflection and a denial of a throw to Dez later ... Dez was the last guy off the field on Thursday. He even lingered to pose for photos with fellow Okie State products. heading back on the field to catch more passes. "Line 1 with Dez Bryant is passion, emotion and enthusiasm for the game," Garrett said. "Nobody catches more balls, nobody cares about it more than he does, and he works very hard at it. He works hard in practice, he works hard after practice'' ... This was the offseason's final practice. Scheduled post-practice: a family cookout. CowboysHQ has not been invited to it. Yet.
THE FINAL WORD
Linemen weren't required to wear their preventative knee braces on Thursday, a relief to defensive end Jeremy Mincey.
"Its extra weight on your body,'' he said. "It's kind of like going to practice without taking a dump."