Jerry's Defense:
During the first day of mandatory minicamps,
Dallas Cowboys
owner, president, and general manager Jerry Jones professed his belief that the defense would get better this fall.
"Because we were so bad last year,'' the owner said, "there's no place but up.''
Of course, that line by Mr. Jones will be another point of contention for critical fans to bemoan, along with the owner's decision to wear a sports coat in 90-degree Texas weather. Some critics are predicting the Dallas Cowboys to do way worse than 2013, a season that saw Dallas sign "Cowboys Off The Couch'' guys to fill their devastated defensive front.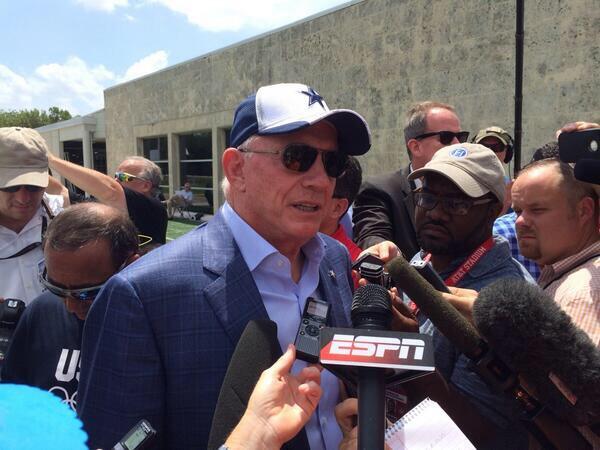 However, the outspoken owner, who enters his 26th season in charge of the Cowboys, makes a fair point. Using total yards as the category, since this is the prime component used to declare the 2013 Dallas Cowboys "the worst defense in the league'' ...
In 2005, the 49ers finished dead last. The next year, they finished 26th.
In 2006, the Titans finished at the bottom. Come next season, they finished fifth in the league and made the postseason.
In 2007, the Lions finished 32nd, and 2008 saw them finish way behind again. The same would also be true of the 2009 season. However, they catapulted up to 21st once the stink wore off in 2010.
And, yes, these were the same Lions for which current Cowboys defensive coordinator Rod Marinelli served as head coach from 2006-08. And that stint includes the "historic" 0-16 season.
Maybe worth noting: the Lions had zero Pro Bowlers from 2007-09. Meanwhile the Cowboys sent five players to Hawaii and have a franchise quarterback who has twice been there.
Back to the analysis. The 2010 Broncos finished last, but they improved the next season to 20th.
The Green Bay Packers, coming off a Super Bowl-winning season and finishing 15-1, surrendered 6,585 yards. The New England Patriots, who would represent the AFC in that year's Super Bowl, finished just ahead of them at 6,577.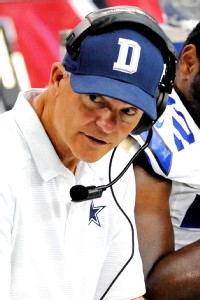 In 2012, the Green Bay finished 11th as New England improved to 25th, yet still made it to the conference championships.
The 2012 New Orleans Saints placed last giving up over 7,000 yards. They jumped to fourth place last year.
Another basis for Jones' optimism lies in Rod Marinelli.
In 2009, the Chicago Bears finished 17th in the league in total yards surrendered. In 2010, after taking over for Bob Babich as defensive coordinator, Chicago finished ninth in the league and hosted the NFC Championship game. Just like in Chicago, Marinelli moves upward from defensive line coach to defensive coordinator, though predecessor Monte Kiffin will go on to "assistant head coach" instead of leaving town.
Jerry Jones didn't say this defense would be great in 2014; he merely said they would be better. Looking at 10 years of history, it's maybe a little easier to see his point.
Romo ready?:
Tony Romo pledges to be ready for the July 22 reporting to camp in Oxnard, complete with a repeat of last year's pre-camp mountain-running.
"I'm miles ahead of last year," Romo said of his conditioning. "I don't think they're comparable. I think last year I was just starting around this point so this year I've had whatever [number of] months to kind of get myself into feeling like I can go. Now it's going to be more perfecting as opposed to just trying to hammer everything out in four weeks, three weeks."
There is a pep in his step
and a confidence in his voice when Fish asks Romo about his weight and fitness. Listen here.
The 10 Storylines:
Check
all our stuff in CowboysHQ News here
to review from Tuesday morning and see how these stories unfold as we proceed today from inside Valley Ranch.
Dez exclusive!:
We're proud that
Dez helped kick off our opening week here at CowboysHQ as he sits down with us, 1-on-1, to talk about being "The Class of 2010 - and The Class of NFL Wide Receivers.''
Premium stuff that you will enjoy!
Offensive depth:
I think this is a tale of Cowboys offensive depth. From our Man KD Drummond:
If no one likes to play second fiddle, how do you think the guys vying for fourth fiddle feel? Pretty damn good, I'd imagine. As the Cowboys mandatory minicamp gets underway today, every knows how the top of the pecking order shakes out. But what about the battle for 'Fourth Fiddle'?
Here's a
CowboysHQ analysis with a Linehan-influenced angle ...
One click. All Cowboys:
Josh Brent. Details from practice. 1-on-1's with Romo and Dez. Orton scoop. Jerry info. Photos from the field. It's all
here in the must-read All-Access Practice Report!
Links and stuff:
Todd Archer was the first to report on the Cowboys-Raiders training camp plans
...
Bryan Broaddus is the detail man when it comes to scout's-eye practice-watching
...
Fish has the story on DeMarcus Lawrence's Wednesday a.m. signing
. ...
Ex-Cowboys linebacker Robert Jones tried to hire a hit man? What?
The Final Word:
Justin Durant tells
105.3 The Fan's "K&C Masterpiece''
that his favorite song to sing-a-long to is "I Will Always Love You'' by Whitney Houston.
"It gives me chills,'' Durant said.
Keep it here!:
More Cowboys Minicamp thrills and chills throughout the day. Keep it here on CowboysHQ as we will keep you posted in a variety of ways from inside Valley Ranch ... Here on the HOME page,
here on CowboysHQ Discussion Boards
, and on Twitter, where we encourage you to follow
Mike Fisher
,
KD Drummond
,
Mark Lane
and
Jordan Ross
along with our 105.3 The Fan colleague
Bryan Broaddus
.
Hear "Fish on The Fan'' with
live updates from inside Valley Ranch throughout the day - including 11:30 a.m. from the practice field and 8:30 nightly - on THE Cowboys Station, 105.3 The Fan.