The
Dallas Cowboys
are entangled in a circumstance that has precedence. All-time greats like John Elway struggled late in his career with decisions to return to the Broncos. Brett Favre made a soap-operatic game out of the same, making comebacks with the Jets and the Vikings and even today – maybe craving the attention -- not completely shutting the door on a return to the NFL. Jason Garrett has seen this struggle up-close, when he was a backup QB and mentor to Kerry Collins in New York and Collins questioned his late-career desire to continue.
And it's not just quarterbacks. It's a brutal game that cannot be played at a high level without devotion, commitment, trust and health – and just last season Kyle Orton's kinda-teammate Jay Ratliff cleverly meshed "trust'' and "health'' into a single path out of Valley Ranch.
Two more up-to-date examples: Seattle running back Marshawn Lynch, under contract to make $10.5 million in base salary over the next two years, is reportedly threatening retirement unless he gets a more lucrative deal and may or may not show up for the Super Bowl champs' mandatory minicamp on Tuesday. And Andre Johnson might skip Texans work.
Kyle Orton is "just'' the backup quarterback and Dallas might very well be fine without him as newcomer Brandon Weeden works his way into the No. 2 job behind Tony Romo. But there aren't just kinks in the phone line here; there are also potential kinks that need to be ironed out in regard to why Orton has been absent from voluntary workouts and in regard to whether Dallas should even want him on-board.
The Orton Watch, if you will, commences this week as the Cowboys hold their mandatory minicamp Tuesday, Wednesday and Thursday. (Of course, CowboysHQ will be camped out at Valley Ranch on a full-time basis for the sessions). It's the final group of workouts before training camp. You want your pieces in place. ... and Orton began the process on Monday by skipping mandatory physicals. As a result, he is reportedly fined $10,930. If he does not show up for Tuesday's first day of minicamp, he would face a fine of $11,575. If he misses all three days of the minicamp, the maximum fine is $69,455. ----- If he decides to play, Orton's base salary will already be docked $75,000 because of a de-escalator in his contract for missing too many workouts.
On the record, the Cowboys believe this is simply about a veteran at the end of his career questioning his willingness to play. And as Marv Levy used to say, once you are considering retirement from football, you are as good as retired.
But behind the scenes at Valley Ranch, there is -- or was -- the suspicion that Orton is orchestrating a money grab based on his belief that Romo may not be 100 percent by the time we get to September … and that therefore, Orton won't just be a well-paid backup (at $3.25 mil for 2014) but rather an underpaid starter. This is not unique. But it still threatens to be an odd distraction.
"I haven't spoken with him directly," Garrett said late last week. "I'm trying to get with him. He's trying to get with me. And hopefully we have a good conversation."
Garrett and Orton share the same agent (David Dunn) and they cannot Rolodex their way to one another's digits? Really?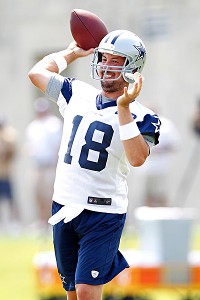 Garrett's official position was that he anticipates Orton joining the team for this week's three-day minicamp. But the dollars are about to add up: Should the 31-year-old skip these workouts, he'll face a total of almost $70,000 more in fines. Keep missing into camp, and it's another $30K daily.
And if he wishes to retire? He owes the Cowboys $3 million. And there is a third option (because I promise you, not even a wealthy NFL quarterback necessarily has $3 mil in cash sitting around doing nothing): Orton could report for duty but perform poorly enough to get waived -- thus avoiding the $3-mil retirement payback. (This move comes with cap ramifications, though, as Dallas would save $3.25 million against the '14 cap but see Orton counted $2.25 million against the cap in '15.)
For now, the lack of bonding is such that offensive coordinator Scott Linehan said Orton is not yet in possession of the team's playbook. And if Orton – not exactly a weight-room devotee -- shows up out of shape and unprepared to contribute? And this becomes a stubborn tug-of-war over money with the No. 2 QB – traditionally in position to be among a team's leaders – dogging it on purpose?
The disconnect can extend from beyond one player and the boss to others in the locker room wondering why a teammate isn't showing up, isn't trying, isn't contributing.
Does Dallas need to patch up the relationship? Yes, if possible. But first Dallas needs to get the Garrett/Orton phone line patched up.