Today's Huddle-Up is sponsored by the Cowboys-lovin' guys and gals at
McKinneyDentist.com
. They are finest dentists in all the land! Give them a click and a call!
WELCOME TO 'THE RIDE':
If you are a
Dallas Cowboys
fan and are new to CowboysHQ, welcome!
Best way for us to get acquainted? Come ride shotgun with Troy Aikman and me for "The Ride'' ...
BOXING FOR CHARITY:
CowboysHQ's Mark Lane steps to the ring ...
Players and the Dallas Cowboys Women's Association took a turn at fundraising for The Gatehouse at Grapevine, a supportive living community for women and children in crisis. Cornerback Brandon Carr headlined the one-hour boxing workout along with teammates Lance Dunbar and James Hanna. The trio raised $2,500 for The Gatehouse.
"We go through our lives forgetting about those that need help from us the most and those that are in crisis situations: women and children," Carr said. "This is a great opportunity to come back and give back and have a good time while we're doing it."
The 28 year-old, who enters his third season with the Cowboys, boxes occasionally because he considers it "great exercise" and also a beneficial way to give his workouts a different pace.
Third-year tight end Hanna agreed.
"I had a good time," the Oklahoma product said. "I haven't been boxing before, but I've been a fan of UFC and stuff. I've always watched the title fights. I always wanted to hit a bag around, and so, it was fun."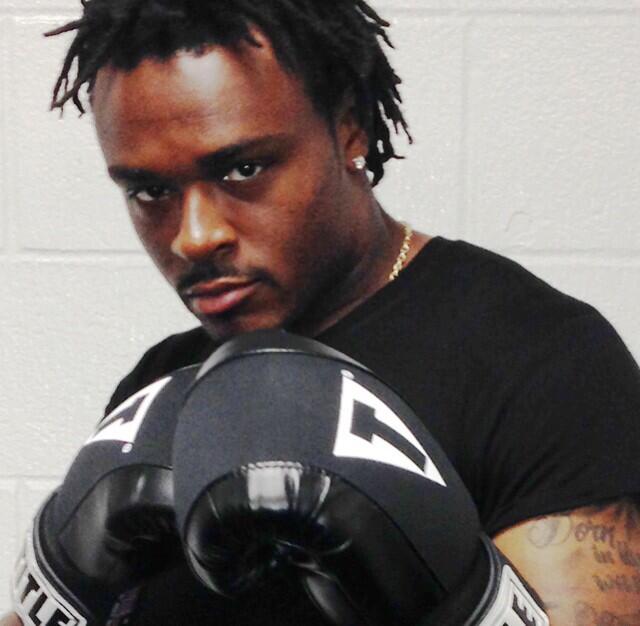 Julie Menhart, owner of TITLE Boxing Club of North Dallas and Plano, the site of the fundraiser, found the opportunity with the Cowboys as a great way to empower The Gatehouse's residents to move on to a better life.
"As a small business owner, we are always looking for ways to support our community, and we were presented with this opportunity and thought: awesome."
"It's a great collaboration," Lisa Rose, Founder and President of The Gatehouse, remarked. "[The Cowboys Women's Association's] goal to give women a hand up in our community matches our mission perfectly."
According to Rose, most of the women at The Gatehouse come from domestic abuse, incarceration, unemployment, and divorce.
"We are a place and a program where women can end cycles that are unhealthy, and cycles of helplessness, and really become self-supportive," Rose added.
The Cowboys boxed to give women in crisis a better future. Are there any serious bouts in their future, a la Too Tall Jones?
"It's definitely not in my future," Carr laughed. "I definitely respect the game, the sport of boxing and all that comes with it, especially the preparation and training that goes behind it. I think it's a good switch up with my workout."
Speaking of the pass rushing pugilist, the fact Jones left the Cowboys in 1979, in the middle of his career, to box professionally amazed Carr.
"He,'' Brandon said, "must have had a crazy reach!"
Kind of like the Cowboys' reach in the North Texas community.
For more information about The Gatehouse at Grapevine, visit www.grapehousegrapevine.com.
RANKING THE ROSTER:
Our man KD Drummond did a heck of a job but it doesn't sound like he enjoyed it all that much.
To wit, KD writes:
It must be said, putting together this initial list has been a bit disheartening. I'm normally an extremely optimistic person when it comes to this team. I think it's imperative that when things are up in the air, you lean towards a positive outcome and I'll continue to do so. This team has so many question marks surrounding it though, it's difficult to project enough of them going right to achieve success. Success is now defined as simply reaching the playoffs for the Dallas Cowboys. Let that sink in for a minute.

Looking back on my projected Top 6 from last year lets one know immediately what has changed. The top defenders on my list from August 22nd, 2013? DeMarcus Ware (1st), Sean Lee (5), and Jason Hatcher (6). All gone. Anthony Spencer was seventh. Yikes.
Who are the best players on the Cowboys roster? What will the makeup of the season-starting roster be?
You'll enjoy KD's work here ... maybe even more than he did.
WITTEN A MOVIE STAR?:
The good people of Tennessee seem to be
very excited about this.
And, I bet, so are you.
THE DEEP BALL:
KD's pulled out his Big Calculator to determine that Terrance Williams' deep-passing (20 yards or more in the air) targets would increase to around 28 on the season, or two deep shots per game. Williams' Catch Rate on deep balls was 50% last season, good for 6th in the league. Using these projections, that basically puts
Tony Romo
-to-Williams at one successful deep ball per game and at five deep-ball TDs over the course of a full season.
And
right there is where T-Will's "potential'' turns into T-Will's "production.'' The story here.
ONSIDE KICKS:
We've got
Cowboys Camp Roster Battles Part 1 here
... and
Cowboys Camp Roster Battles Part 2 here
... People inside Valley Ranch really think they have a steal with the signing of ex-Jags starting guard Uche Nwaneri. Whether you believe that might be determined by whether you believe in Will McClay. And you do, don't you? ... Ron Leary's DWI issue is unfortunate and figures to get cleared up legally. Worth noting: It's from 2012. So it's not a violation occuring in the shadow of the Josh Brent/Jerry Brown tragedy. And I will tell you this: Leary is buddies with Tyron Smith. Tyron gets a designated Uber ride every single time he goes anywhere and drinks as much as a half-a-beer. Literally. I've seen it. So hopefully, these incidents evaporate in the future in memory of Brown and in acknowledgement of Tyron's leadership. ... How
is the new facility coming along?

FIGHT AND FIRE: The same Randy White who we witness playing 'Simon Sez' with a group of schoolchildren still has enough 'Manster' in him to look for some 'fight' and 'fire' in today's Cowboys.




And what does he see, when for instance, Tyrone Crawford and Travis Frederick square off?
Our 1-on-1 visit with the football legend is here.
KEEP IT HERE!:
More Cowboys off-season thrills and chills throughout the coming days. Keep it here on CowboysHQ as we will keep you posted in a variety of ways from inside Valley Ranch ... Here on the HOME page,
here on CowboysHQ Discussion Boards
, and on Twitter, where we encourage you to follow
Mike Fisher
,
KD Drummond
,
Mark Lane
and
Jordan Ross
along with our 105.3 The Fan colleague
Bryan Broaddus
.
Oh, and all this week hear "Fish on The Fan'' with
with full four-hour shows! - 7-11 p.m. Monday through Thursday and all afternoon on July 4 - on THE Cowboys Station, 105.3 The Fan.
THE FINAL WORD:
Lots of funny words, actually,
as Cowboys players read "Mean Tweets."