THE O-LINE PLAN:
My thesis: Taking offensive linemen in the first round is a smart move.
In the past four years under Jerry Jones, the
Dallas Cowboys
have done something that has never been done in franchise history. If you're thinking of missing the playoffs for four straight seasons, it has already been done twice in 1960-63 and 1986-90. If you're thinking of posting the same record for three straight seasons, it has already been done twice: 1993-95 when the team went 12-4 and 2000-02 when the club went 5-11.
No, I'm talking about taking three offensive linemen in the first round in the past four drafts. Do you realize that prior to the
Tyron Smith
selection in 2011 that the Cowboys had only drafted three offensive linemen in the first round in their entire franchise history? Now, in the past four years, the Cowboys have matched that total with the selections of tackle Tyron Smith, center Travis Frederick, and rookie guard Zack Martin.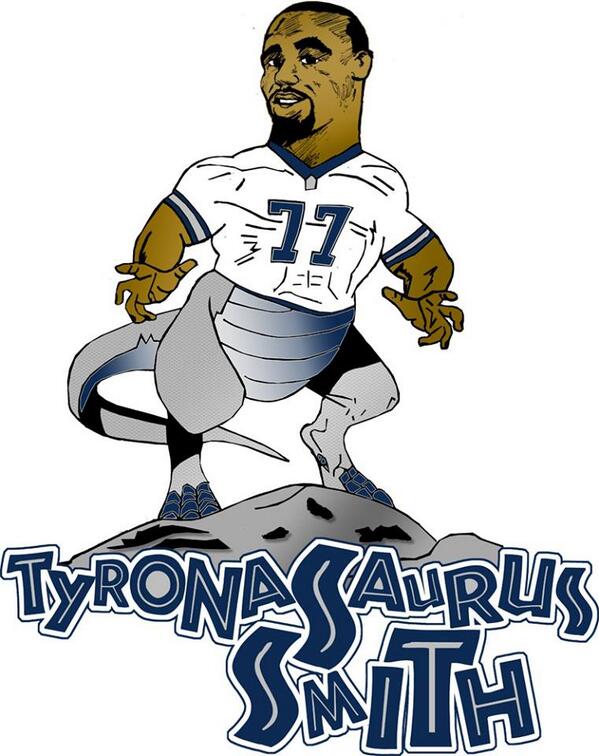 Not only is taking three offensive linemen in the span of four years a big deal in Dallas, but it's also quite a feat when you look at the rest of the league. Since 1990, there have only been two other instances where a franchise took an offensive lineman in the first round three drafts out of four: the Green Bay Packers (1994, 1996, 1997) and Philadelphia Eagles (1991, 1993, 1994).
Heck, even taking an offensive lineman in the first round in consecutive drafts is not a common practice. Using 1990 as the baseline again, only 14 other teams have taken offensive linemen in the first round in back-to-back drafts. Count the Cowboys under Jones - who we're told only likes to make "splash moves" with first-round picks - as one of those clubs that rounds the list to 15.
One criticism I can already hear about the Cowboys taking three offensive linemen in the first round for four years is that this is not how the Great Wall of Dallas was built, nor do any of the most recent Super Bowl champions have such a philosophy. All of that is true: the '90s Cowboys were comprised largely of mid-round picks, holdovers from the Landry days, and free agents. Similarly, the 2012 Baltimore Ravens only had one first round offensive lineman and the 2011 New York Giants had none.
However, Dallas has been employing this strategy of cultivating offensive-line talent through mid-round picks and free agency for decades. When the bottom fell out of the Marc Colombo, Leonard Davis, and Andre Gurode generation, it was time for Dallas to move in a different direction. Love them as you might, they were no Kevin Gogan, Ray Donaldson, or Larry Allen. The old ways weren't working, and it was time to employ a new process.
So, we have 15 teams that took offensive linemen in the first round in back to back drafts:
1991-92 New England Patriots
1991, 1993-94 Philadelphia Eagles
1994-95 Minnesota Vikings
1994, 1996-96 Green Bay Packers
1996-97 Seattle Seahawks
1997-98 New Orleans Saints
1998-99 Kansas City Chiefs
1998-99 Oakland Raiders
2000-01 Detroit Lions
2000-01 Seattle Seahawks
2006 New York Jets
2010 San Francisco 49ers
2010-11 Green Bay Packers
2010-11 Seattle Seahawks
2013-14 Dallas Cowboys
2013-14 Tennessee Titans
The only teams on that list who didn't at least get a playoff win were the New England Patriots, 1996-97 Seattle Seahawks, Kansas City Chiefs, and Detroit Lions, although the Patriots did qualify for the 1994 AFC playoffs with their first-round linemen on the roster (and Bill Parcells as their second-year head coach).
Teams that only had a playoff win to show for their efforts were the 1997-98 New Orleans Saints and 2010-11 Green Bay Packers. For the Saints, that was their first playoff win in franchise history that occurred in 2000, and it was thanks in large part to the selections of Chris Naeole and Kyle Turley. People remember the Ricky Williams trade in 1999, but Mike Ditka's first two drafts in New Orleans consisted of building that offensive line.
Ultimately, Jim Haslett reaped the rewards of a wildcard playoff win at home against the defending Super Bowl champion St. Louis Rams. All of the other teams on the list (outside of the Tennessee Titans and Dallas Cowboys only because they just joined the list) made a conference championship-game appearance. For the Oakland Raiders, New York Jets, and San Francisco 49ers, this has happened multiple times with the Bay Area teams playing in a Super Bowl apiece. Your lone Super Bowl winner is the Seattle Seahawks.
Seattle is a good case study. In 1996-97, they took tackle Pete Kendall and then tackle Walter Jones the next season, who became a perennial All Pro. He was in place from 2000-01 when the Seahawks again took consecutive offensive linemen in tackle Chris McIntosh and guard Steve Hutchinson. The three of them helped Shaun Alexander win the rushing title in 2005 along with league MVP. Oh, yeah, and represented the NFC in Super Bowl XL. The year after Jones retired, Seattle drafted tackle Russell Okung and then guard James Carpenter in 2011. Fast forward to February 2014 and we have our new Super Bowl champions.
Like I said from the beginning: taking three offensive linemen in the first round in the past four drafts has little precedent. So what can we learn from the Philadelphia Eagles from the early '90s and the Green Bay Packers of the mid '90s? The Eagles were only able to win one playoff game in three postseason appearances with the trio of tackle Anthony Davis, guard Lester Holmes, and tackle Bernard Williams. None of these guys were able to make it to the glory years under Andy Reid. In fact, Williams left football altogether after 1994. Playing for Rich Kotite can have that effect.
We know what the Green Bay Packers did with their triumvirate of guard Aaron Taylor, tackle John Michels, and tackle Ross Verba. They won Super Bowl XXXI and defended their crown the next season. However, only Verba stuck around past the year 2000. As early as 1998 and as late as 2001, all three guys were out of Green Bay. They didn't even get signed to an extension.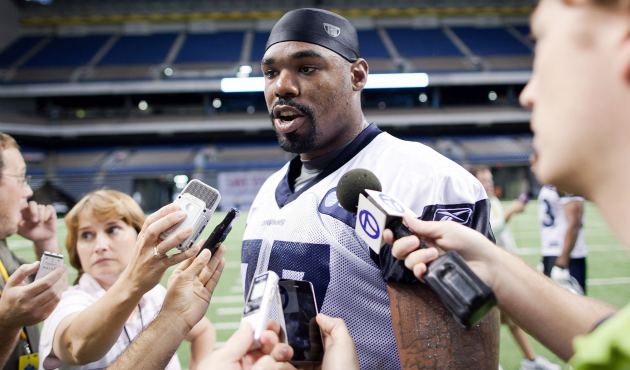 This is where the Dallas Cowboys should have the advantage when history is written.
Tyron Smith's people and the Cowboys front office are working on extending the 22-year-old Pro Bowl left tackle. Travis Frederick had a phenomenal year, and that was only his first try. Zack Martin is graded out as being among the best offensive lineman in the draft, and he is a versatile offensive lineman. Either the Cowboys have their center and tackles set for a decade, or they have their whole left side set for a decade.
Can you see why aging quarterback
Tony Romo
thinks he has five more years left in him?
ONSIDE KICKS:
Our
analysis of the Rolando McClain acquisition is here
... Cowboys QB
Tony Romo playing soccer video?
... Fish's
notebook on the good news from Sean Lee is here.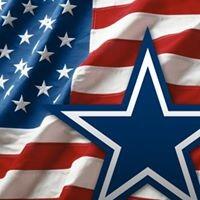 KD ON AMERICA'S TEAM:
The 50-50 coinflips that need to come up "heads'' for the Cowboys? Our man KD Drummond
takes a look at the long laundry list.
THE FINAL WORD:
Above is the Fourth-of-July photo
Dez Bryant
tweeted. Just one more example of how he's devoted to his Cowboys ... and his country, apparently!