THE BIG LEAD:
I'm a fan of the idea of grabbing as many young QBs can you can, hanging onto them, developing them, mining gold from them ... and if you hit? It's far, far more valuable than hitting on an offensive guard or a safety.
The Packers are masters of this philosophy. The Patriots tried it, too, with Ryan Mallett in their pocket and now the drafting of Jimmy Garoppolo.
But that's one too many so it was time for New England to cash in on the Mallett investment ... and all they got from Houston was a 2016 conditional seventh-rounder ... the limbo stick of trades.
No what about Dallas? Did the
Dallas Cowboys
, desiring a third QB enough that they've kept Dustin Vaughan on the 53 (for now), chase Texas native Mallett?
They did not.
There are reports to the contrary, so think what you wish here. But Bryan Broaddus and I teamed up on the chasing of this story, speaking to multiple sources in the front offices of both Dallas and New England.
There were no such trade talks.
THE P-SQUAD:
The Cowboys have signed seven players to 10-man practice squad, with more to come. The so-fars are headlined by running back Ryan Williams, a summer favorite, along with receiver WR Tim Benford, defensive end Kenneth Boatright, center Ronald Patrick, safeties Micah Pellerin and Keith Smith and linebacker Will Smith
Somebody in the building clearly has an affinity for Pellerin (who was here last year but not this summer) and Benford (who keeps boomeranging back here, maybe because he offers some scout-team flex).
And maybe somebody knows what they're doing in regard to Williams, too. Many of us assumed he'd be gobbled up if cut. But the former Cardinals second-rounder passed through waivers and returned ... almost as if the Cowboys knew what other teams would and wouldn't do in regard to him.
Which they did.
More P-Squad candidates? Tackle John Wetzel for sure. Cornerback Terrence Mitchell? My sense is that he is chasing employment elsewhere and indeed, he's now Chicago-bound.
FIVE PLANNED ADDS:
Dallas is grabbing at five new bodies before(three more until my prediction comes true!) getting to work on Week 1: Ends Jack Crawford (rumored, a Raiders ex) and Lavar Edwards (traded for, from Titans), guard Donald Hawkins (done deal, but by Browns), linebacker Korey Toomer (done deal, cut by Seahawks), and C.J. Spillman (coming signing, late of 49ers), the outstanding special-teamer. (Writer David Helman notes that rookie Ahmad Dixon will be moved out in favor of Spillman.)
In regard to more names? Don't focus on the "names.'' Champ Bailey is a vested veteran who is out of gas. That's not what Dallas wants or needs.
ONSIDE KICKS:
I was told on Thursday that the Cowboys expected to hear from the commissioner on Josh Brent's fate by today. (Not by Saturday, as Dallas might have hoped for.) I was also told that if the Cowboys had to guess at a suspension, they'd guess four games. Stay tuned. ... The Cowboys will shift rookie end
Demarcus Lawrence
to the eight-week IR on Tuesday. ... San Francisco standout Ray McDonald has been arrested on domestic violence charges, just hours, really, after the commissioner's crackdown. This is bigger than football, of course, but a Cowboys fan cannot be blamed for recognizing that the 49ers are stripping themselves from some Week 1 talent due to dangerous behavior -- the same sort of behavior the Cowboys get a great deal of national blame for ... Can I make a case for Michael Sam in Dallas? Sure. Problem is, the scouting department has never put a positive value on him. Not in the draft. Not as a UDFA. And not now ... Our
Cowboys Crunchtime Podcast tease with Jay Novacek is here
... Wanna get smarter about
Kyle Orton's snaky departure from Dallas to Buffalo? Read here
... I can see Dallas now cutting Vaughan, NFL dust having settled, and bringing him back to the P-Squad ... Your thoughts on the cuts, this week, the 49ers game?
Share 'em here on CowboysHQ Boards!
THE MUST-READ:
As usual, KD Drummond
brings it in this position-group-by-position group analysis of the cuts on the defensive side of the ball.
... with offensive coming right up!
JIMMY VS. JERRY:
They don't hate each other. I swear to you.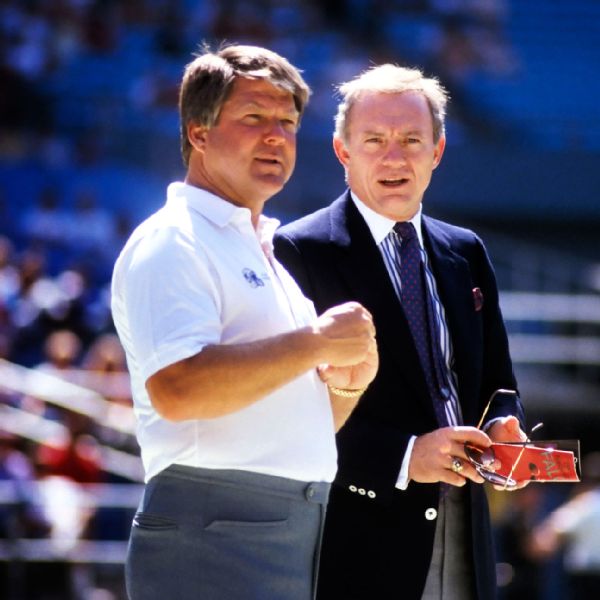 This is a complex relationship, pushed to the fore once again by ESPN's in-depth profile of Jones in which he suggests he's against inducting Jimmy into the Ring of Honor.
Johnson has countered by calling his old boss a "rich a-hole''
and away we go.
But these two old combatants are also friends; maybe "friends'' the way you and your ex-wife who is the mother of your children are friends, but friends nevertheless. Watch that OTL special and observe Jerry needing to pause and gather himself before speaking about Jimmy. This isn't "hate.'' There is bitterness and resentment and jealousy, from both men. But it's not hate.
And I still predict that these two men, in their early 70's now, will someday give the Cowboys audience a bit more clarity on their relationship because I predict that someday, during their lifetimes, Jerry puts Jimmy in the Ring of Honor.
THE FINAL WORD:
- "We're ready for anything that's thrown in our face. My confidence is over the roof when I get on the field.'' -
Dez Bryant
.