Over the last three years, the
Dallas Cowboys
have had an extremely hard time getting rid of that pesky injury bug. Safety Matt Johnson knows this all too well. Johnson has never played a single snap in a regular-season game, due to numerous injuries. In fact, he's barely even played in the preseason. Recently, Johnson had to deal with another ailment: hamstring problems that popped up during OTA's.
"At the end of the first week, I felt a little knot back there and it was a little sore," said Johnson during our phone interview. "It was nothing like I've had in the past, though. I've had some pretty bad ones."
Although it wasn't a serious injury, and Johnson should be fine to begin camp next week, many fans have started to ask questions anew. Like "When is enough, enough?" and "If they cut Miles Austin and DeMarcus Ware because of injuries, then why not cut this guy?"
One easy answer is money. Unlike Austin and Ware, Johnson is still playing on his rookie contract so keeping him around has little negative impact from a financial standpoint. However, that's not the only reason the Cowboys have continued to give Johnson more chances.
His resume -- college-based as it is -- is overflowing with playmaker proof:
During the final week of OTAs, coach Jason Garrett was asked about Johnson.
"The interesting thing about Matt," said Garrett, "is every time we've given him an opportunity, he seems to do a pretty good job, whether it's in practice or some of the scrimmage situations that he's been in. He just needs time on-task, he needs to get out there."
Garrett was then asked what many fans have often wondered: "But Coach, why have you continued to be so patient with him?"
Responded the coach: "Our attitude is to try to give him an opportunity to show us what he can do. We're trying to do that and we feel like what he's done up to this point is worthy of having some patience with him."
The fact that the team has been so patient with Johnson hasn't gone unnoticed by the young safety.
"It means a lot," Johnson said, "especially because I haven't had many chances to prove myself. It feels good for them to say that, but I'd rather them not have to be patient. I'd rather be out there showing it every day. They expect a lot from me and I want to live up to those expectations."
Johnson also understands that eventually patience runs out, which is why he was hesitant to even tell the training staff that he was a little banged up this time around.
"I almost didn't tell the trainers because I didn't want anyone to know. At the same time, I knew if I didn't say anything it could end up being a lot worse."
Although being injured has been frustrating, Johnson has still tried to make the most of his situation, using his rehab and recovery time to increase his knowledge of the game.
"I know the defense much better now,'' said Johnson, who on paper has a chance to push young starter J.J. Wilcox for a job alongside veteran Barry Church. "I've studied the offense more, too, so I can understand the other side of the ball. It's all a lot slower for me now than it was in my first two seasons. I feel like I've improved a lot mentally, but it's tough not being out there for OTA's because I felt like I was getting a lot better every day."
Johnson is confident in his ability and just wants to show the team what he is capable of. However, all of that can only happen if he is able to get back to full health and remain there.
"Staying healthy is the No. 1 thing,' said Johnson, who in 45 games at Eastern Washington recorded 341 tackles, 17 interceptions and 6 forced fumbles and put up big numbers at the combine including a 4.54 40-yard dash time and a 38.5 vertical jump. "Staying on the field. I want to show the plays I made in college, getting turnovers. That's what I do."
ONSIDE KICKS:
Cowboys QB
Tony Romo playing soccer video?
... Fish's
notebook on the good news from Sean Lee is here.
... Remember
when Dallas used to be defensive?
KD ON AMERICA'S TEAM:
The 50-50 coinflips that need to come up "heads'' for the Cowboys? Our man KD Drummond
takes a look at the long laundry list.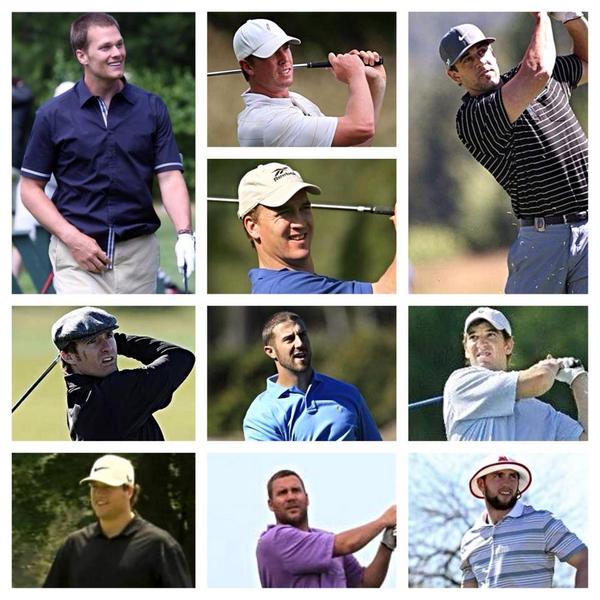 THE FINAL WORD:
I'm so glad Romo's not playing golf this year. Finally he's focused on football like the rest of the QBs pictured above!